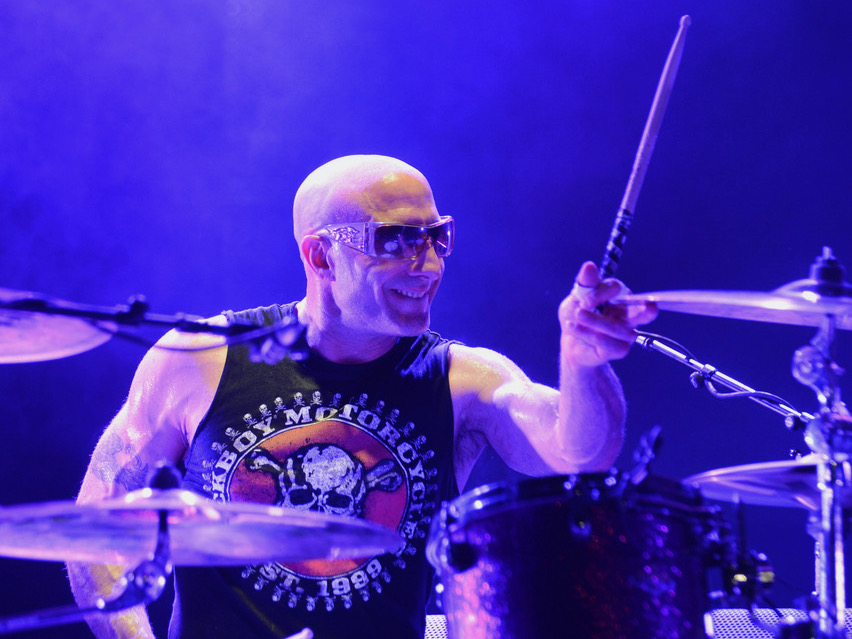 Drummer Kenny Aronoff plays with famous musicians on a regular basis, so accompanying John Mellencamp, Buddy Guy, John Hiatt and Heart vocalist Ann Wilson in a single night isn't an exceptional occurrence for the Indiana University graduate.
Music fans, however, have the rare chance to catch Mellencamp, Guy, Hiatt and Wilson perform for free Sept. 9 at Lucas Oil Stadium. The event is being billed as a kickoff party for the Colts season, and team owner Jim Irsay organized a memorable bash.
Irsay's all-star band, featuring himself on vocals, Aronoff on drums, R.E.M.'s Mike Mills on bass and Kenny Wayne Shepherd on lead guitar, will perform classics from rock 'n' roll history and also back Mellencamp, Guy, Hiatt and Wilson when they sing their hits.
Aronoff has known Irsay for 35 years, and the drummer said the billionaire cares as much about music as he cares about football.
"He's listening to music 24/7," Aronoff said. "It's not a hobby. It really touches him, and he relates to the spirit and the lyrics of what these musicians have done."
Meanwhile, Irsay's collection of pop-culture artifacts will provide an impressive visual complement to the tunes. The Sept. 9 event at Lucas Oil Stadium is the seventh stop on a U.S, tour Irsay launched for his collection last September in Nashville, Tennessee.
Attendees have experienced close-up views of guitars originally owned by Jerry Garcia, Prince and Kurt Cobain. The exhibition also includes Jack Kerouac's typed scroll of "On the Road" and a car originally owned by Hunter S. Thompson.
Exclusive to Indianapolis will be a display of memorabilia related to the Colts—from the team's Baltimore era as well as the Indianapolis years.
Aronoff recalled playing with Irsay's band on the Washington, D.C., stop of the tour, where "the stage was the size of a postage stamp." Aronoff, who played in Mellencamp's band from 1980 to 1996, said the shows have acquired better lighting and sound production in recent months.
"It's amping up and getting bigger and bigger all the time," he said. "That brings us to Indianapolis and the stadium. It's phenomenal."
As a drummer who's shared a stage with Paul McCartney and Ringo Starr, Aronoff doesn't surprise when he names Starr's 1964 Beatles drum kit as a personal favorite in Irsay's collection.
It raised eyebrows, however, when Tom Bukovac, a guitarist in Irsay's band, invited Aronoff to play the kit for a YouTube video.
"I know how to touch things lightly," Aronoff said. "I was playing and singing songs, and about eight people from the Colts were screaming, 'Stop! Stop!' I didn't. No way. This was my opportunity to play. I saw the Beatles on 'The Ed Sullivan Show' in my little house in western Massachusetts with my parents. And now I get to play that kit? I didn't stop. It was great."
Aronoff has toured with John Fogerty and the Smashing Pumpkins. His resume of studio recordings includes work by Tony Iommi, Brian Wilson and Trey Anastasio.
This fall, Aronoff will tour in the band of guitarist Joe Satriani.
"This is the first tour I've ever done where there's no singer," said Aronoff, who will perform Oct. 23 at Brown County Music Center with Satriani. "Joe really wants to feature everyone in the band. For example, there's an intermission in the show, and he said, 'Kenny, I want you to go out there and start the second set with a drum solo.' He's so inclusive of us. It's so nice."
To reserve a free ticket to the Sept. 9 event at Lucas Oil Stadium, visit jimirsaycollection.com.
Please enable JavaScript to view this content.