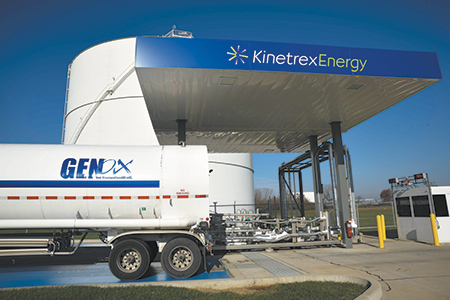 Kinetrex Energy, an Indianapolis-based supplier of liquefied natural gas, has been acquired for $310 million by Kinder Morgan Inc., a pipeline and bulk terminal company based in Houston.
The deal, announced Friday morning, includes two small-scale, domestic liquefied natural gas production and fueling facilities, as well as a 50% interest in a landfill renewable natural gas facility.
Kinetrex said it was looking for a larger partner to help it increase its presence in renewable natural gas, which is produced from methane emitted from landfills, wastewater treatment plants and agricultural sources as a substitute for diesel fuel. The company owns half of a renewable natural gas operation at the South Side Landfill in Indianapolis and has signed commercial agreements at three additional landfills.
Kinder Morgan operates or owns an interest in approximately 83,000 miles of pipelines, 144 terminals and 700 billion cubic feet of working natural gas storage capacity. Its pipelines transport natural gas, refined petroleum products, crude oil and other products. Its terminals store and handle gasoline, diesel, jet fuel, ethanol and other products.
Kinetrex was formed in 2013 by Citizens Energy Group, which sold it in 2017 to an affiliate of Parallel49 Equity, a private-equity group based in Chicago. Kinetrex is the largest supplier of liquefied natural gas in the Midwest.
What the company does is take in huge volumes of natural gas from Citizens, then run it through a series of machines that condense it into a liquid and cool it to 262 degrees below Fahrenheit. The liquefied gas is trucked to customers and often vaporized back into gas form and is used for a variety of purposes, from heating buildings to drying grain. Large transportation companies use the gas to fuel their truck fleets.
Kinetrex said key members of its management team, including President Aaron Johnson, will join Kinder Morgan after the deal closes.
Kinder Morgan was formed in 1997 when a group of investors acquired the general partner of Enron Liquids Pipeline, a small, publicly traded pipeline limited partnership. The company has grown rapidly through acquisitions and now has about 11,000 employees across North America. It posted net income last year of $180 million on revenue of $11.7 billion.
The companies said they expect to close the transaction in the third quarter. It requires federal regulatory approval.
Shares of Kinder Morgan edged down 0.5% in midmorning trading to $17.78.
Please enable JavaScript to view this content.