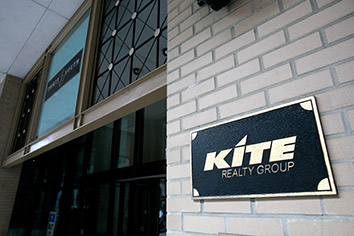 Indianapolis-based Kite Realty Group Trust suffered a loss of nearly $5 million in the second quarter and saw revenue drop 22%, but its results still exceeded analyst expectations.
The Indianapolis-based real estate investment trust on Wednesday reported $63.3 million in revenue in the period, down from $81.5 million in the second quarter of 2019. Five analysts surveyed by Zacks Investment Research had predicted revenue of $62.9 million.
Kite said it had funds from operations of $26.2 million, or 30 cents per share, in the quarter, exceeding the 29-cents-per-share prediction from seven analysts surveyed by Zacks.
Funds from operations, or FFO, is a closely watched measure in the REIT industry. It takes profit and adds back items such as depreciation and amortization.
The company took a loss of $4.8 million, or 6 cents per share, compared with a loss of $1.8 million, or 2 cents per share, in the year-ago period.
CEO John Kite said the company collected 80% of base rent from tenants in the second quarter despite the pandemic. That percentage jumped to 87% in July, the first month of the third quarter. About 9% of total second quarter base rent was affirmatively deferred.
About 94% of Kite's tenants were open for business and operating in some capacity as of Aug. 1, the company said.
The company signed or renewed 35 leases in the period representing 302,411 square feet. It also sold the Courthouse Shadows shopping center in Naples, Florida, for $14 million.
Kite launched the KRG Small Business Loan program on April 20 to provide tenants low-interest loans during the pandemic. The company said it had issued 27 loans totaling $2.2 million as of Wednesday.
Kite shares dropped 3% on Wednesday, before earnings were announced, to $10.04 per share. They are down 49% since the beginning of the year.
Please enable JavaScript to view this content.