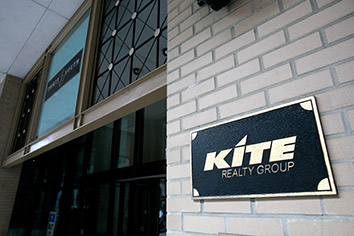 Indianapolis-based Kite Realty Group Trust says it has sold off $415 million worth of non-core properties this year—14 properties in all, including one in Indiana—to reduce its debt and improve the quality of its portfolio.
"This is a major milestone for our company, and we reached this point well ahead of schedule," Kite Chairman and CEO John A. Kite said in a written statement released late Monday.
Kite first announced the effort, which it calls Project Focus, in February. At that time, the retail-focused real estate investment trust said it planned to sell between $350 million and $500 million of its properties by year's end.
During the first and second quarters, Kite Realty sold nine properties for a combined $258 million. Those divestitures included the Whitehall Pike center in Bloomington as well as sites in Green Bay, Wisconsin; Athens, Georgia; Charlotte, North Carolina; Las Vegas; Oklahoma City; and the Florida cities of Jacksonville, Palm Coast and Tampa.
Kite said it has sold another five properties for a combined $157 million since June 30, though it did not identify those sites.
The company said it used proceeds from the real estate sales to pay down its debt. Kite Realty's debt now stands at 6 times its earnings before interest, taxes, depreciation and amortization, or EBITDA, down from 6.4 times as of June 30.
Kite Realty also released its second-quarter financial report on Monday.
The company posted a quarterly loss of $1.8 million, or 2 cents per share; compared with a loss of $1.4 million, or 2 cents per share, during the same period last year.
Funds from operations, a key performance metric for REITs that indicates cash flow, totaled $36.7 million during the quarter, or 43 cents per share. For the same period a year earlier, FFO totaled $45.7 million, or 53 cents per share. The FFO matched the average estimate of seven analysts surveyed by Zacks Investment Research.
The company reported revenue of $81.5 million in the period, which beat Wall Street forecasts. Four analysts surveyed by Zacks expected $80.9 million.
Kite lowered its FFO forecast for the year, from a previous range of $1.66-$1.76 per share to $1.61-$1.69 per share.
Shares of Kite Realty were trading at $14.93 each Tuesday morning, down 4 cents from Monday's close.
Please enable JavaScript to view this content.