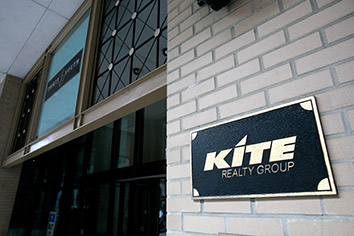 Indianapolis-based Kite Realty Group Trust has filed lawsuits against Mattress Firm and The Oceanaire Seafood Room, alleging the tenants are months behind on their rent payments.
The Mattress Firm suit involves nine Mattress Firm locations around the United States, including two Indianapolis locations: Traders Point Shopping Center and Glendale Town Center. The Oceanaire case involves the restaurant chain's ground-floor location at 30 S. Meridian St. in downtown Indianapolis—the same building that also houses Kite's corporate offices.
Kite subsidiary KRG Management LLC filed suit against Mattress Firm on June 23 in Marion Superior Court and, on Monday, the case was moved to U.S. District Court in the Southern District of Indiana. Mattress Firm is based in Houston and operates more than 2,500 stores, including 17 in the Indianapolis area.
Kite subsidiary Kite Washington LLC is the plaintiff in the suit against The Oceanaire Restaurant Co. Inc., which was filed June 25 in Marion Superior Court. The Oceanaire is part of Houston-based restaurant group Landry's Inc, which operates more than 600 restaurants under dozens of brands, including Morton's Steakhouse, Joe's Crab Shack, Rainforest Cafe and Bubba Gump Shrimp Co. There are 10 other Oceanaire locations around the country.
In both suits, Kite alleges that the defendants failed to pay rent in April, May and June and are in default of their lease agreements.
According to a Bloomberg News story published by IBJ on March 24, in March Mattress Firm sent letters to its landlords describing the COVID-19 pandemic as a force majeure event that "'will prevent or prohibit us'" from paying rent. Force majeure, a legal term, refers to an unforeseen and uncontrollable event that interferes with a party's ability to fulfill the terms of a contract.
But in its lawsuit against Mattress Firm, Kite says its leases with the retailer "confirm Mattress Firm's obligation to timely pay rent and other charges, even if force majeure events arise."
Kite's suit against The Oceanaire makes a similar argument.
In both suits, Kite is asking the court to award it damages of unspecified amounts, along with court costs and fees.
Indianapolis attorney Chou-il Lee of Taft Stettinius & Hollister LLC, who is representing The Oceanaire, and Chicago attorney Lawrence Mason of Goldberg Segalla LLP, who is representing Mattress Firm, did not respond to requests for comments Wednesday morning.
Please enable JavaScript to view this content.