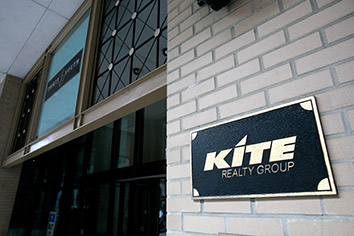 Indianapolis-based Kite Realty Group Trust beat analyst expectations with its financial performance in the fourth quarter despite a decline in revenue and funds from operations.
The Indianapolis-based real estate investment trust on Wednesday reported $68.4 million in revenue in the period, down from $75.3 million in the fourth quarter of 2019. Analysts surveyed by Zacks Investment Research had predicted revenue of $65.2 million.
Kite said it had funds from operations of $28.7 million, or 33 cents per share, in the period. Funds from operations, or FFO, is a closely watched measure in the REIT industry. It takes profit and adds back items such as depreciation and amortization.
The average estimate of analysts surveyed by Zacks Investment Research was for funds from operations of 31 cents per share.
Kite took a fourth-quarter loss of $6.8 million, or 8 cents per share, compared with a profit of $15.3 million, or 18 cents per share, in the year-ago period.
For the year, the company reported FFO of $112 million, or $1.29 per share. Revenue was reported as $266.6 million compared with $308.4 million in 2019.
According to Kite, about 95% of fourth-quarter rent has been collected, with less than 1% deferred.
The company signed or renewed 215 leases accounting for more than 1.5 million square feet. Kite purchased Eastgate Crossing, a shopping center in Chapel Hill, N.C., and part of the Pan Am Plaza partnership interest for a combined $68 million.
It also sold one non-operating property, which it did not identify, for $14 million, along with four out lots for $7.8 million.
Kite shares rose 1.8% Friday morning, to $17.82 each. Shares are up about 25% since the beginning of the year.
Please enable JavaScript to view this content.