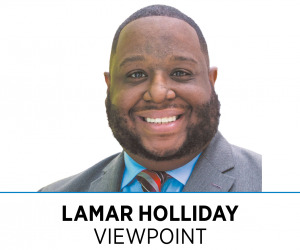 You're too young. Wait your turn. It's not your time.
These, among others, are phrases many young people hear when they want to engage in the political process. I'm here to tell you that young people are taking their rightful place in politics, and they are making sure we are listening!
According to the Center for Information & Research on Civic Learning and Engagement, 27% of young adults age 18-29 cast a ballot in the midterms—the second-highest youth turnout in the last three decades. Moreover, CIRCLE reports that the youth turnout was even higher in some battleground states.
If you're not a stats-type of person, let's look at Florida for a real-life example. Maxwell Alejandro Frost, 25, will become the first Generation Z member of Congress. He beat his Republican opponent by 20 percentage points. Rep. Val Demings had been in the seat but ran for U.S. Senate against incumbent Marco Rubio and lost.
Here in Indianapolis, many from the millennial and Gen Z generations are hungry to serve their communities and represent the issues that matter to their neighbors. They serve on boards, work in executive positions, are entrepreneurs, are appointees on Indianapolis boards and commissions, serve at the grassroots level as precinct committee members, are elected officials on township boards and more. They know the issues and want to take them on. These generations have fresh ideas to improve our city; all they want is a shot.
I am one of the young people. As cliché as it sounds, we are making our voices heard! You might say, "LaMar, I don't want to serve as an elected official, but I want to engage in the political process." Then let me share some ideas that can get you started in making a difference in your community in the political space:
◗ Always remember the power of your vote. Whether it's the midterm, municipal or presidential election, vote!
◗ Serve on an Indianapolis board or commission. You can find a list at www.indy.gov/activity/cc-boards-and-commissions. Find one you're interested in and work with your elected city-county councilor on the next steps in getting appointed. It's not an elected position, but there are term limits, and it's a great way to serve your community.
◗ Find candidates you believe in and help with their campaigns. We all have skill sets that would benefit a candidate running for office. Reach out to the candidate or someone on his or her team and get involved.
◗ Join your neighborhood association. Become active and learn what impacts your neighbors. These issues, many times, are matters your elected officials should address. Help be the conduit between your neighbors and your elected officials.
They say young gets it done. It's time we start believing in that statement and making room for young voices, ideas and actions. We will all be better for it!•
__________
Holliday is president of the Kennedy King Neighborhood Association and CEO of The Holliday Collaborative Agency.
Please enable JavaScript to view this content.