For an organization that regularly lands individual gifts worth tens of millions of dollars, the University of Notre Dame likes to keep a low profile about how it approaches deep-pocket donors.
Last year, the private, Catholic research university received donations of $50 million and $30 million from two families. Those two gifts, on their own, accounted for  nearly 36% of the roughly $224 million in major gifts given to Indiana institutions by 37 individuals, family foundations or bequests last year.
That made Notre Dame the top institution in the state for landing gifts of $1 million or more. And it doesn't appear to be a fluke. In recent years, the South Bend-based university received gifts of $100 million and $150 million—the largest in its history and among the top gifts ever received by any Indiana institution.
But it takes some coaxing to get Notre Dame officials to talk about the large gifts they receive and their blueprint for landing them.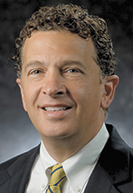 "We feel like we're the beneficiaries of people's amazing sacrifices and generosity, and that's where all the congratulation goes—to the donors," said Lou Nanni, vice president of university relations for the South Bend institution. "We want to be the invisible hands as much as possible in the process."
But invisible or not, Notre Dame has a knack for finding large donations. Since 2018, it has landed eight donations of $10 million or more, worth a total of at least $158 million, according to a compilation by IBJ. That puts it in the top tier among Indiana institutions in landing large gifts.
Yet Nanni, Notre Dame's top fundraising official, repeatedly declined to boast about the large gifts, or the university's work in securing them. "We're not foolish enough to take credit for the extraordinary generosity of others," he said.
Modesty is perhaps the best tack when your institution is reeling in hundreds of millions of dollars in gifts on a regular basis. But much of the giving in Indiana is at a lower level—$5 million or less. Small colleges often send out press releases when they land a $1 million gift, which can be the largest of the year, or even among the largest in their history.
Across Indiana, hundreds of colleges, museums, arts organizations and other institutions count on individual gifts for a significant portion of their revenue. Last year, more than a dozen received seven-figure gifts, and several of them received multiple million-dollar gifts.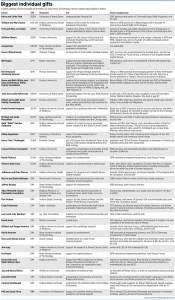 Most of the large gifts last year in Indiana—36 out of 37—went to higher education institutions. That's not a surprise to the Indiana Philanthropy Alliance, an Indianapolis-based organization that tracks donations across the state and represents philanthropy organizations of all sizes.
"Year after year, education has by far been the largest giving priority for philanthropic funding to Hoosier recipients," said Claudia Cummings, the association's president and CEO.
'The story of philanthropy'
Indiana not-for-profits, especially colleges and universities, increasingly rely on large gifts to shore up their fundraising efforts. Even as the stock market and the economy are having a good run, the number of alumni donors has been declining in recent years, according to Giving USA, an annual report produced by the Indiana University Family School of Philanthropy.
The increased wealth in the very top income levels in the United States, along with the decline in overall alumni giving, results in institutions' depending on a small number of very wealthy donors to make large gifts, said Amir Pasic, the school's dean.
"Major gifts, in some ways, is the story of philanthropy," he said.
Nationally, charitable giving reached a record $471.4 billion in 2020, up about 5% from a year earlier, the report said. The school is still compiling donations for 2021.
In Indiana, colleges of all sizes landed gifts last year of $1 million or more, from major research universities, such as Purdue and Indiana, to tiny schools such as Grace College, an evangelical Christian college in Winona Lake with about 1,700 students.
Other institutions in the top 10, for major gifts received, include Indiana University School of Medicine (a gift of $34.2 million, along with several smaller gifts), Purdue University ($25 million, along with several smaller gifts), Rose-Hulman Institute of Technology ($18.6 million, along with several smaller gifts) Wabash University ($10 million), and Butler University ($7 million).
But at the top of the pack, accounting for three of the top 15 individual gifts last year, was Notre Dame, the 179-year-old university perhaps better known for its Golden Dome, athletic championships and academic programs than its fundraising prowess.
Two years ago, Notre Dame quietly closed a seven-year capital campaign without announcing how much it had raised. University officials, when pressed, now say they raised $5.3 billion—one of the largest campaigns in U.S. college history, and making Notre Dame perhaps the only institution at the billion-dollar level without a medical school.
The two big ones
Two gifts last year to Notre Dame provided the bulk of major giving statewide.
In October, Notre Dame announced that one of its trustees, Fritz Duda, and his wife, Mary Lee, along with the family foundation, made a $30 million gift to the university's School of Architecture to establish a center dedicated to historic preservation.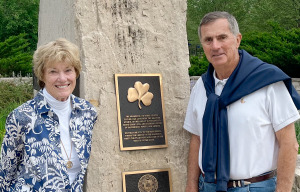 The gift was named in memory of the couple's son, Michael Christopher Duda, who graduated from the School of Architecture in 2005 and died in 2019 at age 38. He had practiced architecture in California before returning to his native Texas to earn an MBA and join his family's real estate company. He then started his own company in 2018.
Michael Duda took a keen interest in building preservation and was a board member of the Texas Historical Foundation.
The Duda family made its fortune through its real estate and investment firm, the Fritz Duda Co., based in Dallas. The family has given millions of dollars to Notre Dame over the years for scholarships, endowed professorships and the Irish Green, a 16-acre outdoor event space.
"Our family is pleased to now share our blessings in furthering the legacy of Michael in Notre Dame's transformational Center for Preservation, Resilience and Sustainability," Fritz Duda said in written remarks, released through the university. "The mission of this center will pave the way for new watermarks and a greater calling for Notre Dame."
Just a month later, in November, Notre Dame announced the largest gift of the year, and one of the biggest in its history: $50 million from a Cincinnati real estate developer who graduated from the university in 1963.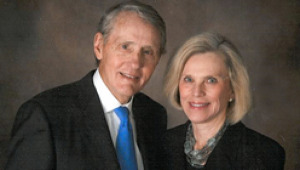 The gift from Harry Fath and his wife, Linda, will be used exclusively for undergraduate financial aid, making it the largest gift of its kind in Notre Dame history.
"It is our hope that this gift will change thousands of lives for the better," Harry Fath, founder of Fath Properties, said in a statement released by the university.
Financial aid has been Notre Dame's top fundraising priority for more than three decades, officials said. About half of the university's students are on financial aid, and the average financial aid package is about $50,000.
In recent years, Fath has given tens of millions of dollars to not-for-profits, including the Cincinnati Zoo, Christian ministry Mercy Ships, and the Lindner Center of Hope, which treats mental illness. He has also written large checks to Notre Dame and has supported several high schools and civic causes in Cincinnati and beyond.
Recently, Fath said he wanted to concentrate his donations on a few institutions he thought could make a long-term difference.
"Notre Dame was fortunate to be among those charities," Nanni said, again downplaying the university's role in cultivating large gifts.
The long game
He said the university often is in talks for months, if not years, with people who wind up giving tens of millions of dollars. Often, it is the capstone after years of giving small amounts.
Outside fundraising consultants say that's a common strategy for large colleges and other not-for-profits.
"It certainly doesn't happen overnight," said Jessica White, a retired Indianapolis fundraising consultant. "Larger institutions that have been around a long time and have had a strong history of fundraising, like Notre Dame, have been cultivating donors for years."
Talk to Notre Dame officials about major gifts for more than a few minutes, and you are likely to be gently directed to a different conversation—one about the importance of small gifts, often just a few hundred dollars.
Last year, for example, more than 17,000 alumni, parents and friends gave donations of $200 or less. But add it all up, and that provided 42 "full ride" financial-aid packages for Notre Dame students, Nanni said.
That's why the university is reluctant to announce gifts in the tens or hundreds of millions. People see those stories, he said, and come to the conclusion that their gift of a few hundred dollars is meaningless.
"I always say to people, 'If you really believe your gift of $100 or $200 is meaningless, I ask you to look into the eyes of one of those 42 students here on a full ride, and ask them if it is meaningless," Nanni said.
He said his office works really hard at grassroots, unrestricted dollars, of which the majority goes to financial aid. And the cost of a Notre Dame education can cause sticker shock. Tuition, room and board, and other costs runs about $75,000 a year.
But cultivating the small givers is key to Notre Dame's strategy—and a core fundraising principle for just about every university. Today's giver of $500 could be tomorrow's major benefactor of $10 million.
Several philanthropy officials interviewed for this story pointed to the example of Michael Bloomberg, the billionaire philanthropist, former mayor of New York City and founder of Bloomberg LP. A year after he graduated from Johns Hopkins University, he donated $5 to the school.
He increased that amount over the years as his wealth grew, and donated a jaw-dropping $1.8 billion in 2018. Last year, he gave the university another $150 million, with his donations totaling about $3 billion over the years.
"So, small gifts are important because they are the future of an institution," Pasic said. "Tomorrow's major gift donors are today's everyday annual donors."•
Please enable JavaScript to view this content.