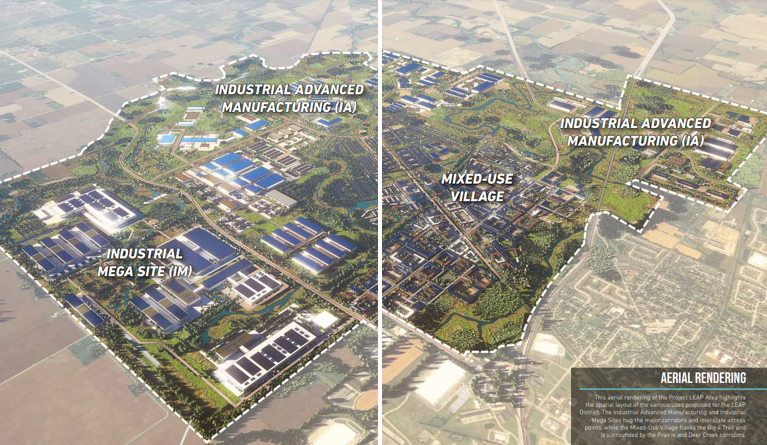 The Lebanon City Council on Monday night unanimously approved a special zoning classification covering part of a 9,000-acre innovation district that is in the works northwest of the city's downtown.
The LEAP Lebanon Innovation District Planned Unit Development sets development standards for about 6,000 acres of the planned high-tech district in Boone County along Interstate 65 between Indianapolis and Lafayette. LEAP is an acronym for "Limitless Exploration/Advanced Pace."
A planned unit development, or PUD, is a tool that defines and regulates proposed development and guides developers on permitted uses and design standards.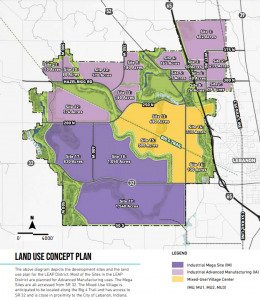 The properties rezoned as a PUD are east of I-65, north of County Road West 300 North, west of the CSX railroad tracks and south of County Road West 375 North. Additional parcels are west of I-65, east of County Road North 500 West, north of County Road West 50 South and south of County Road West 400 North.
Lebanon Director of Planning Ben Bontrager told the city council that the new PUD replaces and expands upon a LEAP zoning classification that was approved in December when the city annexed 5,200 acres of land. The PUD also covers land that was zoned general industrial and single-family residential.
"This ordinance provides a lot more detail on the things that we're trying to do and to make sure that the vision for the LEAP district is realized by what the PUD ordinance outlines, [which is] in much more detail than any of our zoning districts ever could," Bontrager said.
The PUD does not relate to areas where Indianapolis-based Eli Lilly and Co. is building a $3.7 billion manufacturing campus. The Lebanon City Council previously approved development standards for Lilly's campus in the LEAP district. Lilly broke ground in April on a 13-building site totaling more than 1.6 million square feet.
Scott Alexander, an attorney representing the Indiana Economic Development Corp., told the city council that creating a planned unit development helps provide certainty and standards "for the city, nearby residents and for the end-users regarding the various types of anticipated uses."
"All of that is key to get to first base with respect to these large multibillion-dollar facilities," Alexander said. "They're not going to enter into negotiations unless they have that certainty."
An IEDC land-use concept plan shows 21 different sites at the LEAP district that include uses for mega sites, industrial advanced manufacturing and mixed-use/village center.
The three mega sites displayed are 830 acres, 1,050 acres and 1,540 acres. The mega sites could be used to attract huge investments to the LEAP district, such as a potential $50 billion semiconductor plant.
In June, the IEDC said Indiana is one of two Midwestern states in the running for the massive facility, which would represent the largest single economic development in the state's history.
The IEDC began working with a third-party company as early as November 2021 to purchase land for a planned innovation district in Boone County, a project state officials have likened to the Research Triangle in North Carolina.
The IEDC has identified about 9,000 acres in Boone County for the large-scale research and innovation park due to its location between Indianapolis and Purdue University and its proximity to I-65.
Lebanon has already annexed about 6,600 acres for the LEAP site.
Please enable JavaScript to view this content.