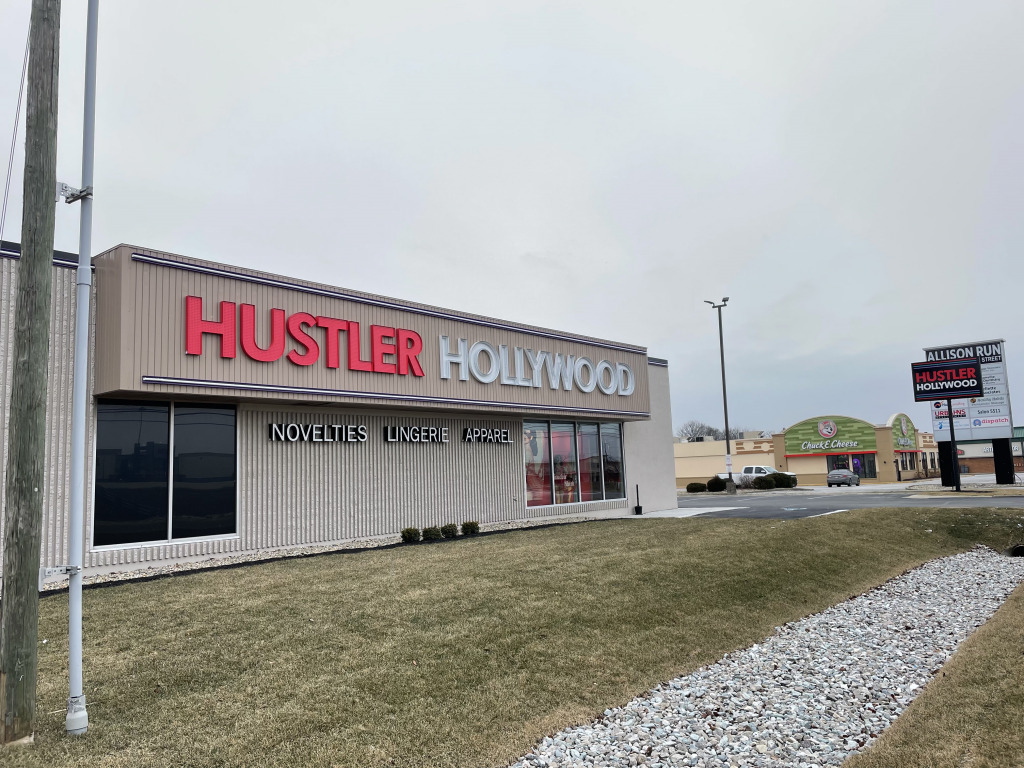 Two adult boutiques that faced community backlash and legal battles with the city of Indianapolis have prompted state lawmakers to propose legislation that would create statewide restrictions on where sexually-oriented businesses can locate.
House Bill 1122 would prohibit a registered sexually-oriented business, such as an adult bookstore, sex toy shop or strip club, from operating within 1,000 feet of a facility that caters to minors. That includes schools, daycares, a YMCA, public swimming pools and playgrounds, as well as businesses such as arcades and trampoline parks.
The House approved the measure this week by a vote of 84-8, sending it to the Senate for further consideration.
The bill would also give a more detailed description of what Indiana considers "sexually explicit materials" that would deem a business as "sexually-oriented."
The two Marion County legislators who authored the legislation told IBJ that the measure was primarily prompted by two adult-themed boutiques that have located in their districts.
Hustler Hollywood is in the Castleton area of the legislative district represented by Democrat Rep. Carey Hamilton and opened on 82nd Street across a parking lot from Chuck E. Cheese.
Lion's Den in Southport is in Republican Rep. Mike Speedy's district and located near a SkyZone trampoline park.
Hustler Hollywood opened in December after five years of legal battles over the city's zoning laws.
City officials initially said the store qualified as an adult entertainment business, which was not allowed under the area's neighborhood commercial zoning designation. Indianapolis already prohibits sexually oriented businesses within 1,000 feet of a religious institution, school, public park, recreation area or any residentially zoned area.
Hustler Hollywood's attorneys argued that the store did not meet the definitions of an adult entertainment business because it were neither an adult bookstore nor an adult services establishment under city code. The city defines an adult bookstore as a business that dedicates 25% or more of its inventory to adult products.
Hustler Hollywood's representatives said at the time that no more than 10% of its inventory would be those adult products. But more than 45% of inventory was described as either "general merchandise" or "toys," not adult products, according to an article in the Indy Star in 2018.
HB 1122 could put Hustler Hollywood in a position where it would have to relocate, not only because it is less than 500 feet away from a children's restaurant, but also because the bill would redefine what materials qualify as a sexually-oriented business.
HB 1122 would define "sexually-oriented businesses" as adult bookstores, adult arcades, adult cabarets, an adult theatre or a sexual device shop. It goes on to describe of what kind of materials the store would have to sell to be deemed a "sexually-oriented business."
The bill gives a detailed description of what qualifies as a sex toy and says that any store that has more than 100 regularly made available for sale, or has any amount regularly on display, such as on separate lighted displays or in a dedicated area of the shop, qualifies as a "sexual device shop."
Hustler Hollywood did not respond to IBJ's requests for comment on the legislation. The company also did not attend public testimony on the bill last week.
If HB 1122 becomes law, businesses in violation would have until 2025 to relocate. Hamilton said that would include Hustler Hollywood.
"They will have to move," Hamilton said. "It gives them plenty of time to leave the property and kind of and find a place that's more suitable. I think it's a societal norm that we don't have these sorts of facilities next to child-directed businesses or facilities."
While many communities already have restrictions on sexually-oriented businesses, Speedy said no local ordinance in the state has the language restricting locations near businesses that cater to minors.
The bill is also meant to help locales that don't have regulations in place and are surprised when a new business moves in.
Speedy said he objects to the Lion's Den adult store in his district because it is located near a Sky Zone trampoline park. He added this was one example that made him aware of this issue that other communities could face, or may be already facing.
The Lion's Den opened last year and was allowed under the commercial zoning in that area. But it faced community backlash and citizen petitions opposing the business.
The store tried to seek a zoning variance in September for a freestanding monument sign but was denied because city code allows adult businesses to have only one wall sign. The Lion's Den is now suing the city of Indianapolis, claiming that the city rule violates the First and Fourteenth Amendments. It is also fighting with the city to keep the phrase, "Passion. Pleasure. Romance" on its wall sign.
The Lion's Den is just within the legislation's 1,000-foot threshold from the closest property line of Sky Zone, and Speedy is ready for the business to go. The company did not immediately respond to a request for comment.
"The 1,000-foot separation rule is one that that industry is very familiar with," Speedy said. "It's simply my goal, using existing values, existing standards to protect local neighborhoods."
The city of Indianapolis expressed support when the bill passed out of committee last week.
Ryan Mann, special counsel to Indianapolis Mayor Joe Hogsett, had said the legislation would add to the city ordinance and provide clarity moving forward.
Please enable JavaScript to view this content.