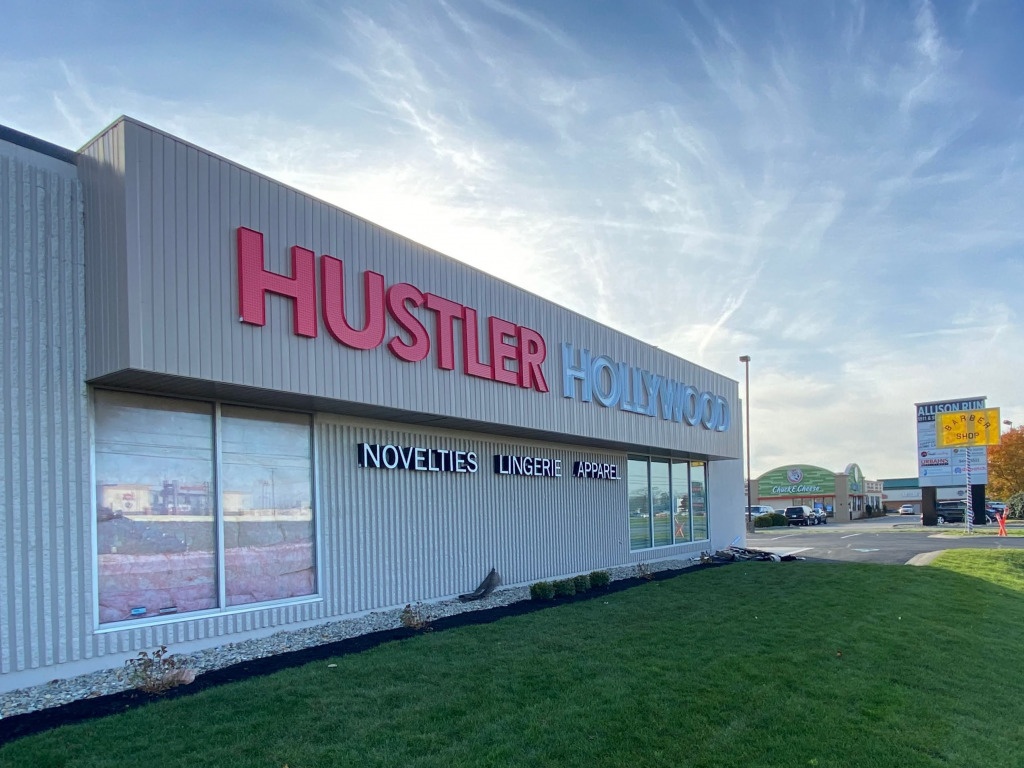 Hustler Hollywood, an adult entertainment chain that battled five years of opposition to opening an Indianapolis store, plans to welcome its first customers on Dec. 9 at 5505 E. 82nd St.
Founded by late Hustler magazine founder Larry Flynt, Hustler Hollywood will sell novelties, lingerie and apparel at a Castleton address that generated controversy because of its next-door proximity to a Chuck E. Cheese location known for children's pizza parties.
The percentage of goods offered by Hustler Hollywood that can be classified as "adult entertainment" served as the major point of contention in litigation that played out in the Indiana Southern District Court, the 7th U.S. Circuit Court of Appeals, Marion Superior Court and Indiana Court of Appeals.
After signing a lease agreement in 2016 for the former site of flooring business The Floor Club, Hustler Hollywood was instructed by the Indianapolis Department of Business and Neighborhood Services to request a zoning variance as an adult bookstore.
The city defines an adult bookstore as a business that dedicates 25% or more of its inventory to adult products. Hustler Hollywood's representatives said no more than 10% of its inventory will be adult products.
A legal battle that began with a January 2017 lawsuit against the city of Indianapolis ended earlier this year, when the Indiana Court of Appeals upheld a lower court ruling that ordered the city to issue permits to Hustler Hollywood.
In a unanimous appellate decision, Judge Terry Crone wrote that Hustler Hollywood "must operate within its restrictions or face the consequences for any violations. There is no evidence to support the notion that the site will operate in violation of the code. To assume as much amounts to pure speculation."
Members of the Greater Allisonville Community Council have expressed opposition to the Hustler Hollywood store dating to 2016.
"It makes me angry; it makes me very angry," former Greater Allisonville Community Council President Jonathan Eriksen told WRTV-TV Channel 6 five years ago. "This is not the kind of business we want added to the list of new residents in the area."
Flynt, who lived in Starke County as a pre-teen, died at age 78 in February. In 2003, U.K. magazine Arena listed Flynt as No. 1 on a list of the 50 most powerful people in pornography.
The Hustler Hollywood chain has more than 35 stores in 18 states, including Ohio, Kentucky and Illinois. The Castleton store will be its first in Indiana.
"We couldn't be more thrilled to be opening a store in Indianapolis—this store meant a lot to Larry, and it means a lot to us," Hustler Hollywood Vice President of Retail Philip Del Rio said in a media release. "We hope that residents will stop by and see what we are all about if they aren't already familiar with us."
Please enable JavaScript to view this content.