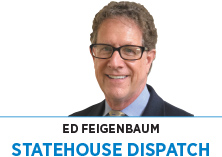 Much of the initial attention of lawmakers has been directed to education matters, with committee and floor action on the package of bills that everyone expected.
As the first two weeks of the session pass, expect a transition in legislative focus to health care concerns—raised in loud choruses to lawmakers in conversations back home. Unlike key education bills, you'll see that it will not be quite so easy to find consensus—even among Republicans—on solutions for critical issues.
While pharmacy benefit managers have been singled out as villains by both sides, there appears to be no coherent plan for reducing their influence on the system—or on pricing. This is complicated by drug middlemen heading to the U.S. Supreme Court opposing a law that allows a state to dictate how much they reimburse pharmacies.
Even some Republicans publicly express their concern about just a pair of insurers controlling the bulk of state insurance coverage, but there is no magical path forward for increasing choice or decreasing premium costs.
Lawmakers are allied on eliminating out-of-network charges, but they are somewhat hamstrung by federal regulations. Price transparency (and an all-payer claims database) has been talked up by many solons at forums back home, but it hasn't been easy trying to arrive at a workable, easy-to-use alternative. Plus, a federal appeals court in D.C. heard oral arguments last week in a dispute between drugmakers and the Trump administration over whether the feds can require sticker prices for drugs in TV spots.
An easier sell: barring health insurance providers from modifying an individual's coverage on a drug during the plan year.
On the public-health front, watch to see how vaping and tobacco issues are resolved.
Public-health professionals seek to restrict access of young Hoosiers to vaping products and want higher taxes imposed, flavored vaping liquids removed from the mix, and additional constraints on delivery devices. Lawmakers have difficulty determining an appropriate tax rate and what products should be taxed. New federal restrictions on vaping products have both increased the urgency for state action and complicated the task of legislating where the feds won't.
Tobacco tax increases have been hard sells. Immediate implementation of a December federal increase in the sales age to 21 requires a calculation of the unexpected loss of tobacco tax dollars from that 18-21 age cohort.
Some will point to the $10 million-plus in sales during the first five days of recreational marijuana in Illinois as a solution, but legalization here—despite legal recreational or medical sales in three of our four neighboring states—remains a session or two away.
The only serious marijuana move might be a push to decriminalize possession of small amounts—a decision implemented by Marion County's prosecutor that might be replicated in some Lake County communities. But this, too, might fall victim to a bipartisan measure authored by Senate Corrections Committee Chairman Mike Young, R-Indianapolis, and co-authored by the two Senate leaders. SB 14, prepared by the Interim Study Committee on Corrections and Criminal Code, would require an interim committee to first review any bill "affecting" criminal penalties before it could be considered during the legislative session—absent exigent circumstances. That would allow impacts of past changes and the proposed change to be evaluated outside the session tumult.
There is pushback from a cadre of senators concerned that removing initial consideration of criminal penalty legislation from the session environment and pushing it to the interim would allow leadership to further control the process and restrict member discretion.
Keep an eye on this to determine the interest in moving a host of matters to the summer. This revives a debate over effectively turning the Legislature into a year-round body vs. allowing more deliberate study of key issues, restoring the interim study process to functioning as intended.•
__________
Feigenbaum publishes Indiana Legislative Insight for Hannah News Service. He can be reached at EDF@hannah-in.com.
Please enable JavaScript to view this content.