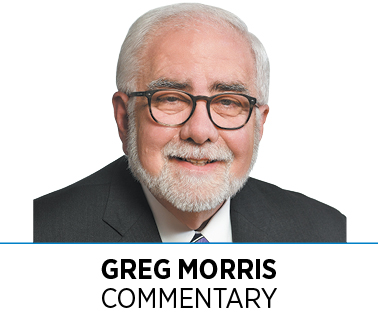 It's hard to argue against the notion that Indianapolis is currently on the ropes. We had the one-two gut punch of COVID-19 accompanied by damaging, government-mandated business shutdowns and stay-at-home orders followed by a weekend of senseless riots that were allowed to continue seemingly unfettered until our downtown was ripped apart.
News from the following weekend indicated that in a few hours, late Sunday night through the early hours of Monday morning, there were five shootings that resulted in two fatalities, boosting our homicide total to 90 this year, up from 64 the same time last year.
I'm very concerned about the future of our city. We seem to be at the proverbial fork in the road. Are we going to actually start listening to each other and attempt to work together to make this a better place for all, or are we going to turn the city over to violent individuals who want to tear it down?
Just to be clear, I do not consider those who incite violence and inflict property damage and those who engage in peaceful protests to be the same people with the same issues. They are not.
So, I'm looking in the mirror and asking myself what I can do to make a positive impact? One course of action is that I choose to fight for a more inclusive and positive experience for all in our city. I'm trying to educate myself on all the issues to be in a better position to accomplish that.
I understand there is nothing easy about this task and that it will require generational change beyond my lifetime to actually be achieved. However, building anything requires a solid foundation and infrastructure, and I feel like that's where we are right now.
I've written before about the good work of the Greater Indianapolis Progress Committee, a nonpartisan organization that's been bringing people together to address the city's concerns and areas of opportunity since 1965.
GIPC is taking an important role on behalf of the city in convening diverse groups to address issues of race, policing and opportunity. Last week, as a GIPC board member, I had the opportunity to be a part of the Race and Cultural Relations Leadership Network meeting.
RCRLN is a standing committee of GIPC. It was established as a mechanism to foster positive relationships among diverse populations and to respond to racially and culturally charged issues in our city. Late last week, the network engaged nearly 200 people in an honest discussion concerning the racially and culturally charged issues confronting our community and our country.
Indianapolis Urban League President and CEO Tony Mason moderated the discussion. I was able to listen to—as Mason describes—"a diverse and intergenerational panel of servant and thought leaders, leaders who challenged us all to move beyond words and incremental steps to intentional, meaningful and monumental change."
And yes, demands for major police departmental change and limits on the use of force were at the center of their demands. But the discussion also included calls to address systematic racism, the trauma of gun violence, mental health resources, domestic violence, homelessness and hunger, issues in the juvenile court system, reentry, economic inclusion, and COVID-19 recovery, among other topics.
Space does not allow me to even scratch the surface of identifying next steps in this column. But rather than continuing to look back, I'm choosing to look ahead to a brighter future for our city.
You can count on IBJ to take a leadership role as our community works together to create positive and long-lasting change for all citizens. Thanks for reading and supporting IBJ.•
__________
Morris is publisher of IBJ. His column appears every other week. To comment on this column, send email to gmorris@ibj.com.
Please enable JavaScript to view this content.