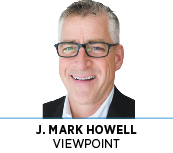 If you ever needed examples of how technology powers—and is revolutionizing—the manufacturing industry, look no further than Indiana and investments by companies such as Allison Transmission, Cummins Inc. and General Motors Co.
In May, Cummins announced a nearly $70 million investment in electrified power and digital and information technology, adding high-tech, technology-focused jobs along a section of the "Cummins Corridor" from Columbus through Greenwood to Indianapolis.
In June, Allison Transmission broke ground on an Innovation Center and detailed plans for a Vehicle Environmental Test facility to expand its vehicle-test capabilities and support a range of propulsion systems, including alternative fuel, electric hybrid and fully electric vehicles.
And Gerald Johnson, executive vice president of Global Manufacturing for General Motors, keynoted an event last month of nearly 500 local industry leaders and showed how GM is using technology to make smarter, more efficient and safer products, including at its four Indiana manufacturing facilities, where it has invested a total of $2 billion since 2009.
These companies are part of an expanding list of advanced manufacturers that are embracing the new industrial revolution, also known as Industry 4.0. While past generations of advanced manufacturers have experienced evolutions in business processes, supply chain relationships and technology, the transformation to Industry 4.0 is progressing at an unprecedented pace and is marked by the integration of advanced technology, automation and data to increase competitiveness, productivity and profitability.
How Industry 4.0 affects Indiana advanced manufacturing companies is critical and was recently the subject of a statewide event that attracted hundreds of industry leaders and featured national and local speakers. Two key takeaways from GM's Johnson, and reinforced by local industry speakers: Companies must be intentional about adopting technologies that solve a business challenge, such as improving quality, safety and profitability; and businesses must commit the resources to train talent.
Industry 4.0 represents one of Indiana's greatest opportunities to grow the state's advanced manufacturing industry sector, which accounts for nearly one-third of Indiana's gross state product and one in five Indiana jobs. According to McKinsey Global Institute, one in 10 occupations that these industries will hire for in 2030 doesn't even exist today.
As Industry 4.0 transforms skill requirements for Indiana's workforce and business operations for companies, there is a clear need to be proactive in addressing technology's impact. To that end, Conexus Indiana, an initiative of the Central Indiana Corporate Partnership, is advancing an aggressive agenda to support talent and business development in the 21st century economy.
Conexus Indiana's talent development programs expose students and adults to exciting career opportunities in the advanced manufacturing and logistics industries. The organization is also creating resources, providing thought-leadership, and facilitating peer-to-peer networks for companies to collectively discover, understand and potentially adopt the digital technologies, automation and data that will change the way they move and make things.
We are clearly at a crossroads. With the help of the hundreds of industry, philanthropic, academic and public-sector partners who have joined Conexus Indiana in its work, Indiana is positioned to continue its global leadership and be at the forefront of digital transformation.•
__________
Howell is president and CEO of Conexus Indiana.
Please enable JavaScript to view this content.