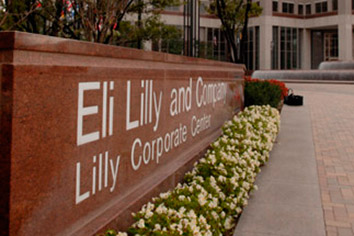 Eli Lilly and Co. has received permission from the Food and Drug Administration to use an existing arthritis drug to treat hospitalized patients with COVID-19.
The Indianapolis drugmaker said Thursday evening it was awarded an emergency authorization to use its drug baricitinib in combination with Gilead Sciences' antiviral drug remdesivir in severely ill hospitalized patients with COVID-19. It's the first combination regimen authorized by the  FDA.
The announcement comes less than two weeks after Lilly won emergency use for another COVID-19 treatment—the first antibody drug to help the immune system fight the virus. That permission was for people 12 and older with mild or moderate COVID-19 not requiring hospitalization.
However, the drug is not without serious safety risks. Baricitinib carries a black box warning, the strictest labeling of prescription drugs. The Food and Drug Administration has cited risks of infections, malignancies and blood clotting from baricitinib.
Lilly launched the drug two years ago to treat moderately to severely active rheumatoid arthritis under the brand Olumiant. The drug has been used on more than 100,000 patients in 65 countries.
Lilly said it is continuing to evaluate baricitinib's effectiveness and safety as a treatment for COVID-19 and has ongoing in clinical trials.
"Since the start of the COVID-19 pandemic, Lilly has been committed to finding potential treatments to help people around the world who've been impacted by this virus," said David A. Ricks, Lilly chairman and CEO, in written remarks. "Today's FDA action for baricitinib marks the second Lilly therapy to be granted an EUA, in addition to the recent neutralizing antibody EUA for high-risk non-hospitalized patients, increasing the number of treatment options for COVID-19 patients at different stages of the disease."
The FDA grants emergency use authorization to medicines that may help diagnose, treat or prevent a life-threatening disease when no adequate and approved alternatives are available.
Lilly has said the idea to test baricitinib started in February when officials with an artificial intelligence platform based in the United Kingdom and unaffiliated with Lilly wrote a letter to the British medical journal Lancet, saying they planned to assess many currently approved medications that might be used in treating COVID-19.
A few weeks later, the same group submitted a new letter to Lancet in which it specified an interest in baricitinib, saying the medicine's anti-inflammatory effects might be beneficial in treating COVID-19.
Since then, various groups have conducted preclinical studies on baricitinib, and independent investigators also initiated small-scale trials in Italy and Canada, but they have not been placebo-controlled.
All these together have led Lilly to the decision that the drug should be studied further for possible benefits in treating COVID-19, and it initiated discussions with the National Institute of Allergies and Infectious Diseases. Lilly's hypothesis is that baricitinib can be used to inhibit a protein involved in the viral reproduction of the virus.
Please enable JavaScript to view this content.