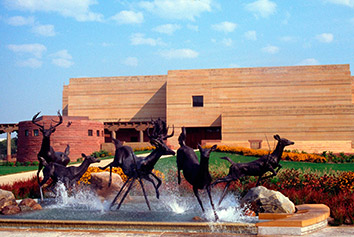 The Lilly Endowment Inc. has awarded more than $43 million to 18 museums and cultural organizations across the country, including $8 million to four museums in Indiana.
The grants are expected to fund exhibitions and programs that portray the role of religion around the world and establish endowments so organizations can create permanent staff positions focused on religious programming and exhibits.
The Indiana institutions chosen for grants were the Children's Museum of Indianapolis, Conner Prairie, Eiteljorg Museum of American Indians and Western Art, and the Snite Museum of Art at the University of Notre Dame.
Several Smithsonian museums also received grants, along with other history, children's and fine art museums. The Smithsonian National Museum of American History received the largest grant, $8 million, which will be used for establishing a new Center for Public Understanding of Religion in American History and creating a 3,500-square-foot gallery focused on the role and influence of religion in American culture over time.
The Eiteljorg, which received a $2.5 million grant, will create an endowment with its funding, incorporate religion into its Native American Gallery and help support development of an exhibit focused on religion and the American West.
The Children's Museum is expected to use its $2.5 million grant on a showcase of five of the world's most sacred places to share information about diverse religious traditions.
Conner Prairie plans to use its $500,000 grant to restore a cabin in Prairietown and hire a full-time curator focused on religion to guide research and program development.
The Snite Museum, which received a $2.5 million grant, will use its funding to support its Inspiring Wonder initiative, which is expected to expand opportunities for visitors to explore religious faith, beliefs and practices through art.
"Museums and other cultural institutions are trusted organizations and play an important role in teaching the American public about the world around them," Christopher Coble, the Endowment's vice president for religion, said in a prepared statement. "These organizations will use the grants to help visitors understand and appreciate the significant impact religion has had and continues to have on society in the United States and around the globe. Our hope is that these efforts will promote greater knowledge about and respect for people of diverse religious traditions."
Please enable JavaScript to view this content.