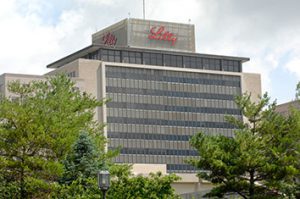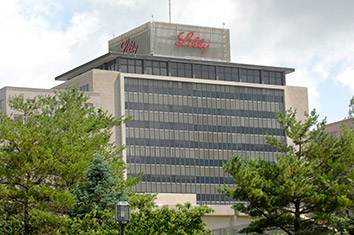 Shares of Eli Lilly and Co. dropped as much as 5% in pre-market trading Tuesday morning after the Indianapolis-based drugmaker said first-quarter profit dropped 7% due to higher research costs for COVID-19 therapies and restructuring costs after several acquisitions. Lilly lowered guidance for full-year earnings.
Earnings were $1.35 billion in the quarter, compared to $1.46 billion a year ago.
Earnings per share were $1.49, down 7%. After one-time charges, earnings per share were $1.87, up 16%. Wall Street was expecting $2.12 a share, according to the Zacks Consensus Estimate.
Lilly said a purchase agreement with the U.S. government for COVID-19 antibody drug bamlanivimab was terminated, after the Food and Drug Administration revoked emergency authorization for use of the drug alone at Lilly's request.
Orders were cancelled for the remaining 350,856 doses that were scheduled to be delivered by the end of March.
Instead, the FDA granted emergency use authorization for a combination treatment of bamlanivimab and etesevimab for the treatment of mild to moderate COVID-19 in patients who are at high risk for hospitalization.
Lilly has partnered with drugmaker Amgen to manufacture etesevimab. The U.S. government has agreed to purchase a minimum of 100,000 doses of bamlanivimab and etesevimab together for a purchase price of $210 million.
Lilly's worldwide revenue was $6.8 billion, an increase of 16%, driven by growth of newer products, including diabetes drug Trulicity, cancer drug Verzenio, arthritis drug Olumiant and autoimmune drug Taltz.
"Our key growth products gained volume and share, helped millions of patients with significant diseases, and represented over half of our core business," Chairman and CEO David Ricks said in written remarks.
But expenses climbed 11%, driven by research and developments costs related to COVID-19 antibody therapies and late-stage trials for new products. The company spent $1.68 billion on R&D, up 21%.
Operating income was $1.15 billion, down 27%, primarily due to higher R&D expenses, restructuring and other special charges.
Excluding one-time charges, operating income was $1.87 billion, up 6%.
In the quarter, the company recognized asset impairment, restructuring and other special charges of $211.6 million, primarily related to acquisitions and intangible asset impairment.
Lilly lowered its full-year earnings-per-share outlook to a range of $7.03 to $7.23, down from prior outlook of $7.10 to $7.75.
On a non-GAAP basis, Lilly lowered full-year earnings-per-share outlook to $7.80 to $8, down from earlier guidance of $7.75 to $8.40.
Shares of Lilly were trading at $180.30 a share at 7:15 a.m., down 3.7%.
Please enable JavaScript to view this content.