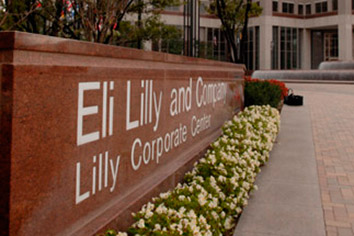 Shares of Eli Lilly and Co. fell as much as 6% Tuesday morning after the Indianapolis-based drugmaker trimmed its full-year profit guidance, citing unfavorable exchange rates and expenses associated with acquisitions.
The news overshadowed Lilly's third-quarter earnings report. The company's profits climbed 11%, to $1.79 billion. Revenue edged up 2%, to $6.94 billion.
Lilly stock has skyrocketed 36% in the past 52 weeks due to strong sales on newer drugs for diabetes, cancer and pain, and buoyed by strong expectations for upcoming federal approvals for drugs for obesity and Alzheimer's disease.
But Lilly took a bit of air out of the sails with its latest forecast on revenue and profit. The company said it now expects adjusted full-year earnings of $7.70 to $7.85 per share, compared to its prior forecast of $7.90 to $8.05.
Shares, which closed Monday near an all-time high at $362.09 each fell as much as $21 in mid-morning trading after Lilly announced the full-year guidance. Shares recovered some ground later in the morning, trading at about $345, or down about 4%.
The drugmaker said sales of newer products drove higher sales in the third quarter, including cancer drug Verzenio (up 84%), COVID-19 antibodies (up 78%), diabetes drug Jardiance (up 47%) and migraine drug Emgality (up 20%).
That helped to offset the declining sales of older products, including cancer drug Alimta (down 74%), arthritis drug Olumiant (down 55%) and Hodgkin's disease drug Tyvyt (down 39%).
Lilly's new drug for diabetes, Mounjaro, which launched in May, brought in $187.3 million, with more than half coming from the United States, beating estimates of $81 million.
Investors are watching to see if federal regulators also approve Mounjaro for obesity, which could get huge demand from patients and doctors, and push the drug into blockbuster territory.
Lilly is also expected to publish late-stage data on donanemab, its experimental drug for Alzheimer's disease, next year.
"Despite a weaker quarter, we remain positive on Lilly on the Mounjaro opportunity and potential for donanemab in [Alzheimer's disease]," wrote BMO Capital Markets analyst Evan David Seigerman, in a note Tuesday to clients. He predicts the stock could hit $396 within a year.
Please enable JavaScript to view this content.