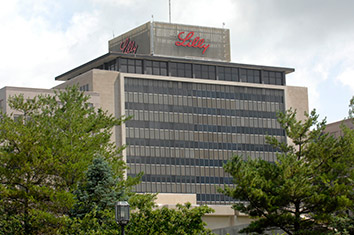 Shares of Eli Lilly and Co. surged as much as 14.5% in premarket trading Monday after the company said an experimental drug to treat Alzheimer's disease slowed declines in cognition and daily function significantly in patients, marking a possible breakthrough in the devastating disease that has confounded researchers for decades.
The Indianapolis-based drugmaker said an investigational antibody called donanemab slowed symptoms by 32% in a Phase 2 study of 272 patients with early symptoms of Alzheimer's disease, compared with a placebo.
The announcement could hail as a huge turning point for Lilly, which has spent billions of dollars over 30 years researching treatments for Alzheimer's disease, only to see them fall short in clinical trials.
More than 5 million people in the United States and many more worldwide have Alzheimer's. Current drugs only temporarily ease symptoms and do not slow mental decline.
"We are extremely pleased about these positive findings for donanemab as a potential therapy for people living with Alzheimer's disease, the only leading cause of death without a treatment that slows disease progression," said Dr Mark Mintun, vice president of pain and neurodegeneration for Lilly.
The positive results come after repeated setbacks for Lilly in earlier trials spanning decades for much-touted experimental drugs called solanezumab and semagacestat. Patients in those trials didn't show meaningful results in cognitive functions in expensive, late-stage studies, and Lilly has had to return to the drawing board time after time.
Yet, the company has vowed to continue researching ways to help patients with Alzheimer's disease. Monday's announcement cheered investors, and perhaps patients and their families, who have been hoping for a meaningful breakthough.
Lilly said its new drug, donanemab, targets a modified form of beta amyloid, a sticky substance in the brain associated with Alzheimer's disease.
Donanemab showed "high levels" of clearing the amyloid plaque from the brain, as measured by amyloid imaging, Lilly said.
"This unique mechanism and antibody for clearing plaques, discovered at Lilly, has the potential to provide high levels of durable amyloid plaque clearance after limited duration dosing," said Dr. Daniel Skovronsky, Lilly's chief scientific officer and president of Lilly Research Laboratories.
He added: "The positive results we have obtained today give us confidence in donanemab and support its rapid and deep plaque clearance for the potential treatment of Alzheimer's disease."
The trial enrolled 272 patients who were selected based on cognitive assessments and results from imaging on amyloid plaque and brain tangles known as tau.
Alzheimer's disease is a fatal illness that causes progressive decline in memory and other aspects of cognition. Dementia due to Alzheimer's is the most common form of dementia, accounting for 60% to 80% of all cases.
Lilly's shares were trading at $187.55 each about 20 minutes before the market opened Monday, up 12.8%.
Please enable JavaScript to view this content.