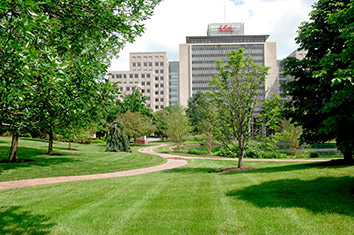 Eli Lilly and Co. said Friday that the U.S. government has agreed to purchase at least $210 million worth of its two antibody drugs for treating patients with COVID-19.
The Indianapolis-based drugmaker said the government will buy a minimum of 100,000 doses of bamlanivimab and etesevimab for combined use in recently diagnosed, mild to moderated patients who are in danger of being hospitalized from the disease.
The purchase agreement calls for Lilly to deliver the doses through March 31. The U.S. government will have the option to purchase up to an additional 1.1 million doses through Nov. 25.
The two drugs, delivered through an IV, are neutralizing antibodies, or proteins that attach to a virus and prevent it from infecting cells.
It's the latest purchase deal from the U.S. government of Lilly drugs to combat the pandemic. The government has already committed to purchase a total of 1.145 million doses of bamlanivimab alone, which includes more than 1 million doses that have been delivered and an agreement to deliver 450,000 additional doses by March 31, Lilly said.
Lilly said it will begin shipping the additional doses immediately to the federal government, which controls distribution of the drugs.
Last year, bamlanivimab brought in $871 million in sales for Lilly after the Food and Drug Administration authorized emergency use in November for patients with mild-to-moderate COVID-19.
That made it Lilly's second-highest selling product in the final quarter of 2020, trailing only the popular diabetes drug Trulicity, which totaled $1.5 billion in sales.
Please enable JavaScript to view this content.