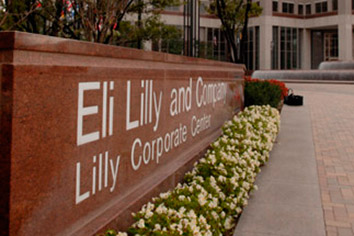 Indianapolis-based Eli Lilly and Co. and the maker of popular diabetes drug Ozempic are being sued in federal court in Louisiana for allegedly failing to warn consumers and physicians about the risk of "severe gastrointestinal events" resulting from the use of two diabetes drugs.
Lilly, which manufactures and sells the drug Mounjaro, and Denmark-based Novo Nordisk, which manufactures and sells Ozempic, are facing allegations of inadequate warning and breach of express warranty under Louisiana law.
The plaintiff, Jaclyn Bjorklund, 44, of DeRidder, Louisiana, alleges that she had been taking Ozempic for about a year when she stopped the drug in July, at which point she began taking Mounjaro. Both drugs are marketed as an "adjunct" to diet and exercise in the treatment of Type 2 diabetes, according to the complaint.
A news release from the firm Morgan & Morgan, which is representing Bjorklund, says she stopped taking both drugs after about a year and a half because she was experiencing "severe gastrointestinal issues" that led to hospitalization and the loss of teeth due to excess vomiting.
"Ms. Bjorklund put her trust in Novo Nordisk and Eli Lilly and Co., and we believe that as a result she has gone through a hell that no one should have to endure," Paul Pennock, a partner at Morgan & Morgan, said in the news release. "Ms. Bjorklund, as well as the over 500 clients across 45 states whose claims we continue to investigate, have suffered ongoing gastrointestinal problems that in many cases are severe, debilitating and disabling."
The complaint alleges that in marketing the drugs, Lilly and Novo Nordisk "downplayed the severity" of the gastrointestinal side effects.
The complaint points to two main conditions: gastroparesis, or stomach paralysis, and gastroenteritis, or stomach inflammation. Symptoms of those conditions including interference with digestion, nausea, vomiting, abdominal pain, bloating, severe dehydration, diarrhea, stomach cramps and fever, among others, according to the complaint.
Bjorklund alleges Lilly and Novo Nordisk "knew of the association between the use of (the drugs) and the risk of developing severe gastrointestinal issues, including gastroparesis and gastroenteritis. Defendants' knowledge derived from their clinical studies, case reports, and the medical literature … ."
Despite that alleged knowledge, the complaint says, the drug makers "continued to market, distribute, and/or sell Ozempic and Mounjaro" to consumers and physicians "without adequate warnings" on labels and other marketing.
The complaint points to Ozempic's recent rise in popularity, including online, with the hashtag #Ozempic garnering 1.2 billion views on TikTok as of Tuesday. In addition to treating diabetes, the drug is also advertised as "help(ing) many patients lose some weight."
"As a result of the Novo Nordisk Defendants' advertising and promotion efforts, Ozempic has been widely used throughout the United States," the complaint says. "The number of prescriptions filled reached an all-time high of 373,000 in one week in February 2023, with more than half of those being new prescriptions. In June 2023, it was reported that new prescriptions for Ozempic had surged by 140 percent from the prior year."
The complaint also points to an April article from the New York Times, which described off-label use of the drug to lose weight. The article also cited research that "found that Mounjaro may be even more powerful" than Ozempic.
Had the severe side effects of the drugs been known, Bjorklund alleges that her doctors would not have prescribed the drug and/or she would not have agreed to take them.
Bjorklund alleges she has suffered "serious and dangerous injuries including severe gastrointestinal events, as well as other severe and personal injuries which are permanent and lasting in nature, physical pain, and mental anguish, including diminished enjoyment of life, as well as the need for lifelong medical treatment, monitoring and/or medication, and fear of developing any of the above-named health consequences.
"By reason of the foregoing, Plaintiff has been severely and permanently injured and will require more constant and continuous medical monitoring and treatment than prior to Plaintiff's use of Defendants' Ozempic and Mounjaro drugs," the complaint says. "As a result of the foregoing acts and omissions the Plaintiff requires and/or will require more health care and services and did incur medical, health, incidental, and related expenses. Plaintiff is informed and believes and further alleges that she will require future medical and/or hospital care, attention, and services."
Bjorklund is seeking compensatory and punitive damages "in an amount sufficient to punish Defendants and deter future similar conduct," as well as attorney fees and costs.
The case — Jaclyn Bjorklund v. Novo Nordisk, et al., 2:23-cv-01020 — has been filed in the U.S. District Court for the Western District of Louisiana, Lake Charles Division.
The case was filed in federal court because alleged damages exceed $75,000 and because of the defendants' "transaction of business and the tortious acts within the State of Louisiana, and by virtue of Defendants' substantial, continuous, and systematic contacts with the State of Louisiana unrelated to Plaintiff's claims."
"Some of the injuries may be permanent," Pennock, of Morgan & Morgan, said in the news release. "Filing this lawsuit is the first step in holding these companies accountable for their alleged failure to warn patients about the significant risks posed by these drugs."
A statement from Lilly emailed to Indiana Lawyer said, "Patient safety is Lilly's top priority, and we actively engage in monitoring, evaluating and reporting safety information for all our medicines."
In addition to treating diabetes, Mounjaro is also prescribed off-label to treat obesity. Lilly is seeking FDA approval to market it as a weight-loss drug. Analysts predict Lilly could see sales of the drug climb as high as $50 billion per year.
Novo Nordisk issued a longer statement explaining its position: "GLP-1 has been used to treat type 2 diabetes (T2D) for more than 15 years, and for treatment of obesity for 8 years, including Novo Nordisk GLP-1 products such as semaglutide (Ozempic) and liraglutide that have been on the market for more than 10 years. Semaglutide has been extensively examined in robust clinical development programs, large real world evidence studies and has cumulatively over 9.5 million patient years of exposure.
"Gastroparesis is a clinic syndrome characterized by delayed gastric emptying in the absence of mechanical obstruction of the stomach. While diabetes is a well-known risk factor, there are other risk factors that may increase the risk of gastroparesis such as overweight/obesity, gender (female), virus infection and nervous system disease (Parkinson's disease or multiple sclerosis)," Novo Nordisk continued.
"Gastrointestinal (GI) events are well-known side effects of the GLP-1 class. For semaglutide, the majority of GI side effects are mild to moderate in severity and of short duration. GLP-1's are known to cause a delay in gastric emptying, as noted in the label of each of our GLP-1 RA medications. Symptoms of delayed gastric emptying, nausea and vomiting are listed as side effects.
"Patient safety is of utmost importance to Novo Nordisk. We recommend patients take these medications for their approved indications and under the supervision of a healthcare professional. We are continuously monitoring the safety profile of our products and collaborate closely with authorities to ensure patient safety, including adequate information on gastrointestinal side effects in the label."
Please enable JavaScript to view this content.