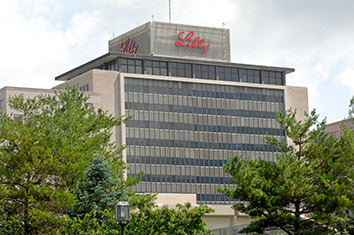 Eli Lilly and Co. said Tuesday it plans to pay $487 million to acquire a Boston-based company that is developing gene therapies for hearing loss.
The Indianapolis-based drugmaker said it has reached a definitive agreement to acquire Akouos Inc., a seven-year-old biotech firm, which is running early clinical trials for its lead therapy.
The all-cash deal is priced at $12.50 a share, a 78% premium over Akouos' closing price of $7.01 on Monday. The deal also includes a contingent value right option worth another $3 a share, or $123 million, based on Akouos' reaching certain benchmarks. That means the deal could be worth as much as $610 million.
Shares in Akouos soared as much as 87% in early trading Tuesday on the Nasdaq exchange.
The deal is Lilly's second acquisition in gene therapy, following its 2021 acquisition of New York-based Prevail Therapeutics, which is developing therapies that target the root genetic causes of Parkinson's disease and other neurodegenerative disorders.
Gene therapies introduce genetic materials into cells to compensate for abnormal genes.
Hearing loss is one of the world's largest unmet medical needs. Approximately 466 million people around the world, including 34 million children, live with disabling hearing loss, Akouos said.
Akouos's lead product candidate, AK-OTOF, is a gene therapy for the treatment of hearing loss due to mutations in the otoferlin gene. The biotech estimated that its lead product has the potential to treat up to 7,000 people, which it said is a subset of the total population of individuals with hearing loss due to mutations in the otoferlin gene, in the United States and European Union.
The company is developing additional therapies for hearing loss that it said "span across multiple inner ear conditions."
"We believe that with Lilly's resources, global reach, and growing capabilities in gene therapy, we can help Akouos fulfill [its] mission of making healthy hearing available to all," Andrew Adams, senior vice president of genetic medicine and co-director of the Institute for Genetic Medicine at Lilly, said in written remarks.
"I am proud of the commitment and passion of our team, which has established Akouos as a pioneer in inner ear genetic medicine, as demonstrated by our work to advance the first investigational therapy for a genetic form of hearing loss into clinical development," Emmanuel Simons, co-founder and CEO of Akouos.
Please enable JavaScript to view this content.