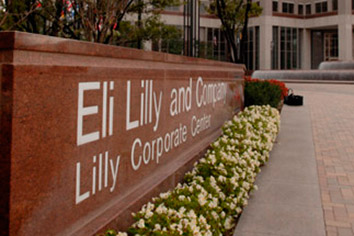 Eli Lilly and Co. announced Tuesday it will build a $470 million pharmaceutical manufacturing facility in Durham, North Carolina, after also considering a location in Indianapolis.
The Indianapolis-based drugmaker said the project will create more than 460 jobs, including scientists, engineers and quality professionals. The average salary will be more than $72,000.
The plant will product injectible products and delivery devices for two diabetes treatments, Trulicity and Tirzepatide.
Lilly said it conducted a nationwide evaluation for a new site that was narrowed to three states, based on a variety of factors. The other sites were in Indianapolis and Pennsylvania.
North Carolina said it will give Lilly up to $8.7 million in conditional incentives over 12 years, depending on the number of jobs actually created.
"The Durham location met Lilly's criteria for cost of operations, quality of life, the ability to attract and retain a skilled work force, and many other decision factors," the company said in an email to IBJ. "Importantly, this new facility will allow Lilly to geographically diversify our manufacturing operations within the United States."
"Life science companies like Lilly continue to choose North Carolina," Gov. Roy Cooper said in a media statement. "Our exceptional workforce draws global companies as we continue to grow North Carolina into a worldwide hub for the biotechnology industry."
It's the latest manufacturing investment announced by Lilly in recent months. In November, the company said it would spend $400 million to expand manufacturing operations at its Lilly Technology Center in Indianapolis and add 100 jobs here.
Lilly CEO David Ricks said the company needs more manufacturing capacity to keep up with demand for current medicines, as well as new drugs expected to emerge from its pharmaceutical pipeline. Lilly currently has seven U.S. manufacturing sites, located in Indiana, New Jersey and Puerto Rico.
"This next-generation manufacturing facility will allow us to expand our capacity to make the Lilly medicines that are helping people with serious illnesses today, and help us prepare for new medicines coming from our robust pipeline in the future," Ricks said.
Please enable JavaScript to view this content.