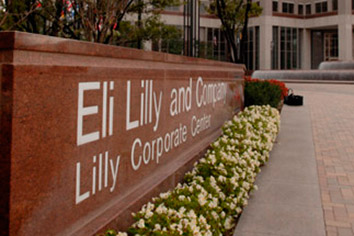 Eli Lilly and Co. plans to spend $400 million to expand drug-manufacturing facilities at its Lilly Technology Center campus in Indianapolis, adding 100 high-paying jobs in the process, the company announced Wednesday.
Lilly said it needs additional manufacturing capacity to keep up with demand for current medicines and new drugs expected to emerge from its pharmaceutical pipeline.
The plans call for "enhancements to existing manufacturing facilities that make insulin, additional capacity for its growing portfolio of diabetes medicines and initial capital investments for future medicines," the Indianapolis-based drug maker said.
"These investments demonstrate Lilly's commitment to our manufacturing footprint in Indiana and the United States, and have been made possible by the tax reform measures passed by Congress in 2017," said Lilly CEO David Ricks in written remarks.
"With more capital available as a result of tax reform, Lilly and other Indiana companies are able to re-invest and expand production here at home. This is crucial for us to continue to advance our state's economy and drive future investment—adding high-tech jobs and facilities that keep Indiana competitive in the global marketplace," Ricks said.
Myles O'Neill, senior vice president and president of manufacturing operations for Lilly, said the new employees will include skilled technicians, scientists and engineers.
"These investments support our manufacturing capabilities in Indianapolis, including additional capacity and technology upgrades to our active ingredient, syringe filling, device assembly and packaging operations," O'Neill said in written comments. "All of these projects support Lilly's investment in next-generation manufacturing and feature high levels of automation, robotics, new technologies and advanced data analytics."
Lilly said it has invested more than $5 billion in its U.S. operations since 2012, with the majority spent on Indiana facilities and nearly $2 billion in manufacturing of diabetes medicines.
Please enable JavaScript to view this content.