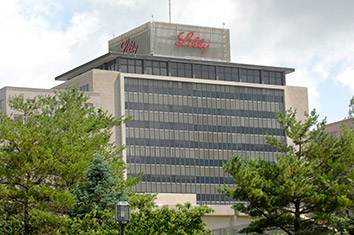 Eli Lilly and Co. announced Friday that it is buying Dermira Inc., a California-based maker of dermatology medicines, for $1.1 billion in cash as it scratches an itch in the immunology and skin disease sectors.
Indianapolis-based Lilly said the purchase will bolster its pipeline of immunology drugs with the addition of lebrikizumab, which is in phase three development for the treatment of moderate-to-severe atopic dermatitis, better known as eczema.
The U.S. Food and Drug Administration awarded the drug fast track status last month, a move that helped lift Dermira's stock 90% in recent weeks.
The purchase also bolsters Lilly's dermatology product line by giving it access to Qbrexza, a medicated cloth approved by the FDA for the treatment of primary axillary hyperhidrosis, which results in uncontrolled excessive underarm sweating.
"The acquisition of Dermira is consistent with Lilly's strategy to augment our own internal research by acquiring clinical phase assets in our core therapeutic areas and leveraging our development expertise and commercial infrastructure to bring new medicines to patients," Patrik Jonsson, Lilly senior vice president and president of Lilly Bio-Medicines, said in a written statement.
Lilly agreed to buy publicly traded Dermira for $18.75 a share, which represents a premium of 86% to the 60-day volume-weighted average trading price of Dermira's stock.
The 10-year-old company, which is based in Menlo Park, California, lost $140.4 million on revenue of $80.6 million in the first nine months of 2019. The company, which has about 350 employees, went public in 2014 at $16 a share.
Lilly CEO David Ricks has aggressively pursued acquisitions since taking the helm in 2017. A year ago, Lilly announced its biggest takeover ever, the $8 billion purchase of Stamford, Connecticut-based Loxo Oncology, which targets genomically defined cancers.
The companies said they expect the deal to close by the end of the first quarter. Lilly investors greeted the news with caution. Shares of the drugmaker were up less than 1% in mid-morning trading, at $137.18.
But shares of Dermira climbed nearly 6% to $19.39—higher even than Lilly's purchase price, raising the possibility that Dermira shareholders might be expecting a better offer. Dermira would have to pay Lilly a termination fee of $40 million if it accepts a higher offer from another bidder, according to Dermira's securities filing.
The deal would boost Lilly's portfolio of immune drugs, which includes Olumiant for rheumatoid arthritis and Taltz for plaque psoriasis (red, scaly patches of skin) and stiffening of the spine.
Lilly has been pushing hard to increase medications for chronic skin conditions. Taltz, which it launched in 2016, is expected to ring up 2019 sales of more than $1.3 billion, according to Bloomberg. Lilly will report full-year earnings on Jan. 30.
But it's a competitive market, and other drugmakers are paying big money to get in the game. Last summer, Amgen Inc. said it would pay $13 billion to acquire the psoriasis drug Otezla from Celgene.
According to Barron's, analysts have said that Dermira's lead pipeline product, lebrikizumab, has the potential to be the best in class among a wave of similar antibodies to treat eczema.
"While Lebri may be limited in its scope of indications, it is likely going to be a real challenger to Regeneron's … Dupixent, given its profile and efficacy to date," wrote SVB Leerink analyst Pasha Sarraf in a note in December. "Others who are playing in development are struggling."
Please enable JavaScript to view this content.