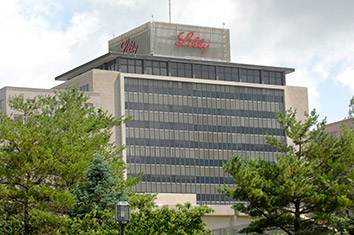 Pharmaceutical giant Eli Lilly and Co. said Thursday it will require all U.S. employees to be vaccinated for COVID-19 by Nov. 15, the latest move by an Indianapolis-based company to react to the highly contagious delta variant that is sweeping the nation.
The mandate covers about 15,400 Lilly employees in numerous states and Puerto Rico, including about 11,000 in Indiana.
"As a science-based company, we have thoroughly reviewed all the data and options available to us," Lilly said in a statement. "We believe this decision helps keep our employees, families and customers safe and healthy, and ensures we can continue making life-saving medicines for people around the world."
Lilly joins most hospital systems in central Indiana, along with a few manufacturing and food-processing companies, in requiring employees to get vaccinated.
The move is an escalation in Lilly's reaction to the pandemic. Two weeks ago, it announced that it reinstated its mask requirements for all in-office employees and contractors in Indiana, regardless of vaccination status.
Lilly said it will consider requests for medical or religious accommodations on an individual basis.
"Our top priority during this pandemic has been to protect the health and safety of our employees and ensure business continuity–today's decision reflects that commitment," the company said.
The Indiana State Department of Health on Thursday reported 3,186 new cases of COVID-19 statewide, the highest number of new cases since Jan. 23, when 3,188 were reported. Marion County reported 417 new COVID-19 cases, the most in the county since Jan. 22.
Please enable JavaScript to view this content.