Eli Lilly and Co. CEO David Ricks is urging hospitals to administer much-touted antibody treatments for patients with COVID-19, after federal officials said that most doses that have been shipped to hospitals are going unused.
"This is the time to put it to work against the patients who are suffering," Ricks said Sunday on the CBS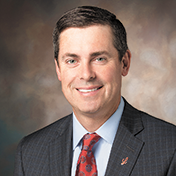 news program "Face the Nation."
Indianapolis-based Lilly has shipped about 200,000 doses of its monoclonal antibody, bamlanivimab, to states and territories, according to federal data. One other drugmaker, New York-based Regeneron, is also producing a monoclonal antibody, and has shipped about 52,000 doses.
Yet so far, only around 5% to 20% of the monoclonal antibodies shipped by the two companies have been used, Operation Warp Speed's scientific head, Moncef Slaoui, told CNBC on Tuesday.
"It should be used much more," Slaoui told the network, saying that monoclonal antibodies could cut down on hospitalizations by as much as 70%. The drugs are indicated for patients with mild-to-moderate COVID-19 patients to keep them from getting more severe symptoms and needing hospitalization.
The federal government is distributing about 65,000 doses of the antibody drugs every week to states and territories, but most of is going unused, resulting in a backload of inventory on hospital shelves.
"We have a surplus of these monoclonal antibodies right now," Health Secretary Alex Azar told CNBC on Tuesday. "What's happening is people are waiting too long to seek out the treatments."
Indianapolis-based Lilly is continuing to ship doses of its antibody, but is seeing uneven reception among states, Ricks told "Face the Nation."
"Well, every week we're shipping more," he said. "So, the way it's working now is we're being directed by the Warp Speed team to distribute through a third-party distributor to those facilities that are using it. And so we're replenishing those supplies now.
"And there's many good examples in Houston. In the state of Maryland, they've done a great job. In South Dakota, even after their very difficult fall, they've distributed an enormous quantity of what they've received. So, we're acting at the government's direction here and supplies are being replenished.
"I don't think there's an attempt to bring the supplies back from hospitals. Rather, what we'd like hospitals to do is use what they were sent."
Lilly's antibody drug is an intravenous infusion that takes about two hours to administer. It needs to be administered within 10 days after a positive PCR-test, which is a confirmation of COVID-19.
Neither Ricks nor federal officials said whether hospitals in Indiana are using the drug as expected. According to federal data, more than 10,000 doses of Lilly's bamlanivimab have been allocated for Indiana.
Nationwide, 65,000 doses of monoclonal antibodies made by Lilly and Regeneron are shipped out every week, and have already been paid for by American taxpayers.
"It's very important that those eligible talk to their doctor about getting this therapy," Ricks said.
He said hospitals and clinics should encourage more COVID-19 patients to receive the monoclonal antibody treatment to help them avoid hospitalization.
"Set up an infusion clinic where patients with COVID-19 can receive this," he said. "And I think we all know, coast to coast, this is not a time to leave that important tool on the shelf. … This is the time to put it to work against the patients who are suffering."
Please enable JavaScript to view this content.