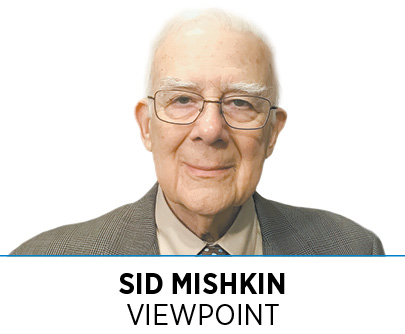 George Floyd no doubt had his dreams, as we all do. But it's doubtful that, in his wildest dreams, he ever imagined he would become a catalyst in the world's fight against racism and in bringing Martin Luther King Jr.'s dream closer to reality.
Floyd's death a year ago, while just one of many previous unjust deaths of African Americans at the hands of the police, has triggered a profound revolution in the way many white Americans think about Black lives and racial justice.
Change is coming.
But what kind of change will it be? Will we react positively and work together to repair the damage racism has done to America, or will we seek revenge and retribution? Will we label all the people who attempted to secede from the Union 160 years ago "racists and traitors," or will we heed the words of King, who said, "Let us not seek to satisfy our thirst for freedom by drinking from the cup of bitterness and hatred"?
If revenge and retribution are what we want, where will we start?
Shall we start with the Bible? It treats slavery as a fact of life, nowhere condemns it and was used to justify slavery. What should be done to the Bible?
Philadelphia, the interim capital of America, had a law that granted freedom to slaves who resided there for more than six months. President George Washington, the father of our country, and other government officials who brought slaves to the city, avoided this consequence by rotating their slaves between their homes and Philadelphia before the end of the six-month period. Do we take down the Washington Monument and delete Washington's name from the history books?
President Thomas Jefferson is said to have fathered six children with Sally Hemings, his slave. What should be done with the Jefferson Memorial and his place in history?
President Woodrow Wilson's administration was much more segregated than those of his predecessors. When a delegation of civil rights leaders pushed back against his claim that segregation benefited African American government employees, Wilson kicked them out of the White House. What should be his fate?
And Abraham Lincoln? Should his name be tarnished because he waited almost two years after the Civil War began before issuing the Emancipation Proclamation that freed slaves only in the 10 states of the Confederacy?
Will it help advance the cause of racial justice and healing if movies like "Gone with the Wind" are banned, Southern military bases are renamed, Confederate statues are torn down or memorials to Confederate war dead are trucked off rather than moved to cemeteries where they belong?
History not only informs us of what our ancestors did and did not do. History also gives us the opportunity to measure where we are today against where our ancestors were, much like mile markers on a highway. It's not just our species that is evolving; our knowledge of good and evil and our sense of right and wrong are evolving as well.
We should remember and learn from our history, not attempt to erase it, as we work to achieve racial justice, peace and reconciliation. Our goal should be, in the words of King, to "speed up that day when all of God's children, Black men and white men, Jews and gentiles, Protestants and Catholics, will be able to join hands and sing in the words of the old Negro spiritual, 'Free at last, Free at last, thank God a-mighty, we are free at last.'"
Amen, selah.•
__________
Mishkin is a retired Indianapolis attorney.
Please enable JavaScript to view this content.