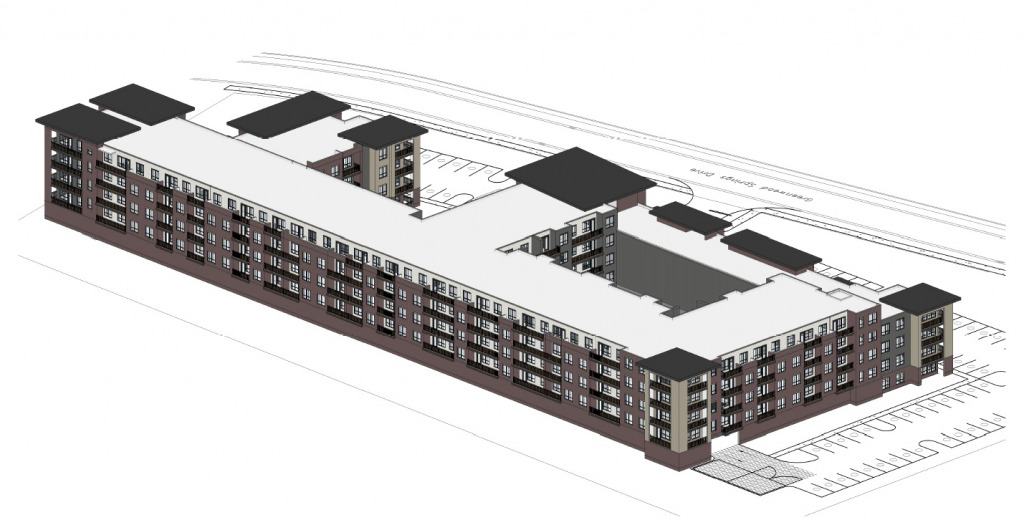 An Indianapolis-based developer with a strong presence in the hotel industry plans to spend more than $40 million to build a luxury apartment complex in Greenwood.
MHG Apartments, a division of locally based MHG Hotels LLC, has received preliminary approvals from the city's planning commission for the 202-unit project at 764 Greenwood Springs Drive, just north of the Verge Luxury Flats apartment complex that was completed in 2020 and west of Interstate 65.
The project is expected to cost $41 million to $42 million. A name for the development has not yet been finalized.
The five-story community is expected to be "the most luxurious apartment property in Greenwood," said Sanjay Patel, principal of MHG.
"This is a project we're really excited about, because it's going to have all the amenities you could want from an apartment community," he said. "This is going to be a great product."
Those amenities are expected to include a pool, an outdoor courtyard with seating and a high-end grill, a dog wash and a business center.
The project will consist of 96 one-bedroom, one-bathroom units going up to 890 square feet; 96 two-bedroom, two-bathroom units ranging from 990 to 1,220 square feet; and 10 three-bedroom, two bathroom units at 1,430 square feet. The average unit size is 885 square feet.
Rent for all of the units is expected to be market rate, meaning all of the units will be priced for those making at least the area's median income. Patel declined to quote specific rents, saying they had not yet been determined.
"It's all location-driven … and it's all market-driven," Patel said, pointing to the demand that came with the opening of Verge. That development was entirely leased within six months of opening, and its average monthly rent for its one-, two- and three-bedroom units last year was about $1,400.
MHG has developed other apartment projects in recent years across the state, including Arlington in Bloomington and another luxury housing project in Noblesville, which is now under construction. It's also developing multiple hotels, including a Hampton Inn & Suites at the Founders Square site in Speedway and a Residence Inn in Noblesville.
The firm in recent weeks received final approval from Greenwood city officials to prepare the apartment site for construction, but a building permit has not yet been issued. The final timeline for the project hasn't yet been finalized.
"We're at the mercy, now, of the weather, so my best guess is we would be able to start here in the spring," Patel said. "Why fight an uphill battle with the weather right now?"
Studio M is the architectural firm on the project.
Please enable JavaScript to view this content.