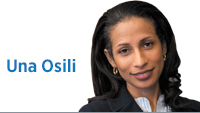 We're confronted once again with the tragic and senseless loss of lives from gun violence in the aftermath of El Paso, Texas, and Dayton, Ohio. Although recent mass shootings in the United States can be linked to multifaceted factors, there is evidence that the El Paso shooting was a calculated political act fueled by anti-immigrant violence.
In direct response, leaders have called for renewed activism and the funding of policy reforms on gun violence. New initiatives to help survivors, including the Dayton Oregon District Tragedy Fund and The El Paso Shooting Victims' Fund, have also been announced. Earlier this year, Congress passed a bill allocating federal money for research into gun violence and safety and stricter gun-ownership measures.
Amid the grief and disbelief, the socio-economic burden of mass gun violence is often overlooked. Economists, including Phillip Cook and Kristin Goss at Duke University, have examined state-level approaches to reduce gun violence as well as whether gun ownership helps promote violence or has the potential to deter it.
This question is complicated by data challenges. However, Mark Duggan (now at Stanford University) has used unique proxies for gun ownership to demonstrate that increased gun ownership does induce more violence.
A 2017 report by the Urban Institute found surges in gun violence can affect business growth and overall economic development. The report shows that increased gun violence suppresses job creation and homeownership rates. Overall, gun violence depresses housing prices and induces out-migration from affected neighborhoods.
We need more timely and comprehensive information and evidenced-based solutions about how to address gun violence. The safety of our families and communities depends on locally specific and creative approaches.
But along with more accurate and timely data, we also need storytellers, artists and filmmakers who can help captivate our moral imagination. Human stories can expose the trauma that results from gun violence and how to reduce the emotional toll on communities. Many people interviewed after the shootings describe how they are afraid to shop at Walmart or walk the streets.
The words of Nobel Prize laureate and literary giant Toni Morrison, who just passed away, haunt and help guide us. Her writings remind us that we must confront the trauma and heavy burden of mass gun violence on families and communities. Morrison wrote against the language of racial violence and its institutionalization in maintaining racial hierarchies in the United States.
In Morrison's words, "Certain kinds of trauma visited on peoples are so deep, so cruel, that unlike money, unlike vengeance, even unlike justice, or rights, or the goodwill of others, only writers can translate such trauma and turn sorrow into meaning, sharpening the moral imagination."
As Toni Morrison eloquently stated, "This is precisely the time when artists go to work. There is no time for despair, no place for self-pity, no need for silence, no room for fear. We speak, we write, we do language. That is how civilizations heal."
There is monumental work ahead to help communities heal from the emotional and social costs of this tragedy.•
__________
Osili is professor of economics and associate dean for research and international programs at Indiana University Lilly Family School of Philanthropy. Send comments to ibjedit@ibj.com.

Click here for more Forefront columns.
Please enable JavaScript to view this content.