Kevin Hardie has dedicated decades of his life to the White River, primarily through his work with Indianapolis-based not-for-profit Friends of the White River. The longtime leader retired in November. Hardie sat down with IBJ—over the phone—to reflect on the journeys he, his organization and the river itself have taken.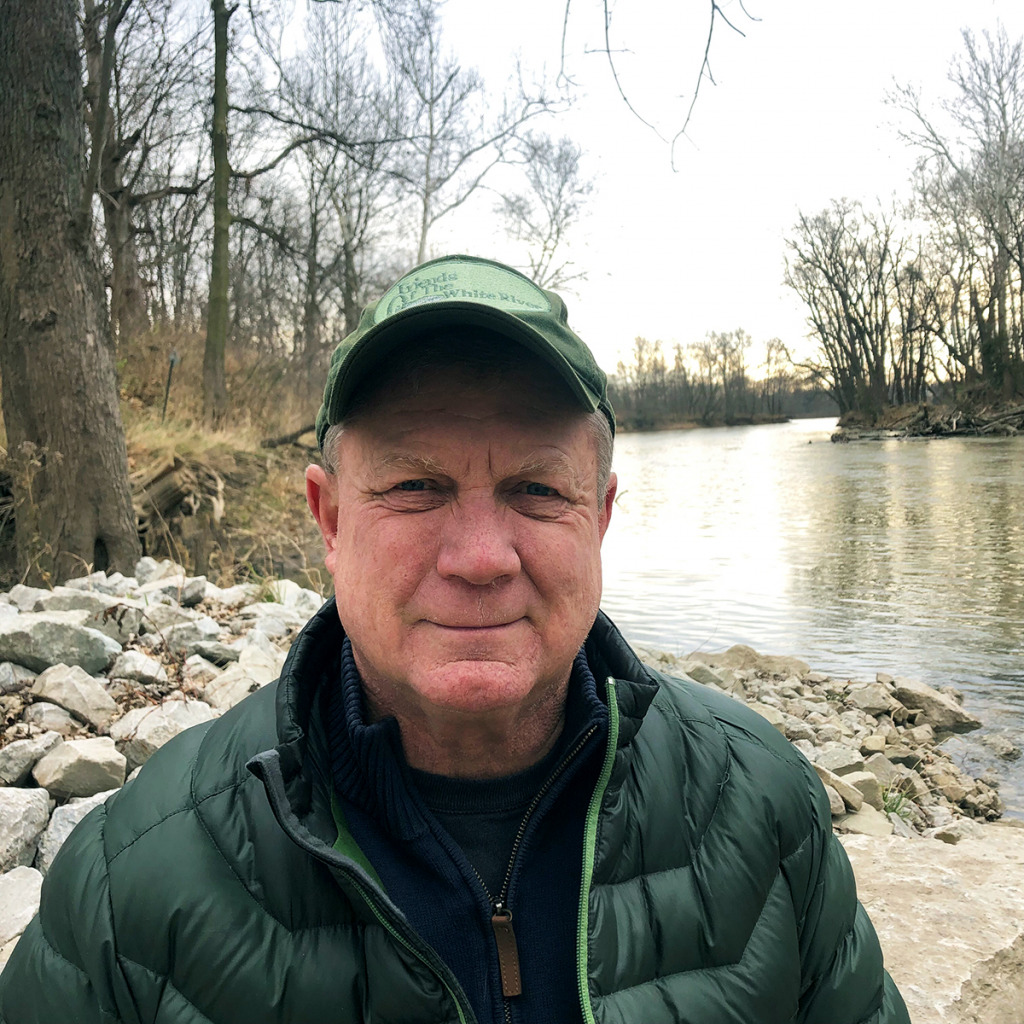 You helped found Friends of the White River in 1985. What was the river like back then?
I'd just returned to the Midwest from briefly living in another area. … At that point in time, the river had a very low profile, in terms of the general public's awareness, and even [among] policymakers and elected officials. What perception there was of it was negative.
It was, and still is, to some degree, considered heavily polluted. Some of that goes back to the early history of Indianapolis, when the river … was considered a way of getting rid of those things that we didn't want, or that were byproducts of industry.
You became Friends of the White River's only paid staff member in 1999, after a lethal chemical discharge. How was this a turning point for Friends' mission and its capacity?
Upon discovering the extent of the damage done to a 50-mile stretch, the goal was to see that the polluter was held responsible. I was able … to look at advocating for that on a community-relations basis. Instead of having a midlife crisis, I gained an executive directorship.
[The discharge] did very much raise the profile of the river, but it also established, for our organization, that we need to move beyond an all-volunteer group, and create one that could monitor what was happening with the waterway and address threats quickly.
What are you proudest of, when it comes to Friends?
It's knowing that the organization, which had very limited resources at the time that I became the first full-time staff member, now has the ability to continue to grow and involve a whole new generation.
What's your biggest disappointment or regret?
We're glad to have collected more than 2 million pounds of trash over the 30-year history of our cleanups. But the question that comes to my mind is, why do we need to keep doing this? How is it that some people not only consider that something that's appropriate, but are not held responsible for it?
Many of the places that we do cleanups on, within a week after we complete those, we find that they're being abused and degraded again. … Right now, it is [temporary] until there are enhanced enforcement and prevention measures. That's going to require cooperation between units of government, neighborhoods and advocacy groups like ours, as well as a change in behavior on the part of those who are doing it.
What's your hope for the decades to come?
I think that there's a continuing need for an organization that is an advocate for the resource. But there also need to be more efforts to be a part of policy and any governance that emerges.
I would hope that Indianapolis becomes a city that's known for the river, and just as is the case with the Indianapolis 500, [that] it is seen as a key element of why the city's here and what can happen in the future.
How's retirement been? It's been, what, a month?
Yeah, it's been a month. I've been tying up a few loose ends and figuring out how I'll redefine myself. That definition will definitely include staying involved with a river that I love, and that I want others to love better.•
Please enable JavaScript to view this content.