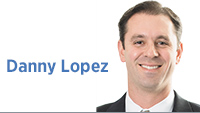 I have somehow assumed the mantle of lead cheerleader for our state within my various professional and personal circles, so I won't disappoint here.
It's ironic, though, given that I'm an adopted Hoosier son. But, perhaps, that's the catch—someone born and raised in a congested, international, urban setting can shine light on the many investments, accomplishments, organizations and leaders that allow Indiana to punch well above its weight.
Here's my list of things about Indiana for which I gave thanks last week:
1. With all the rancor and nastiness and toxicity with which our national politics is conducted, I am proud that Democrat and Republican leaders in our state government act mostly with civility, collaboration and decency, even in debating the most contentious issues we face. That tone is unmistakably set at the top by Gov. Eric Holcomb.
2. A seat at the community engagement and change table is not hard to come by, if you are willing to make the effort.
3. There are so many organizations doing selfless and altruistic work, and the people who lead them, support them and champion their causes do so for the right reasons.
4. Indiana knows how to put its best foot forward when it comes to welcoming others to town for special events and conferences.
5. Some of the most interesting models for employer engagement in education and training, work-based learning, and even employee wellness are happening right here in Indiana, even while more needs to be done.
6. We put our money where our mouth is when it comes to education. I know this has been a challenging topic of late, but the commitment of both parties to increase sustainable funding for teachers, schools and students is undeniable.
7. We have an unmatched network of world-class research universities, community colleges, independent colleges and universities, and large public universities. Hoosier students, and indeed the very best talent in the world, have a high-quality postsecondary option that is right for them right here in our state.
8. Indiana boasts some incredible foundations and charitable organizations, and they are making big bets on our future.
9. We have quite a bit of catching up to do when it comes to public health, that's for sure. But there is no more talented or dedicated group of public health leaders anywhere. We should all feel good knowing Dr. Jen Walthall, Dr. Kris Box, Terry Stigdon and so many others have their hands on the wheel. They are superstars.
10. We have Hinkle Fieldhouse, Assembly Hall, the Indianapolis Motor Speedway, and Notre Dame Stadium all in the same state. I mean, c'mon.
I'm not trying to be hokey or Pollyannaish. We have some big challenges ahead of us, including incredible economic disruption exacerbating our forced transition from low-cost labor to a high-tech workforce. Chronic health problems linger. Substance abuse remains a concern, as does tepid population growth.
But other states are facing similar challenges, and no one has figured it all out. In the meantime, we—state and local governments, employers, not-for-profits and more—have invested big in our people, in our health care and public education systems, in worker training and technical education, in our infrastructure.
And while our Midwestern humility can be charming, we have to toot our own horns. We have to project the Indiana we have built over decades and the Indiana we want others to see, an Indiana we're all proud of and one we want our children to be proud of, too.
So, whether in a chorus or standing alone, I'm happy to be a horn tooter. Because—to steal a line from our friends at Agrinovus—this is the #TimeToTell.•
__________
Lopez is senior vice president and chief of staff at Strada Education Network. He previously served as Gov. Eric Holcomb's deputy chief of staff and chairman of the Governor's Workforce Cabinet. Send comments to ibjedit@ibj.com.

Click here for more Forefront columns.
Please enable JavaScript to view this content.