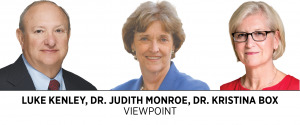 Indiana has long received accolades for its economic and business prowess. Our state's reputation suffers, however, when we look at public health metrics.
According to Trust for America's Health, Indiana ranks 41st nationally for public health. Each year, more than $75 billion is spent in Indiana on health care costs and lost productivity to address issues associated with chronic disease, much of which can be attributed to high smoking and obesity rates. Yet Indiana's state-government spending on public-health efforts that could prevent these problems ranks 45th in the nation. Current combined state and local per-capita funding coming into 90 of our 94 local health departments places them below the 25th percentile nationally.
These gaps in public health must be addressed for Indiana to retain its position as an attractive place for businesses and job creators to locate. Good health is good for employers, employees and communities. That is why the Governor's Public Health Commission spent nine months performing the first comprehensive assessment of Indiana's public health system in more than three decades.
The findings were sobering. While Indiana's 94 local health departments are required to provide the same minimum services to their residents under state law, many struggle to fulfill those statutory obligations due to funding and resource limitations. About 70% of public health funding comes from local property taxes. With 64 of 92 counties serving a population of less than 50,000 and 30 serving fewer than 25,000 residents, public health often takes a back seat to higher priorities, such as infrastructure and public safety, due to limited tax revenue.
As a result, access to core public health services—which are designed to protect Hoosiers, prevent illnesses and reduce the burden on our health care system—are delivered unevenly across the state. Where you live determines your access to those services and too often negatively impacts your health while driving up health care spending for individuals and employers.
Increased funding, a key element of the commission's recommendations, should come from the state and should be expended through a partnership structure that includes the state, the local health departments that provide the services and local elected officials. The commission has proposed a model in which local elected officials would have the option to accept increased funding to offer core public health services on a five-year basis. As with the current road-funding formula, counties would be asked to contribute a portion of those costs.
The commission also recognized the need for additional technical support and expertise for local health departments. The recommendations would allow the state to provide resources at regional and district levels while preserving local authority over public health decisions, expand the eligibility requirements for local health officers, and allow for better representation of municipalities on local health boards and greater engagement by residents and local elected officials.
We also want to leverage the important role schools play in childhood and adolescent health by improving the ratio of school nurses to students and increasing access to required school screenings, all while preserving parental consent. Gaps in our statewide trauma and emergency-preparedness systems would be addressed by hiring and training more EMS personnel and assessing the need for additional equipment, enhancing regional coordination and establishing a state strategic stockpile for personal protective equipment and medical countermeasures.
According to the 2020 U.S. Census, Indiana has the highest growth rate among its neighbors. Building a stronger public health system is the next step to ensuring that Indiana continues to stand out as a place where people want to live and work. Indiana has demonstrated time and again that it strives for excellence in business, education and opportunity. It is time for us to make that same commitment to public health.•
__________
Kenley, a former state senator, and Monroe, a former state health commissioner, co-chaired the Governor's Public Health Commission. Box is commissioner of the Indiana State Department of Health.
Please enable JavaScript to view this content.