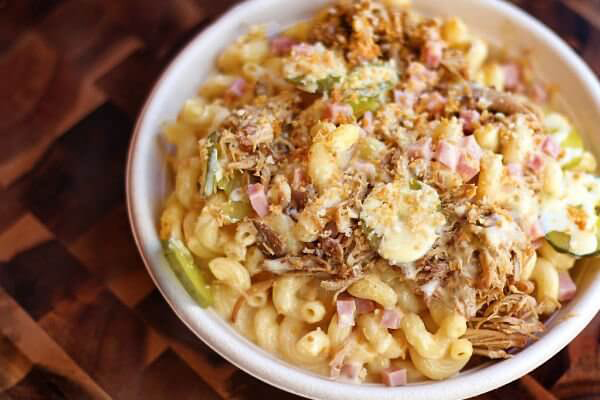 I Heart Mac & Cheese, a Florida-based fast-casual restaurant chain, plans to expand into the Indianapolis market with multiple locations.
Franchisees Matt and Elizabeth Griffin of Fishers have signed a three-store development agreement with the Boca-Raton-based company, and the couple is planning to open stores in Westfield, Fishers and either Noblesville or Carmel.
The first location to open will be in Westfield, Matt Griffin said.
The couple hasn't yet signed a lease but is eyeing a spot in a new commercial development at the intersection of State Road 32 and Oak Ridge Road, south of Grand Park Sports Campus. The location is expected to open as early as the end of this year, depending on how quickly the Griffins can secure needed permits and approvals.
I Heart Mac & Cheese offers made-to-order macaroni and cheese bowls, grilled cheese sandwiches and salads. Customers can build their own bowls on a base of pasta, quinoa, broccoli, cauliflower, lettuce mix or tater tots by adding their choice of cheese, vegetables, and proteins, including ham, chicken, meatballs, short ribs and lobster.
Once the first three stores are opened, Matt Griffin said, he and his wife plan to scout other central Indiana sites for additional locations.
Both husband and wife work in law enforcement, but they also have experience running their own business.
Matt Griffin is an officer with the Noblesville Police Department, and Elizabeth Griffin is an officer with the Westfield Police Department. The couple has four children, ages 1 to 15.
The Griffins also are co-owners, with two other families, of a landscaping business called GKM Property Services. The company handles landscaping, mowing, irrigation and other services for residential and commercial clients, with a focus on apartment complexes, retail developments, corporate campuses, schools and office parks.
Matt Griffin said he and his wife had long wanted to get involved in the restaurant industry, and they liked I Heart Mac & Cheese because the concept is brand new in this area.
"We didn't want something that someone else was doing," he said.
The first I Heart Mac & Cheese location opened in 2016 in Fort Lauderdale, and its franchising program began in 2017. The company has seven restaurants in Florida, including locations in Tallahassee, Pembroke Pines, Jupiter and Boca Raton. It also has two restaurants in the New York City area.
Additional locations are slated to open in Indiana, New York, Florida, Georgia and Texas.
According to the company, franchises require a total investment of $200,000 to $327,000, with $150,000 in cash required. The typical I Heart Mac & Cheese requires 1,600 square feet.
Please enable JavaScript to view this content.