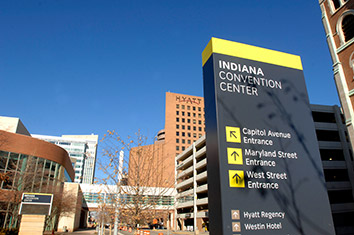 A convention that was expected to draw nearly 10,000 people to downtown Indianapolis later this month has been postponed due to the coronavirus outbreak.
The American Coatings Show and Conference, which had been scheduled for March 31-April 2 at the Indiana Convention Center, will be rescheduled to later this year. The event's Washington, D.C.-based organizers cited the ongoing outbreak of COVID-19—a disease caused by a novel coronavirus—as the reason for the postponement
"Postponement of ACS/ACC 2020 was unavoidable as the show could not proceed as scheduled due to forces beyond our control," the group said in an online statement.
A new date has not yet been finalized for the event. Visit Indy has said the convention is expected to have a $7.9 million economic impact on downtown businesses and bring about 9,500 people.
One presumptive case of COVID-19 has been confirmed in Indianapolis. It was announced Friday by the Indiana State Department of Health. Gov. Eric Holcomb has declared a public health emergency in the state as a result, although health officials noted the case was "isolated" and did not pose a risk to the greater public.
American Coatings is the first major program scheduled for Indianapolis to be postponed due to the virus, which has infected more than 100,000 people around the world and 225 people in the United States.
Dr. Virginia Caine, director of the Marion County Public Health Department, said during a news conference that she has no concern about the slate of events scheduled for the city over the coming months, which are expected to draw more than 550,000 people to the area.
She said department has authority to cancel events, if they are considered a threat to public health.
"At this point, I have no concern about any events that are happening," said Caine during Friday's news conference. "At this time, there's no need to cancel any event, but we will monitor that very closely."
Lisa Vielee, a spokesperson for the Indiana Convention Center said the decision to delay the event was made by organizers on Thursday, before the Indiana case became public.
The venue is "open for business and continues to take every precaution necessary to protect the health and safety of our visitors and employees," she said.
Please enable JavaScript to view this content.