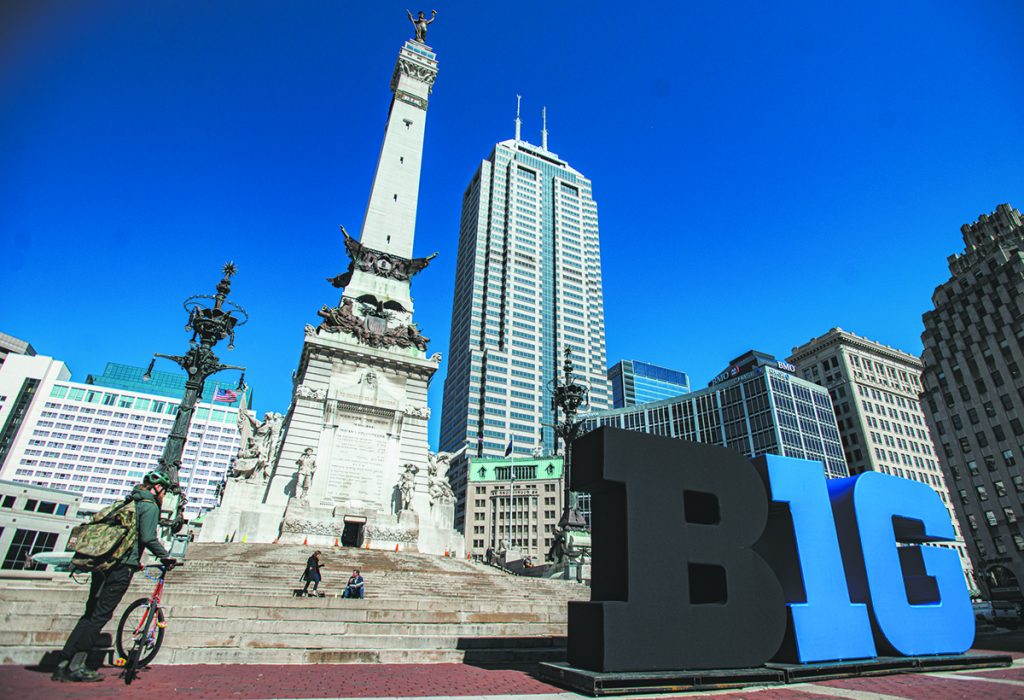 Editor's note: On Friday morning, after the story below had been gone to press, Indiana health officials announced that a Marion County resident had tested positive for COVID-19. On Friday afternoon, the American Coatings Show and Conference announced the postponement of its convention, which was was expected to draw nearly 10,000 people to downtown Indianapolis later this month.
In Columbus, Ohio, officials have closed off the international Arnold Sports Festival to the public, fearing the spread of a novel coronavirus.
In Chicago, the International Housewares Association canceled a McCormick Place show expected to bring thousands of attendees from 45 countries, and software giant Oracle canceled an event there, with plans to take its event online.
And companies nationwide—including Salesforce, KAR Global and Cummins Inc.—have restricted or discouraged non-essential business travel, a move that prevents employees from attending conferences, meetings and trade shows.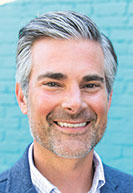 The moves could put a dent in convention and event business across the country and in Indianapolis, even though no case of COVID-19, the illness caused by coronavirus, had been detected here by press time.
So far, not one of the nearly 20 high-profile events planned in the city through early June has been canceled. Those events are expected to draw nearly 570,000 and have an economic impact topping $478 million.
The list features industry trade shows and expositions, along with a handful of major amateur and professional sporting events—including more than 30 men's and women's college basketball games and the Indianapolis 500.
Event organizers and local officials say they are monitoring the situation, following guidelines from the Centers for Disease Control and Prevention to help keep people who visit Indianapolis safe.
More than 96,000 cases of COVID-19 have been reported worldwide since the outbreak was discovered in January in the Wuhan region of China. The virus has been linked to more than 3,300 deaths.
At least 159 cases have been reported in this country, including 10 deaths in Washington state and one in California. Most cases have been mild.
The Marion County Public Health Department said March 3 it has "no concerns at the present time about the public attending large events."
But the agency also encouraged people to "take proactive steps in reducing the potential spread of the virus."
That includes following standard CDC guidelines to combat communicable illnesses: Wash hands frequently and avoid interpersonal contact when possible.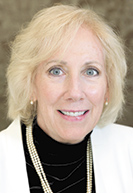 If the outbreak worsens, the agency would have jurisdiction in determining whether public venues must close to mitigate its impact, according to the Indiana State Department of Health.
In Chicago—which has at least four confirmed cases—fears led to the cancellation of the International Housewares Association, scheduled for March 14-17. The trade show would have featured 2,200 exhibitors from 45 countries and drawn 60,000 people.
And spectators were barred from the Arnold Sports Festival bodybuilding competition in Columbus—which typically draws about 200,000 each year—in an effort to protect participants from exposure to the virus.
Chris Gahl, vice president of Visit Indy, said no events in the city's convention center or stadium have been canceled.
In fact, the Work Truck Show, which was expected to draw 14,500 people, started March 3 at the Indiana Convention Center as scheduled. And the NFL Combine, in town the last week of February, saw a slight uptick in attendance over last year, a source told IBJ.
The Capital Improvement Board, which owns and operates the Convention Center and Lucas Oil Stadium, said it is leaving decisions about cancellations tied to the virus to the discretion of each event organizer and local and state health officials.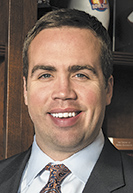 "The health and safety of our visitors and staff is our top priority," the quasi-government agency said in a statement. "We will continue to work with the Indiana State Department of Health and Marion County Public Health Department to closely monitor the novel coronavirus (COVID-19) and will provide updated information as needed."
The convention center and stadium have taken multiple steps to prevent the spread of the virus, including continually cleaning and disinfecting exposed surfaces, posting reminders encouraging people to cover their coughs and sneezes and frequently wash their hands, and providing hand-sanitizing stations throughout both venues.
Event contingencies
The lack of local cases doesn't mean groups aren't considering their options.
Mike Eardley, president of the International Dairy-Deli-Bakery Association, based in Wisconsin, said the organization hopes to determine by late April whether to move forward with its annual trade show, scheduled for May 31 to June 2 at the convention center.
"We're staying attuned to what's going on and we'll make a decision as we get closer," he said, "but right now we intend on having it."
Eardley said the group is working closely with local tourism and convention center officials—whom he praised as "phenomenally supportive" amid growing concerns about the impact COVID-19 could have on the United States.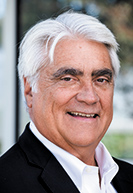 But unlike some major events that have been postponed or shifted to virtual settings (such as livestreams), Eardley said if his group cannot hold its event in Indianapolis, it will be scrapped for the year. Next year's event is in Houston.
"We don't have the expertise or experience to be able to do" virtual meetings, he said. "And when you think of the [number] of vendors and people that we have, to just reschedule … is not in the cards. That's not one of our backup plans."
The American Association of Critical-Care Nurses is moving forward with plans to hold its National Teaching Institute & Critical Care Exposition in Indianapolis May 4-7. CEO Dana Woods said in a statement to IBJ that the group is "continuously monitoring and analyzing new information and developing contingency plans that would be enacted if needed."
"The health of our staff, nurses—and the patients they care for—is our north star," Woods said. "We are following the guidance of the Centers for Disease Control and Prevention regarding safety precautions for mass gatherings."
Organizers of other events being hosted in the city in the coming months, including the American Coatings Show & Conference and the NAFA Fleet Management Institute and Expo, which will draw 9,500 and 2,000 attendees, respectively, did not return calls requesting comment.
Nor did organizers of the Fire Department Instructors Conference International, which brings about 34,000 people to the city every April.
The Indy Hematology Review is looking into contingencies for its mid-March event, which is expected to bring 500 people to the downtown Westin.
Debbie Locklear, president of Meeting Services Unlimited, which facilitates small and midsize conventions in Indianapolis and other cities, said her client is considering videoconferencing to accommodate an international speaker for the conference.
Locklear said the Italy-based individual, whom she did not identify, is taking a "wait and see" approach to travel arrangements. The virus has hit Italy hard in recent weeks, infecting more than 3,000 people and killing 100.
Videoconferencing "is an alternative," she said. "It's not one we've decided that we're going to use yet, because we don't know for certain that [the speaker] is not going to be here."
Locklear said the spread of the coronavirus, particularly if a local case is discovered, "would definitely make an impact" on the city's tourism industry. But event organizers aren't panicking yet, she added.
"They're alert, but not in any mode where [they] think there's a crisis."
Spectator-less sports?
The NCAA said it, too, is evaluating its options for how to handle the fluid situation.
The Indianapolis-based organization's Division I Men's Basketball Midwest Regional round will be played March 26 and 28 at Lucas Oil Stadium—accounting for three of the 35 basketball games scheduled in the city in March.
"The NCAA is committed to conducting its championships and events in a safe and responsible manner," NCAA Chief Operating Officer Donald Remy said in written remarks on March 3.
The comments came as the organization announced the creation of an advisory panel to combat the virus and prepare contingencies.
"Today we are planning to conduct our championships as planned, however, we are evaluating the COVID-19 situation daily and will make decisions accordingly," he said.
Earlier the same day, Bloomberg News reported the NCAA was open to various possibilities for its men's and women's basketball tournaments—including playing the games in venues without fans present.
The Big Ten hosted its women's basketball tournament at Bankers Life Fieldhouse March 4-8. It will be followed by the men's tournament March 11-15.
The conference did not offer comment for this story, but a source said it was working closely with member schools and Bankers Life Fieldhouse.
As of press time, the women's games remained open to spectators and were being played as scheduled.
The Horizon League is scheduled to host the semifinal and final rounds for its men's and women's basketball championships at Indiana Farmer's Coliseum at the Indiana State Fairgrounds March 9-10. The league did not respond to a request for comment.
Indiana Sports Corp. President Ryan Vaughn said he hasn't been informed of any changes for those events, but is staying in close contact with the groups.
"All of the events that we currently have on the calendar are scheduled to go on as they normally would," he said. "Our focus here is really just addressing and preparing the venues for the crowds."
Vaughn said his staff is using "the same process we would use for any kind of increased flu or virus risk," following local, state and federal health guidelines.
He said he doesn't anticipate a decline in revenue or attendance for the games.
"There are no cases yet in … central Indiana, so we expect our fan events will proceed as they normally do," he said, "with maybe the only difference being precautions the venues and others are taking around the spread of germs and disease."
Likewise, IndyCar officials say they don't fear a drop-off in interest in the racing series or the Indianapolis 500.
Mark Miles, CEO of IndyCar parent Penske Entertainment Corp., said fans have continued to buy tickets for the May 24 Indy 500.
March 2 "was the best day we've had for that date in time for the last three years," he said. "The public isn't looking to back off their interest in being [at the Indianapolis Motor Speedway], and we don't yet see any conditions that would affect us."
Miles said the racing series is continuing conversations with other event promoters throughout the United States and is confident the season will continue as planned.
More important, he said, IndyCar doesn't "see the situation getting to the point where anybody would contemplate" trying to run the Indianapolis 500, GMR Grand Prix (May 8) or other races without fans present, as some leagues—including the NHL, NBA and European soccer leagues—are contemplating.
"That is so far out there as a scenario, I really can't even give you an informed comment about it," Miles said.
Hotel questions
It isn't yet clear what effect the coronavirus might have on local businesses, including hotels.
IBJ reached out to several downtown hotels, but each either declined to comment or did not return a call.
Patrick Tamm, CEO of the Indiana Restaurant and Lodging Association, said the organization is paying close attention to the outbreak, but it's too early to tell how businesses might be affected—particularly without any local cases. He said that while some consumers are fearful, they haven't stopped eating out or using hotel rooms.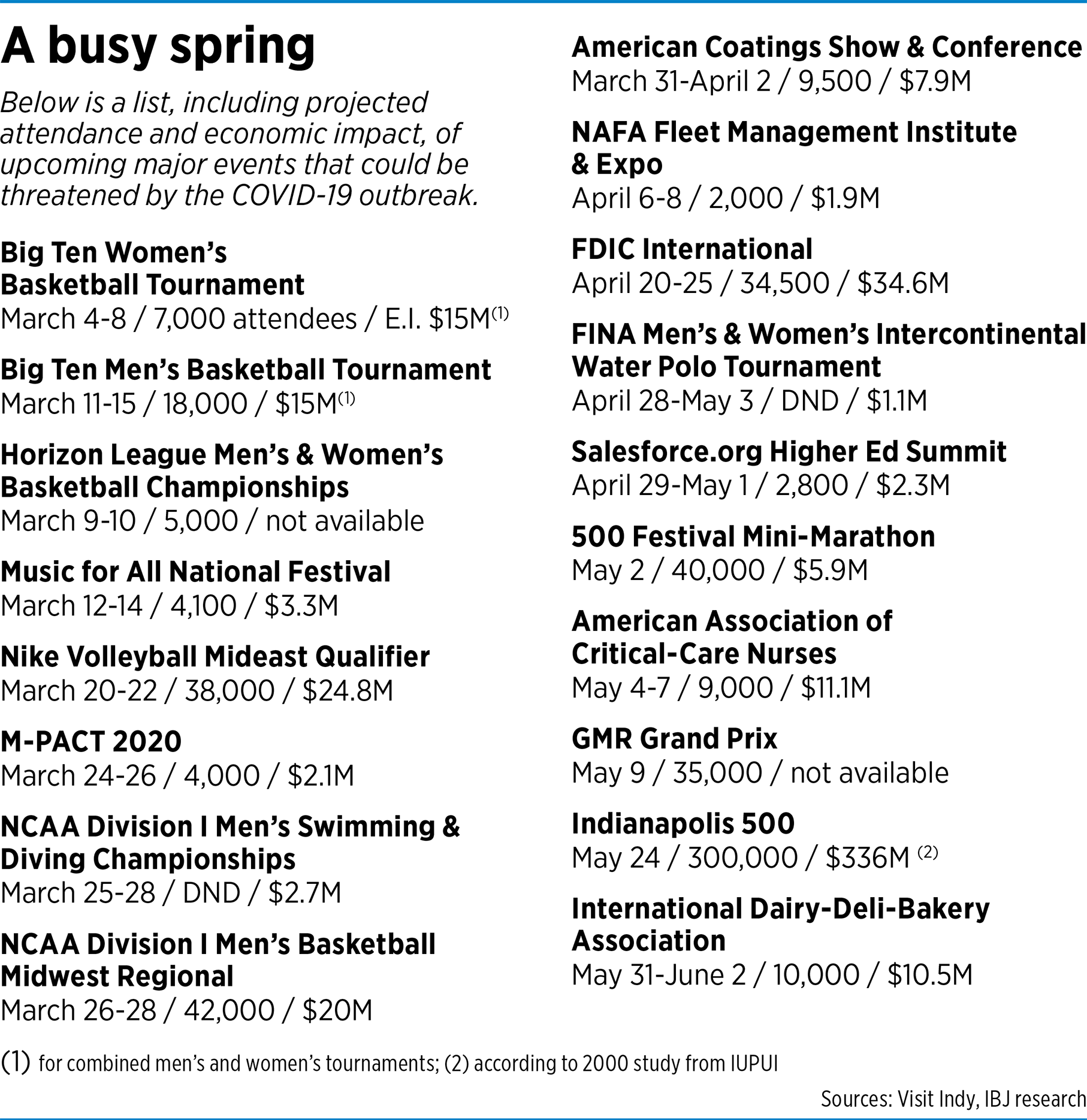 However, the association has received calls from hoteliers and restaurants around the state asking how to address the coronavirus.
Tamm's answer: Use common-sense measures—continually disinfect surfaces and keep an eye on workers who might be sick (and send them home).
"A large part of what the CDC and World Health Organization have been putting out there in terms of tips are things that we need to be doing every day, anyway," he said.
Jan Freitag, an analyst with national hotel analysis firm STR, said industry personnel and observers are "monitoring the situation with the coronavirus very closely," but added it's too early to predict the long-term impact.
"This is all still to be determined," he said. "We're in the middle of it … so we are watching the performance of airports and hotels to see the impact there. But all our data right now is incomplete, because this is just [now] happening."
Freitag said Nashville, Tennessee-based STR is looking at bellwethers like Marriott and Hilton—both of which have a heavy presence throughout Indianapolis, including downtown—for indications in overseas markets more heavily affected by the virus to determine what the U.S. impact could be if the situation worsens.
But, he said, it will likely be several weeks before solid data becomes available.
And until Indiana gets its own coronavirus case, officials are confident there will be little effect on area tourism.
It would be a "pretty significant issue for us," Tamm said. "But as far as local concern, it sounds like [impact] is pretty low right now."•
Please enable JavaScript to view this content.