Artificial intelligence, data analysis tools and other digital technologies are poised to create revolutionary improvements in manufacturing speed and efficiency—and companies must embrace these changes if they want to succeed, a McKinsey & Co. expert said Friday.
Companies that have integrated digital technology into their operations have seen productivity gains of up to 90%, energy efficiency improvements of up to 50% and up to an 80% reduction in supply-chain lead times, said Evgeniya Makarova, a partner at consulting firm McKinsey's Chicago office.
"The importance of these gains cannot be overstated," Makarova said. "Other players in the markets who cannot reach these new expectations risk being left behind when they can no longer compete."
Makarova was the keynote speaker at the annual Advanced Manufacturing & Logistics event presented by IBJ and Conexus Indiana. The event, which also included a panel discussion, was held online and can be accessed via replay.
As of now, Makarova said, relatively few companies have fully integrated digital technology into their operations. To date,  McKinsey has identified 54 such companies around the world, including five in the U.S.: Schneider Electric, an energy technology company in Lexington, Kentucky; DCP Midstream, a natural gas utility in Denver; Zymergen, an Emeryville, California-based biotech firm; Chicago-based manufacturer Fast Radius; and Johnson & Johnson Vision in Jacksonville, Florida.
The cost of digital technology has dropped significantly in recent years, making it more accessible to companies of all sizes, the panelists said.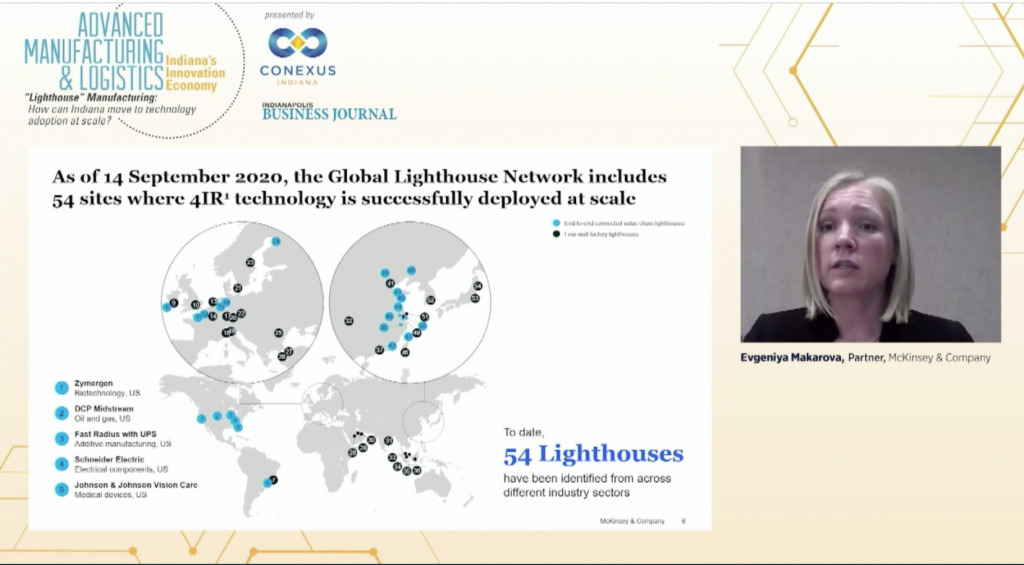 One of the keys to successful integration, Makarova and the panelists said, is to prepare the current and future manufacturing workforce for the technological advances commonly referred to as the Fourth Industrial Revolution.
"This is not an incremental change, it's a transformational change," said panelist Gary Bertoline, dean of Purdue Polytechnic Institute. "For the first time in human history, we are now at a time when the machines are smarter than humans."
These technological advances will revolutionize the world, Bertoline said, and the educational system needs to adapt so that students have the skills they need to succeed in this new reality. The changes need to happen at the K-12 and university levels, he said, and they will require collaboration between schools and private industry.
Companies also need to prepare their workforce, and ideally even their suppliers, when implementing digital technology.
"There has to be a concerted effort," said panelist Tanya Foutch, resident quality engineering manager for Fiat Chrysler Automobiles. "Everybody needs to be on the same page to make it work well."

But the panelists also said companies should be strategic in their approach to digital technology. Pick a specific business problem, they advised, and find a technology that could help.
For instance, Makarova said, a company that makes consumer goods might want to focus on technologies that could speed their products' time to market. A pharmaceuticals company might see the most value from analytics tools that could help improve product quality and patient safety.
Companies should also start small and not feel they must revolutionize their business all at once, the panelists said.
"Organizations should be approaching digital at their own speed," said panelist Alpen Patel, technical services manager at Caterpillar's Lafayette Engine Center. "This is clearly not a race to the finish line, because there is no finish line. This is a continuum."
Another of the panelists' tips: Tap into the expertise of Conexus, local universities and other organizations that have studied this topic and can share their expertise.
"Look to those resources and don't start from scratch," said panelist Stephen Ezell, vice president of global innovation policy at the Washington, D.C.-based Information Technology and Innovation Foundation.


Please enable JavaScript to view this content.