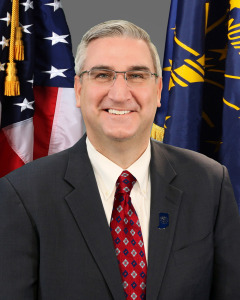 U.S. President Joe Biden, a Democrat, granted full and unconditional pardons to all Americans with federal convictions of simple marijuana possession in an executive action this month, but don't expect Indiana to follow suit.
"The President should work with Congress, not around [it], to discuss changes to the law federally, especially if he is requesting Governors to overturn the work local prosecutors have done by simply enforcing the law," Indiana Gov. Eric Holcomb said in a written statement to the Capital Chronicle. "Until these federal law changes occur, I can't in good conscience consider issuing blanket pardons for all such offenders."
It's unclear, for now, the number of people even convicted of simple marijuana possession under Indiana law. State lawmakers made it a misdemeanor in 2014.
Biden's action didn't free a single person from federal incarceration; no one is in federal prison only for simple—i.e. a personal amount rather than a dealing quantity—marijuana possession.

But he overturned thousands of convictions going back decades: at least 6,500 convictions between 1992 and 2021, according to The New York Times. The pardon also applies to thousands more people convicted after marijuana possession became a federal crime in the 1970s, and those convicted under District of Columbia law.
"Sending people to prison for possessing marijuana has upended too many lives and incarcerated people for conduct that many states no longer prohibit," Biden said in a statement Oct. 6. "Criminal records for marijuana possession have also imposed needless barriers to employment, housing and educational opportunities."
Biden also noted that though "white and Black and brown people use marijuana at similar rates," non-white people are disproportionately arrested, prosecuted and convicted for marijuana possession.
And he called on state governors to do the same for state convictions, saying, "Just as no one should be in a federal prison solely due to the possession of marijuana, no one should be in a local jail or state prison for that reason, either."
Holcomb agreed with some of Biden's premise, but not the execution.
"I do agree that many of these offenses should not serve as a life sentence after an individual has served their time," he said.
But he highlighted Indiana's use of expungements over pardons, saying, "What Indiana has done is act proactively, not reactively, by creating an opportunity for those who have maintained a clean record since a conviction of simple marijuana possession and a number of lower-level offenses, to apply for—and receive—an expungement which seals their record. … Expunged convictions cannot be disclosed to employers, to those who grant licenses, or when seeking housing."
The statistics
In just four years, 2018-2021, more than 94,000 people were charged with misdemeanor marijuana possession, according to Indiana Prosecuting Attorneys Council data.
Like on the federal level, however, a pardon wouldn't result in many releases from incarceration.
There was just one person in Indianapolis' Adult Detention Center solely for simple marijuana possession as of Thursday, according to Marion County Sheriff's Office Capt. Mitch Gore. About 320 people were incarcerated at the time for simple marijuana possession in addition to other charges, he wrote in an email.
Allen County Sheriff Department Capt. Steve Stone said law enforcement had arrested about 470 people on charges including simple possession of marijuana or other drugs. But, he said, the department can't differentiate the number of people facing solely marijuana possession charges from those charged with possessing other drugs or who face multiple charges.

"It would be a very, very low number," said Stone, who previously worked in anti-narcotics.
Stone said that, in his experience, "We wouldn't even arrest you because you'd be out before we were even done doing the paperwork."
But if there were also other, more serious charges, prosecutors often used the simple marijuana possession charge as a bargaining chip, he said.
The Indiana Capital Chronicle is an independent, not-for-profit news organization that covers state government, policy and elections.
Please enable JavaScript to view this content.