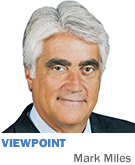 The NCAA Division I Men's Basketball Tournament has been a fitting showcase for our city and community on many significant levels. But in the age of COVID, perhaps the most impactful contribution has been to signal the subsequent return of the Indianapolis we all know and love.  
Downtown is coming back. Indy is coming back. Final Four basketball in the Circle City is definitely back. And all in a very big way.
The last year has been challenging for everyone, and every major metropolitan area in the country has felt the impact of COVID-19. But for Indianapolis, a city built for major events and in many ways dependent on them, the collective dimming of our marquee sports and cultural venues has been especially painful. 
Building today's city was a generational project driven by an indefatigable spirit and collective commitment that still sets an international standard. Other communities often seek to imitate our efforts but can't quite replicate them in full.   
The march of progress following the UniGov consolidation in 1970 has been relentless and impressive. We've constructed new stadiums, shining arts and entertainment venues, hosted Super Bowls, Final Fours, Olympic trials, international championships, the Pan Am Games and so much more. 
Downtown has been the center of this evolution, the heartbeat of a community with major plans and  expansive goals.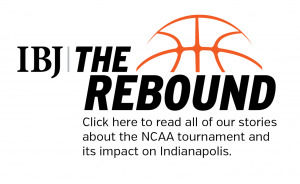 That's why this tournament means so much. You can feel it driving and walking around our streets. Restaurants are busy again, and Charles Barkley is talking about St. Elmo Steakhouse on national TV. Indy's downtown hotel occupancy has led the nation over the last few weekends. Our trademark "Hoosier Hospitality" is on full display and receiving widespread acclaim. A palpable "buzz" recognized by anyone who has visited or lived in a marquee city is in the air.
We've done something no other community was ready to do: bring the joy of March Madness to homes, TV sets and mobile devices across the globe. After missing last year's tournament, the world is grateful and applauding, once again in awe of our city and its people.  
All of this has translated into a $100 million boost for our economy at a time when we need it most. Businesses are reopening, and people are coming back to work. 
Ultimately, the NCAA Tournament has provided a much-needed rallying cry to support our downtown. With increased supplies allowing everyone 16 and over the opportunity to receive a vaccine, and almost 100,000 shots soon to be administered at the Indianapolis Motor Speedway in April, it's time to embrace being back.   
COVID-19 is now an ever-present part of our lives and that's not likely to change. But medical experts are beginning to talk about a day where the impact of widespread vaccines moves COVID-19  into a more routine illness category, joining influenza and other viral infections whose impact is significantly blunted by medical innovations. With over 51 million people fully vaccinated in the United States and a national goal of 200 million vaccines administered before May, this day is within reach. 
As the Final Four nears a surely exciting and triumphant close next week, the eyes of our community and the sporting world will turn to another treasured event: the Indianapolis 500-Mile Race. 
At IMS and INDYCAR, we're ready to take the baton from the NCAA and Indiana Sports Corp. as we head into the month of May. The Indy 500 is a singular event, uniting people from all walks of life. It's a vital selling point for our city that happens every year. It brings with it all the hallmarks of a major event, with positive impact reaching from Main Street to downtown and beyond, providing in excess of $300 million in economic horsepower. 
This year, all of that means more. And we're grateful to everyone associated with the NCAA Division I Men's Basketball Tournament for setting such a lofty standard and reminding all of us of the importance of getting back on track. 
Miles is president and CEO of Penske Entertainment Corp.
Please enable JavaScript to view this content.