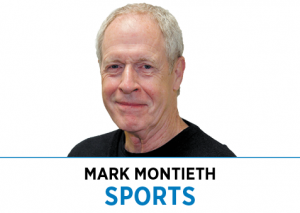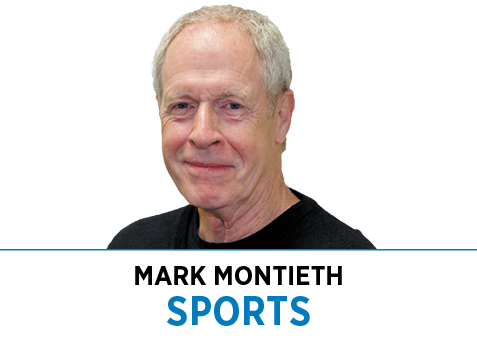 The NCAA's transfer portal is an exercise in chaos, an online version of O'Hare Airport two days before Christmas. The stream of comings and goings and the resulting joys and frustrations are displayed for all to see, reflecting the restlessness and ambition of the human spirit. Sometimes the poor judgment, too.
More than 1,700 college basketball players had submitted their name to the portal by the time it closed on midnight Monday, exercising their option to bail from a program where things weren't to their liking and seek the greener pasture of another one without the inconvenience of sitting out a season.
Their desire might be more playing opportunity in a less-prestigious conference, greater exposure in a more prestigious conference or, simply, more money. NCAA rules now permit players to be paid in a variety of barely controllable scenarios, and some of the elite athletes will become millionaires if they can get themselves to the right marketplace.
If feelings are hurt by sudden departures or if egos are bruised by the absence of desired suitors, hey … that's the new reality of college basketball.
'"It's a wicked business to say the least," Purdue guard Brandon Newman says.
Newman, for one, has notably chosen to sit out the madness. In fact, he qualifies as the anti-portal poster child. There are, of course, legitimate reasons for an athlete to transfer, and even diehard Boilermaker fans would have understood if Newman had sought a change of venue.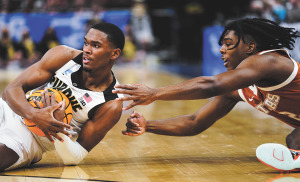 Consider that he played in all 28 games as a redshirt freshman in the 2020-2021 season, starting in all but the final five, and averaged 8 points over 23.6 minutes. He peaked with 29 points against Minnesota, the fourth-highest scoring total for a freshman in Purdue's history.
Last season began with continued promise as he scored in double figures in four of the first seven games, but he fell off dramatically when Big Ten play began. Fell out of sight, in fact. He wound up averaging 4.6 points over 12.6 minutes and didn't play at all in 12 of Purdue's 37 games. He went eight consecutive games—over a month and one day—without playing a single second during the Big Ten season.
It begs the question, has a college basketball player ever been good enough to score 29 points in a game one season and then been benched for 12 games the next without being injured? That was Newman's predicament.
Sticking it out
He could have done what many business owners do when the cause appears lost: Declare bankruptcy and start over somewhere else. But he's chosen to plant his feet and take on the challenge. He's also not blaming anyone for his struggles, focusing instead on improvement. He speaks in calm, measured tones when reflecting on last season, and is backing up his words with his off-season, on-campus workouts.
"Mentally, I fell by the wayside a little bit, trying to figure out when to do this and when to do that," he says. "It would have been easier for me to say, 'You know what? I'm leaving.' But I want to stick it out at Purdue and win as many games as I can for Purdue."
He's embracing another old-fashioned concept as well: graduating. More than once, in fact. He's on schedule to complete the requirements for his major in organizational leadership after the fall semester and then will begin work on a master's degree.
"When I decided to come to Purdue, that's where I planned to get my degree from," he says. "There's no good reason for me to try to jump ship. Who knows if all my credits would even transfer? I really want that Purdue degree."
Two seasons in, the primary theme to Newman's career has been the quest for consistency. That 29-point outburst against Minnesota two seasons ago, for example, was followed by a three-point dud against Maryland in which he hit just one of seven shots. But if putting pressure on himself has had an adverse effect on his performance at times, it also has pulled him out of some slumps.
Purdue's roster last season was stacked with 10 players capable of contributing, and the depth nearly drowned Newman. Jaden Ivey, who is projected as a top-five pick in the NBA draft on June 23, and fifth-year senior Sasha Stefanovic locked down the starting spots at Newman's wing position. As a highly rated recruit out of Valparaiso High School and a major contributor in his first season of play at Purdue, Newman was unaccustomed to playing in short bursts off the bench. As his performance declined, sophomore Ethan Morton beat him out for backup minutes.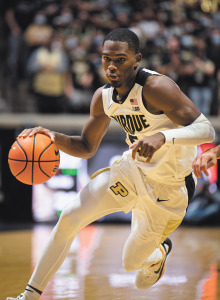 Bench time
Newman's first dreaded DNP-CD (did not play—coach's decision) came at Penn State on Jan. 8. It shook him. Losing his starting position was one thing. Not playing at all was an entirely new experience.
"I was very angry," he recalls. "It was a feeling I had never felt before."
Rather than complain, quit or begin researching the portal, he doubled down on his already-legit work ethic. He got with assistant coaches, most often grad assistant Spike Albrecht, to work on shooting and ball handling and maintained his conditioning before and/or after practice. He did the same on game days, which are essentially vacation days for those who don't play.
Newman maintained a supportive attitude toward his teammates while riding the bench, but his personal emphasis had shifted. It was nearly a replay of his redshirt season two years earlier, so he knew how to approach it.
"He was the one reaching out to me," Albrecht says. "He was very consistent in his work ethic. That's hard to do. It's not easy when you're sitting on the bench and not playing."
It turns out it's Newman's nature to respond to rejection with action. The summer following his freshman year of high school, he went to Monmouth University in New Jersey to visit some former Valparaiso players. They went to the gymnasium to find a pickup game, but there was no room for him on that depth chart, either.
"I'm this skinny freshman who wants to play with the college guys," he recalls. "I'm trying to get on the court, but they're like, 'No, we're good right now. We've got enough.'
"So, I took my basketball and went to one of their satellite gyms and got up shots."
It took a while for Newman's positive approach to pay off. It had pained Purdue coach Matt Painter not to play Newman, so when Ivey had to sit out a home game against Northwestern with an injury, Painter vaulted Newman into the starting lineup in an attempt to boost his confidence and jump-start his season. True to form, however, Newman put too much pressure on himself. He committed a turnover on the first possession and proceeded to miss all five of his shots. He played just 12 minutes and was sent back to the bench for the next two games.
His reward finally came against Penn State in the Big Ten tournament at the end of a week of strong practice performances. Playing off the bench in the first half, he hit all four shots, including two three-pointers, and scored 12 points in Purdue's eight-point victory.
"We don't win that game without him," Albrecht says. "This dude could have cashed it in, but he had put in so much time. It was really a cool moment to see him step up and deliver."
That feel-good moment didn't last, either, though. Newman scored four points over the next four games and didn't play in the NCAA tournament loss to St. Peter's.
'They want me to play'
Painter didn't know what to expect when he met with Newman after the season. Newman had heard from plenty of people wondering why he wasn't playing and suggesting he leave, but he kept his feelings to himself. When it was time to meet with his coach, he arrived with a few jotted-down questions.
"I want to come back here; do you want me to come back here?" Newman recalls asking. "Is this a mutual thing?"
It was. Painter told Newman he hadn't made a mistake recruiting him, that he still believed in him.
"The [coaches] have been doing this for a long time," Newman says. "You would think they know what they're talking about, right? At some point, you have to take some accountability and look inward and look at ways to improve. They didn't ask me to come to school here and sit on the bench. They want me to play."
Playing time should be more readily available for Newman next season. Ivey and Stefanovic will be gone. Morton returns, but Newman will have a decided edge in experience over the newcomers. He has as many as three more seasons of eligibility thanks to the extra year of eligibility granted by the NCAA due to the disruptions caused by COVID in the 2020-2021 season, but he'll take one at a time.
"It's right there for him," Painter says. "He's got a great chance to play a lot of minutes. The thing that separates Brandon is, he puts in so much time and he works. He's always trying. When you're that way and you have the physical ability, you're going to find a way."
Sometimes, the way can be found where fewer college athletes are bothering to look in this freewheeling era: within.•
__________
Montieth, an Indianapolis native, is a longtime newspaper reporter and freelance writer. He is the author of three books: "Passion Play: Coach Gene Keady and the Purdue Boilermakers," "Reborn: The Pacers and the Return of Pro Basketball to Indianapolis," and "Extra Innings: My Life in Baseball," with former Indianapolis Indians president Max Schumacher.
Please enable JavaScript to view this content.