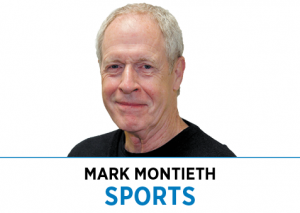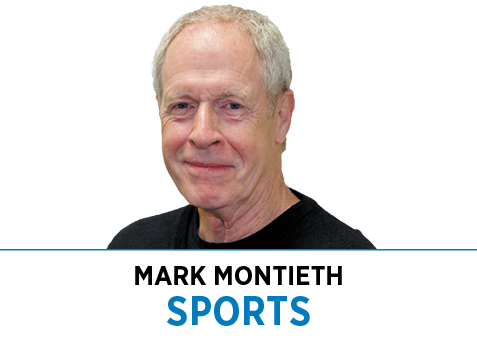 The Indiana Basketball Hall of Fame is a shrine, sure. But it's also a depository and repository for anything and everything related to the state's high school basketball tradition. How, then, can it ever be large enough, especially when gift-bearing strangers keep streaming through the front door?
The hall's directors are trying.
The current building, which opened in New Castle in 1990, devotes about 10,000 square feet to public displays of basketball affection. But this being Indiana, where the high school tradition remains a quasi-religion despite the heresy of class basketball, that simply isn't enough.
Construction has begun on an expansion that will add 6,600 square feet to the facility, with 2,600 of that devoted to museum space. It's an ambitious $4 million project, with about half the funding coming from a 1% food and beverage tax in Henry County. Other funds will be raised through the annual Hall of Fame tournament that will be played at New Castle High School on Dec. 29 (girls) and Dec. 30 (boys), a summer golf outing, private donations and membership fees. The expansion is scheduled for completion around August of 2024.
If nothing else, the extra space should prevent all the items in the supply "closet" and archive room from overflowing into the hallways. It won't be easy keeping pace with the influx, though.
"You never know what's going to come in on a daily basis," said Matt Martin, who took over as the hall's executive director on July 1. "There was one week literally every day we had something come through the door."
One recent addition of note is a detailed replica of the old Bloomingdale High School gymnasium, which was torn down long ago. Ron Cook, who had played in it, decided to build it from memory as a retirement project. His daughter sent an email to Martin asking if the hall would like to have it. It now sits under plexiglass, 4 feet wide and 8 feet long.
Other donations include the red devil's head once worn by the Richmond High School mascot, the doors from the lockers Tom and Dick Van Arsdale used at Manual High School, and a pocket watch worn by Homer Stonebraker.
A pocket watch normally wouldn't be of great interest, but Stonebraker is regarded as Indiana's first basketball star player. He led tiny Wingate High School state championships in 1913 and 1914, went on to an All-America career at Wabash College, and played professionally in the 1920s. A friend wound up with the watch after Stonebraker passed away and donated it to the hall in 2015.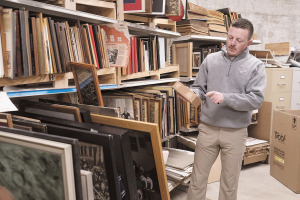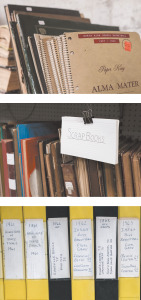 And so it goes. Someone has Grandpa's old letter jacket, letter sweater or game jersey. Someone else has a scrapbook chronicling a team's season or a player's career. Someone has canisters of old game film. Someone has a deflated ball that had been used decades ago. Such items wind up in the hall's possession because someone figures they are better off preserved in a professionally operated museum than wasting away in a basement or tossed into a landfill.
A volunteer, Lesley Vulgan, keeps a record of each artifact in the hall's possession. Another volunteer, Don Chambers—a member of Shelbyville's state championship team of 1947—keeps track of all the archived material for the hall's library, which is available to anyone researching a magazine article, book or documentary.
The hall isn't a dumping ground, though. Some items aren't a good fit. Still, attempts are made to find another home for them. A school, perhaps, or a county historical society.
"People have a reverence for the museum," said Chris May, who preceded Martin as the hall's director for 13 years. "I can't tell you how many times people have come in with an item and told me, 'This belongs here.'"
Only one of its kind
Indiana's basketball hall is unprecedented and remains unrivaled, but it's taken a long and grinding road to get to this point.
Some states have high school halls of fame, but they include multiple sports. Some states have basketball halls of fame, but they include college and perhaps professional players as well. Kentucky is believed to be the only other state to have a museum devoted exclusively to high school basketball. Located in Elizabethtown, it began inducting members in 2012. That's 50 years after Indiana started, so Kentucky will forever be playing from behind.
Tracing the Indiana hall's history to the spark of an idea in someone's gray matter is difficult. Indianapolis sportscasting legend Tom Carnegie said in a 2009 interview that he came up with the idea after emceeing a luncheon in March 1961 to honor the four finalists of the 1936 state tournament. The event, conducted at the Claypool Hotel and sponsored by the Lions Club, drew a large gathering and generated nostalgic enthusiasm.
"That planted the seed," Carnegie said.
However, Indianapolis Star sportswriter Bob Collins had opened his column in the newspaper's Jan. 30 edition earlier that year by stating his desire for a "Hoosier Basketball Hall of Fame."
Collins, who later became the Star's sports editor and was instrumental in the founding of the Indiana Pacers, wrote, "To me it would be wonderful to have a place where the feats of past stars would be permanently recognized and the titanic battles of another era could be relived."
He added: "With a Hall of Fame we could produce records and names to cover all the mouth we've been giving the rest of the world all these years."
Collins' suggestion became reality after a meeting on March 2, two weeks before the luncheon Carnegie recalled. A 10-man Hall of Fame Central Committee had been formed by then, and it made a public commitment to begin the process of nominating and selecting honorees.
Carnegie's memory of the process would be understandably hazy after so many years, and for all we know, he might have discussed the idea with Collins before Collins wrote the Jan. 30 article. Regardless, Carnegie and Ray Johnson, who was chairman of the Indiana Lions Club, are considered the hall of fame's co-founders, and photographs were published identifying them as such. Carnegie said he sought and received a $10,000 donation from the Eckrich wholesale meat company for seed money and that Eldon Campbell, general manager of the WFBM television and radio stations that employed him, allowed him time off to work on the project.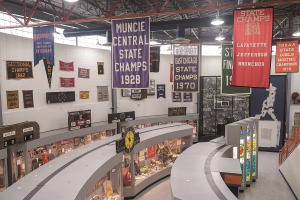 The initial plan was to induct one former player and one former coach each year, an idea quickly recognized as insufficient. The initial class, announced on March 14, 1962, consisted of five men. The headliner was former Martinsville and Purdue star guard John Wooden, who was still two years shy of coaching UCLA to its first national championship. He couldn't attend the ceremony because his team was preparing for that weekend's Final Four in Louisville, where it would lose to eventual champion Cincinnati by two points in a semifinal game.
Stonebraker also was a member of that class, along with R.P. "Fuzzy" Vandivier, Ward "Piggy" Lambert and Ernest "Griz" Wagner. Clearly, nicknames were as common as they were creative in those days.
A concept, then reality
Indiana's memorial was nothing more than virtual reality at first. It had no physical location for fans to visit, not even a display case in some random building. There was early mention in a newspaper article of negotiating with Butler to use part of its fieldhouse for that purpose, but that idea was quickly recognized as being as shortsighted as inducting one player and coach each year.
The hall was finally established as a not-for-profit with tax-exempt status in 1965, at which time a fundraising effort began to acquire a physical location. That became a reality in 1970 when a building at 1241 N. Pennsylvania St. was purchased. An August 1972 newspaper article stated that the hall would open to the public no later than Oct. 1, but it didn't happen until Dec. 1.
The effort had received widespread support in the media and basketball community. WFBM's television station, Channel 6, where Carnegie worked as sports anchor, had been televising the induction ceremonies to help promote the hall. A newspaper photo in November 1972 showed Gov. Edgar Whitcomb signing a declaration for "Indiana Basketball Hall of Fame Week" to be recognized from Dec. 1-9. Butler declared its game against Air Force in January 1973 to be "Indiana Basketball Hall of Fame Night" and gave the group 5,000 tickets to sell as it wished. Stonebraker was among the hall's inductees who were introduced at halftime of the game.
The hall's first home was used primarily for office space. Ron Newlin, executive director from 1987-1995, recalls it consisting of five or six small rooms with minimal items of interest to the public. When the building was sold for $190,000 in October 1987 and demolished to make room for a parking lot, the artifacts—all 135 of them—had already been put in storage. New Castle beat out 12 cities to become the hall's future home and the next three years were devoted to raising funds and collecting more artifacts for the new building.
Some people have argued the hall of fame should have remained in Indianapolis, where it could benefit from the volume of basketball fans who pass through the city. Then again, it might be overshadowed by other attractions. Doesn't matter, really. The city's proposal when the location was up for bid in 1987 was for it to be housed within Market Square Arena. That was an air ball short of the offer made by New Castle officials, who had a site, funding and cast of volunteers ready to go.
New Castle is not as large or as centrally located as Indianapolis, but it doesn't seem to matter. More than 400,000 visitors representing 64 countries have passed through the hall's doors since 1990. People seem to know how to find it. And know what to bring.•
__________
Montieth, an Indianapolis native, is a longtime newspaper reporter and freelance writer. He is the author of three books: "Passion Play: Coach Gene Keady and the Purdue Boilermakers," "Reborn: The Pacers and the Return of Pro Basketball to Indianapolis," and "Extra Innings: My Life in Baseball," with former Indianapolis Indians President Max Schumacher.
Please enable JavaScript to view this content.