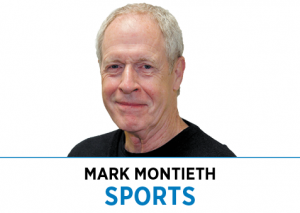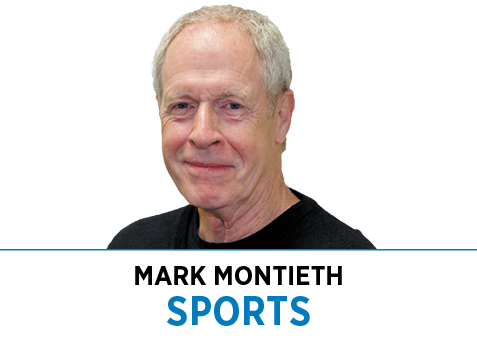 When the call came July 8, Scott Tarter was at the warehouse for Lana Sports, his side business that sells American Basketball Association merchandise to raise funds for charity. The voice on the phone was telling him that his persistent, sometimes grueling and often frustrating effort to include former ABA players in the NBA's pension plan was a near certainty, with confirmation expected the following Tuesday.
Tarter walked out to his truck and sat in total silence for about 10 minutes. Just breathing and thinking. Could it be true? His crusade, joined by many others locally and nationally, had begun informally in 2014, and he had been involved in serious negotiations with the NBA for more than a year.
It hit home that night, after he saw the press release issued jointly by the NBA and the National Basketball Players Association. About 115 former ABA players—including 22 who had played for the Pacers—will receive "recognition payments" of $3,828 per year for each season played beyond the minimum of three to qualify.
It was official.
"I did shed a couple of tears," Tarter admitted.
Pure passion
He should have. Tarter's mission of obtaining retirement benefits for ABA players was something rarely seen in professional sports, a labor of love unsullied by interest in material gain or personal recognition. It also continued what has become a tradition of Hoosiers convincing the NBA to expand retirement benefits. Although the challenge was right up Tarter's legal alley as a mergers and acquisitions attorney for Bose McKinney & Evans LLP, he, like the others involved with the effort, didn't take a penny. It amounted to a massive act of charity to obtain a degree of charity for the former players.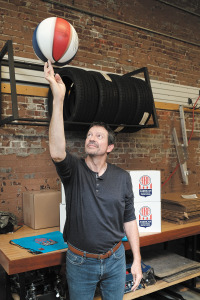 Tarter is quick to deflect credit for the project's success but acknowledges his investment in it.
"It took up a very, very significant part of my time—very significant," he said. "But it was well worth it."
Those familiar with his efforts are quick to offer appreciation.
"Pure passion, persistence and perseverance," said Larry Cannon, who played 28 games with the Pacers in the 1971-1972 season before a blood clot forced him out. "That's no joke, man."
"Like a dog chewing on a bone," added Mack Calvin, a five-time ABA all-star.
Why so dedicated? Tarter, a 1980 John Marshall High School graduate, attended just one Pacers game as a child because family finances didn't allow for more. His father worked seven-day weeks at the Ford factory and his mother stayed home with Scott and his two siblings. He doesn't remember the opponent, only the noise and cigarette smoke that saturated the Fairgrounds Coliseum. Regardless, he became a rabid fan of the ABA Pacers by following them closely in the media and never let it go.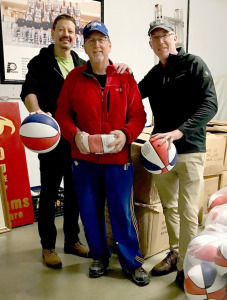 In 2012, he was introduced by fellow attorney Stephen DeVoe—brother of John and Chuck DeVoe, who were among the Pacers' original ownership group—to Ted Green. Tarter agreed to provide pro bono legal services for Green's documentary of Pacers Hall of Famer Roger Brown, and Green in turn introduced Tarter to Dr. John Abrams, a former Pacers ball boy who has served as the team ophthalmologist the past four decades.
Abrams in turn introduced Tarter to former ABA Pacers, including Mel Daniels, Darnell Hillman, Bob Netolicky and George McGinnis. "My heroes," Tarter called them. With urging from those players, especially Daniels, Tarter and Abrams formed the Dropping Dimes Foundation in 2014 for the purpose of offering financial assistance to former ABA players in need. From there, the idea of tapping them into the NBA's benefits plans grew.
Once he got started, Tarter had little choice but to be all in. When word got around that he was making a serious effort to gain benefits, former players from around the country called him constantly for updates and information. He heard the same questions over and over, most of which he couldn't answer, as well as sad stories of former players needing help.
Getting it done
The effort gained traction after an Indy Star article in January 2021 told of the plight of former ABA all-star forward George Carter, who had died penniless the previous November. The story was picked up nationally by USA Today and angered broadcaster Bob Costas, who had been the radio voice of the ABA Spirits of St. Louis. Costas called NBA Commissioner Adam Silver, who assigned league executive Bob Criqui to communicate with Tarter on the issue.
Tarter had to step down from his law firm's executive committee to devote sufficient time to the cause. And while he sometimes became frustrated with the slow pace of progress, he remained optimistic.
"There were times I thought I was crazy but never a time when I felt like giving up," he said.
Finally, about a month ago, when a resolution was in sight, Abrams stepped in and lobbied Pacers owner Herb Simon for his support. Simon in turn helped persuade other owners to give their approval.
"Once Herb was going to support it, I felt comfortable we were going to get it done," Abrams said.
Simon was initially skeptical, and understandably so. The ABA players had formed an association in 1971, and from that point on, paid union dues. A pension plan was in place. When the league collapsed after nine seasons in 1976 and four teams were absorbed by the NBA, the "merger" bylaws stated the ABA players would receive the same benefits as their NBA counterparts. The ABA was responsible for administrating the plan, and the San Antonio franchise was assigned the task.
Execution was lacking, however, and the funds seemed to be disappearing over time. Word got out that players could take a lump-sum payment in the early '80s, and some accepted out of fear of never being able to collect a full pension. Former Pacers Billy Keller and Rick Mount, for example, received $30,000 to $35,000.
Some players didn't get that opportunity, however, and in 2014, another group led by Calvin filed a lawsuit against the Spurs for mismanaging the pension fund. A settlement of $1.2 million was reached, but a third of that went to the Chicago attorneys and the rest was dispersed throughout the pension-eligible ABA players by an insurance company.
The result of that also remains murky. Some players who participated in the lawsuit reportedly received large payoffs. Most are said to have received less than $5,000. Some say they received nothing. But the settlement left the impression that the pension issue had been resolved.
Now it has.
Hoosiers lead push
Indiana residents have been the primary forces in the quest for retirement benefits from the NBA throughout the league's history.
The original plan came about as a result of a threatened boycott of the 1964 NBA All-Star Game in Boston. Crispus Attucks legend Oscar Robertson was the most vocal leader among the players, who took two votes before the game before deciding to play. It was the first All-Star Game to be televised nationally and therefore vitally important to the league, so the players had more leverage than usual. The game went on—after a 17-minute delay—only after the owners agreed to recognize the formation of a players' union, with the primary purpose of establishing a pension plan.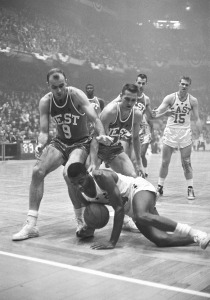 That plan covered those who played in the NBA from 1965 onward and had been on a roster at least three seasons. Players who retired before 1965 were required to have played five seasons to qualify, although credit also was given for years in the military.
In the 1980s, Gary native and former Indiana University multi-sport athlete Bill Tosheff founded the Pre-1965 NBA Players Association to take up the fight to expand the pension to include pre-1965 players who had played three or four seasons. He drove thousands of miles to gather information and lobby for his cause and, in 1998, testified before Congress on behalf of the early players. He was among them, having played three seasons in the NBA, two with the Indianapolis Olympians.
Tosheff, who died in 2011, once said he spent more than $150,000 of his own money to carry on the fight, which achieved victory in 2007 when the NBA agreed to his request to include the three- and four-year players.
Life-changing for some
And now Tarter, with substantial help from many others, has added the surviving ABA players who played at least half of the games in three seasons to the benefits faucet.
The reaction hasn't been unanimously positive. Tarter has heard from some players and relatives who are angry over not being included. And some who will receive money don't believe they're getting enough, given the NBA's financial strength. The league, however, is paying out nearly what was asked for.
By far, most former players are appreciative, however. It's a life-changing occurrence for some, and the rest are happy for the additional income.
Keller, the 1965 Indiana Mr. Basketball who played seven seasons for the Pacers, will receive $26,796 annually.
"It's $26,000 more than I had going into this year," he said. "Anytime you have additional moneys, it's nice. What else can you say?
"I'm already thinking about what can I do for my kids, what can I do for the grandkids. I'm delighted for what the NBA has done."
Billy Shepherd, the 1968 Indiana Mr. Basketball who played in three ABA seasons for three teams, will receive $11,604 annually.
"Hey, we started at zero, so it's hard to complain when you're getting something," he said.
Netolicky, who lives in Austin, Texas, joked that, "Now I can afford more than one beer a day," but is most pleased by an intangible aspect of the agreement. ABA players had long felt underappreciated for their contributions to the game. This helps bring them into the mainstream.
"They recognized we are part of this basketball world," he said. "That's the deal as far as I'm concerned. And we can't thank them enough."•
__________
Montieth, an Indianapolis native, is a longtime newspaper reporter and freelance writer. He is the author of three books: "Passion Play: Coach Gene Keady and the Purdue Boilermakers," "Reborn: The Pacers and the Return of Pro Basketball to Indianapolis," and "Extra Innings: My Life in Baseball," with former Indianapolis Indians president Max Schumacher.
Please enable JavaScript to view this content.