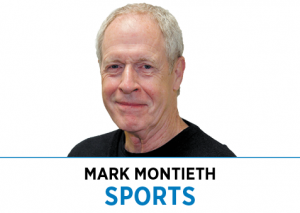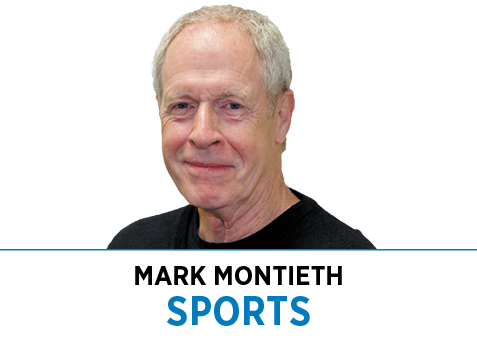 Even after all these years, he'll occasionally wake up in a cold sweat in the middle of the night. It's that recurring dream again, the one that leaves him in a panic after arriving at the stadium to broadcast a football game and suddenly realizing, "Oh, crap, I don't have my equipment!"
That one he can shake off quickly. The real dream, the one for which he is well-equipped, has been going on for half a century now. He has no plans to wake up from it anytime soon—although there's one circumstance that could change his mind.
Don Fischer will begin his 50th season as the radio play-by-play voice for Indiana University's football season on Sept. 2, when the Hoosiers play Illinois at Memorial Stadium. He'll follow that with a 50th season calling IU's basketball games. It's quite a run for a guy who had neither connections nor a college degree and had to build his career from the inspiration of a magazine ad.
"If you really must know, my longevity and success is all based on the good Lord," Fischer says. "I've been blessed—I really have."
Blessed, perhaps, but don't discount initiative, determination, hustle and a fib or two. Fischer has used all of that along the way to becoming one of the nation's longest-running college sportscasters. Ray Goss is headed toward his 55th season announcing Duquesne basketball. Bucky Bockhorn will broadcast his 54th basketball season at Dayton. Bill Hillgrove is preparing for his 48th season calling University of Pittsburgh football and will follow with his 54th basketball season. Kevin McKinney at Wyoming is set to begin his 25th football season, followed by his 49th basketball season.
Even amid this group of diehards, however, Fischer stands out. Goss and Bockhorn do not work their school's football games. McKinney is a color commentator, a less-demanding job than play by play. Fischer is the nation's only working play-by-play announcer who has called at least 49 consecutive seasons of both football and basketball.
The quality and quantity of Fischer's work hasn't gone unrecognized. He has been voted Indiana's Sportscaster of the Year 31 times and is a member of all the appropriate halls of fame. On Dec. 6, the National Football Foundation will present him with the Chris Schenkel Award, annually awarded to a broadcaster who has had "a long and distinguished career" announcing college football games.
Reliability
Fischer's trademarks are consistency and professionalism. He is not particularly colorful—no catch phrases, no wildly emotional outbursts—and he certainly isn't controversial, either on the job or in his personal life. His distinctive delivery is often imitated locally but the trick for aspiring sportscasters should be to emulate his approach to the job. He's that upbeat, dependable, humble, keep-your-head-down employee who is always prepared and performs to a high standard. In other words, he's perfect for IU fans, the vast majority of whom have never heard anyone else do what he does unless they caught one of his rare absences.
He's missed only one football game in 49 seasons. Unfortunately for him, it was one of the most dramatic in school history, the 38-37 Holiday Bowl victory over previously undefeated Brigham Young in 1979. The Mutual network had exclusive rights to the radio broadcast, so Fischer was left at home, throwing a rubber brick at his television whenever things didn't go well for IU.
He's missed 27 basketball games, nearly all because they conflicted with the football season. He also missed one in Ann Arbor, Michigan, amid the legendary blizzard of 1978 when he simply couldn't get to the game—the feed from the Michigan broadcast had to suffice—and another during the 1990-1991 season when he flew to Arizona to visit his father, who had been hit by a garbage truck while riding his bike.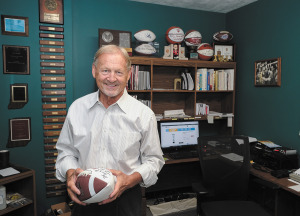 He's never missed one because of illness. He was a cigarette smoker from ages 18-38 but otherwise has been exceptionally health-conscious. The closest he came to calling in sick was for a basketball game at Temple during the 2002-2003 season. He began feeling ill on the flight to Philadelphia the day before the game and was up nearly all night with the flu. He managed three hours of sleep after securing medication from trainer Tim Garl, however, and worked the game.
He's broadcast 560 football games and 1,540 basketball games so far for IU.
While his broadcast approach is free of drama, getting to the first one in 1973 was quite a journey.
A love for sports
Fischer grew up on a farm in Illinois. His parents divorced when he 3 years old. He and his twin brother, David—a retired Lutheran minister in Salt Lake City—went to live with grandparents for three years until his mother remarried, at which point they moved in with her and their stepfather.
He wasn't a serious student. He wasn't a troublemaker, either, although he did have to take junior year English over because he and his next-door neighbor bailed out of school during lunch hour and went to a nearby town to play pool instead of going to class.
He's done all the things farm kids do, from slopping hogs to picking corn, but wasn't inclined toward that life. His stepfather did him the favor of sparking an interest in sports by coaching him in junior baseball leagues and taking him to his first Major League Baseball game in Milwaukee. It was Aug. 5, 1955. Rookie Roberto Clemente went 3-for-5 and scored from first on a double. He fell in love with Clemente and the Pirates that day and never forgot the thrill a game can provide.
With grades and funds insufficient for college, he job-hopped out of high school before landing one at the railroad in Mendota, Illinois, where he worked a shift from 9 p.m. to 6 a.m. seven days a week for seven months. Not a single day off. He did everything from selling tickets to sorting mail to handling paperwork.
Going nowhere slowly, his life changed one day in 1967 when he picked up a copy of Sport Magazine and noticed an advertisement on the inside of the back cover. The headline, as he remembers it, read, "How would you like to be a sportscaster?"
Something clicked. He might have even whispered, "I think this is for me." Dipping into savings from his railroad job, he mailed a check for $835 and received 20 vinyl record albums, a tape recorder and a workbook. The records gave instruction in some of the finer points of broadcasting, such as enunciation, grammar and voice inflection. He was to record the assignments and mail back the tapes for review.
Suddenly inspired by the possibility of a career, Fischer went to the local radio station the next day and asked if he could hang around and watch and learn. He became an unpaid office gopher and even got on the air a few times to broadcast a sports update.
Before long, one of the station's broadcasters who had taken a job at a station in Butte, Montana, called back to report an opening for a night-shift on-air job. Fischer took a train to Butte to interview and returned home. He was hired a week later as a disc jockey at an annual salary of $4,000.
Trying his luck
Bailing on the correspondence course, he stayed one year. He kept stats for the sports crew in his free evenings to become acquainted with that side of the business, then quit and returned to Illinois to look for a sportscasting position. He went back to work for the railroad for a few months, then found a radio job in Ottawa, Illinois.
Asked if he had play-by-play experience, he lied and said he had done the secondary games for the Catholic school in Butte. What did he have to lose? Asked if he had a recording of his work he said, "No, the station didn't tape those games." Fortunately for him, the manager didn't bother to call the station in Butte, and he was hired to broadcast play-by-play for the two local high school teams.
His first game behind the mic was unforgettable. In the worst possible way. He worked it in a cold sweat, not because he had forgotten his equipment but because he had no clue what he was doing. As the game went on, he noticed his color commentator giving him quizzical looks out of the corner of his eye, as if thinking, "What in the world are you doing?"
Fischer still has the tape from that game. It's under lock and key, never to be heard again under any circumstance. "It was the worst broadcast in history," he says.
He took his time going back to the station that night to return the equipment, hoping the manager would be gone by the time he arrived. But there he was, standing in the doorway, a grim-faced silhouette in the dark.
"I thought you told me you had done play-by-play before," he asked when Fischer approached. Fischer admitted he hadn't. "Then why did you tell me you had?" the manager asked. "Would you have hired me if I didn't?" Fischer replied.
Fischer was given three weeks to show dramatic improvement or be fired. Desperate, the next day he called a man he had never met, a nearby sportscasting veteran named Art Kimball who worked in LaSalle, 15 miles away. Fischer spent Sunday afternoon in Kimball's home, from 12-5, and got a crash course in how to prepare for a broadcast. He still uses 90% of what he learned that day.
For the next three weeks, he sat home in his free time and pretended to broadcast games. Meanwhile, he improved while working the real games and didn't get fired. He eventually improved enough to land a better job in Terre Haute, where, for 2-1/2 years, he broadcast everything from Babe Ruth baseball games in the summer to high school and Indiana State games—about 175 events a year. It amounted to several years' worth of experience.
The big break
And then, fatefully, in the summer of '73, the IU job opened. Fischer, 26 years old, was one of 270 applicants and one of the last to interview with WIRE in Indianapolis but got the job. Illinois was the opponent for his debut on Sept. 17, just as it will be in the upcoming season opener. It also happened to be the debut of head coach Lee Corso. One of the perks for sportscasters, especially the good ones, is that they usually outlast the coaches many times over. Fischer has called IU games involving nine head football coaches and seven head basketball coaches.
He's had opportunities to move on, his best offer coming from the Indiana Pacers in 1987. General Manager Donnie Walsh told him to name his price, and he probably could have doubled his salary. But he had been married to his second wife, Susy, for just a couple of years and had custody of his four sons from his previous marriage, three of whom were still living at home. All those NBA road trips would have taken their toll.
"I really gave it serious consideration," he recalls. "But I couldn't do that to my wife."
Mark Boyle was hired instead and has carved his own local niche. Fischer, meanwhile, will stay on his job as long as his health and voice hold up. He turns 76 in September but can easily keep up with his schedule of games, weekly coach's shows and 10-minute compensated Monday appearances on five stations throughout the state during football and basketball season.
"Right now, I'm doing exactly what I want to do," he says. "When you get older, your memory isn't quite as good and a lot of things start to go south, but I still think I do a good job. And when I don't, I know I'm going to hear from my wife. She listens. She would give me the right dope.
"As long as I'm healthy and have the brainpower to continue …"
He'll keep going. Unless, that is, he has to go back to broadcasting games from a studio while watching on a television monitor, as he did during the pandemic seasons of 2020 and 2021. Some schools and networks, inspired by the cost savings of not having broadcasters travel for road games, have continued the practice. Count Fisher out if it comes to that.
"I will not do virtual broadcasts again," he says.
Because that would be a nightmare.•
__________
Montieth, an Indianapolis native, is a longtime newspaper reporter and freelance writer. He is the author of three books: "Passion Play: Coach Gene Keady and the Purdue Boilermakers," "Reborn: The Pacers and the Return of Pro Basketball to Indianapolis," and "Extra Innings: My Life in Baseball," with former Indianapolis Indians president Max Schumacher.
Please enable JavaScript to view this content.