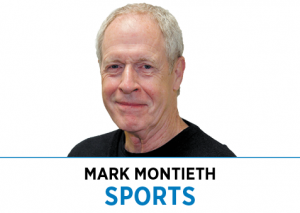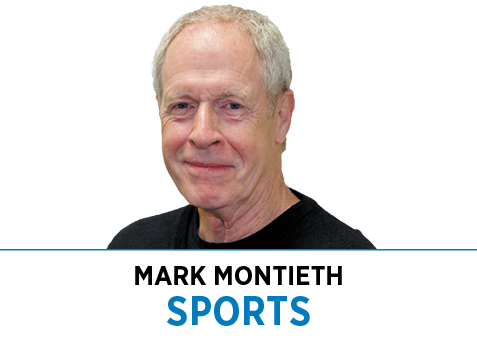 The Indiana Pacers are amid their longest road trip in 37 years, a seven-game slog against Western Conference teams that encompasses six cities, 12 days and 6,000 miles.
That's a far longer and more complicated business trip than most professional working stiffs experience, but it won't inspire much sympathy. Like all NBA teams, the Pacers travel via a chartered jet outfitted with first-class seating and filled with buffets of food and beverage. They are given $137 each day to cover the cost of meals and are met at every stop by a chartered bus. They don't have to touch their luggage until it is delivered to the room in their five-star hotel. They don't even have to fill out an expense report.
Still, NBA road trips are far more grueling than in other professional sports. Teams play four, five, even six or seven games in a row, hopscotching from city to city. The first game back home is like an extension of the trip because they fly to get to that one, too. Baseball teams play a series of games in one city and then move on. Football and soccer teams generally play one game a week, so every trip is short. NBA trips are both long and mobile, with little time to relax.
Such excursions can be a blessing or a curse. For winning teams with camaraderie, they are eagerly anticipated. For others, they are a source of dread. Unless of course things aren't going well at home for a player, in which case it's an opportunity to get away from it all. Veteran players, however, get tired of the nuisances, regardless of the situation.
"In the beginning, I didn't mind," said former Pacers center Rik Smits, who made 12 seasons worth of road trips. "When I had family and the kids at home, it became kind of tough to be gone that long. As a young player, you enjoy getting out in the city and seeing other places. When you've been there and done that, it gets kind of old."
Most of the current Pacers are too young to dread long trips. Besides, if any franchise should welcome a road trip, even a historically long one, it's this one. Many of its most dramatic moments and least likely victories have come on the road. Rookie Andrew Nembhard's buzzer-beating 3-pointer to beat the Lakers in Los Angles on Monday is merely the latest example.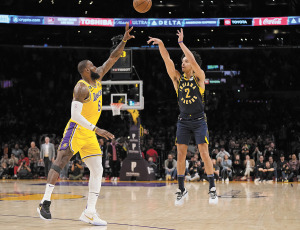 All three of the Pacers' ABA championships were clinched in road games. Of the 20 playoff series they have won in the NBA, 12 were closed out on the road. Most of their greatest NBA playoff moments have occurred away from Indianapolis as well. (Think Reggie Miller in Madison Square Garden, for example.) The turning point of two of their most surprisingly good seasons also came on road trips.
Most of their all-star players had their highest-scoring game on the road as well, including George McGinnis (58), Reggie Miller (57), Roger Brown (53), Billy Knight (52), Paul George (48), Freddie Lewis (43), Bob Netolicky (43), Myles Turner (40), Detlef Schrempf (36) and Dale Davis (28).
Not that there aren't potholes at times. Two Pacers head coaches have been fired on road trips, and it nearly happened to a third as well. And, of course, the most impactful event in the Pacers' NBA history, that infamous evening at the Palace of Auburn Hills in November 2004, occurred on the road.
Because players are forced together for so long, road trips are where the weird and funny stuff usually happens. That was particularly true in the ABA days, when teams traveled on commercial flights, sometimes even on prop planes, sitting in the coach section. That meant a lot of 6 a.m. wake-up calls and a lot of hours waiting in airports for their flight. Charter flights, at least for the Pacers, didn't begin until the 1989-1990 season. The ABA teams stayed in midlevel hotels, sometimes even in motels, two to a room.
Settings such as that tend to produce stories. One of Darnell Hillman's fondest memories of his seasons with the Pacers in the '70s is of the time spent waiting in the airports.
"You could hear [Gus Johnson's] voice and laugh all over the airport," Hillman said. "And Freddie [Lewis] would be perched somewhere just watching people. He'd see something amusing and yell, 'What's up, boy?!' These two made the day until we got on the plane."
George McGinnis and Bob Netolicky both recall the tradition of roommates Mel Daniels and Freddie Lewis each buying a bucket of Kentucky Fried Chicken and leaving behind piles of bones in their hotel room. Trainer David Craig recalls fending off coach Slick Leonard, his roommate, who, after a few drinks, would want to wrestle.
There were close calls, too. The team flew through storms on prop planes that rocked and rolled to outposts such as Norfolk, Virginia. They waited out endless delays and occasionally missed flights. Which wasn't always a bad thing. Bill Keller recalls the team once missing a connection in Chicago. The plane it was supposed to catch wound up being hijacked to Cuba.
There were upsides to the old ways, though. Having roommates and traveling by commercial flights increased the possibility of meaningful conversation. Keller recalls a game on March 31, 1970, played at Southern Methodist University in Dallas, late in his rookie season. The Pacers gave up 50 points in the fourth quarter and suffered an embarrassing 145-119 loss. Leonard was so angry he closed the locker room to reporters and admonished the players. Because the team was staying overnight, Keller the newcomer and Daniels the league MVP wound up walking back to their nearby hotel together.
Out of that conversation, Keller finally felt like he was genuinely part of the team.
"That was a turning point for me, to be accepted," he said. "It changed our relationship, and it filtered into the games on the court. It developed a relationship that lasted from that point to the end of Mel's life."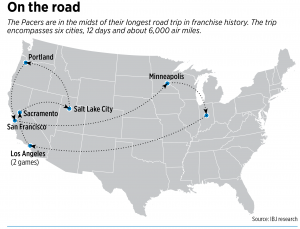 Today's trips tend to go much more smoothly, but mishaps are bound to occur occasionally. Travis Best recalls leaving his (extremely) expensive Rolex watch in his hotel room in Orlando rather than giving it to Craig for safekeeping. It was stolen and never recovered.
Still, Best has fond memories of the time away from home.
"The camaraderie on the plane, watching the guys play poker, helping them count their money, was always fun," he said. "In a lot of ways, it brought us closer. We wanted to overcome whatever [basketball] challenges there were in that city."
So many challenges. So many stories. Here are some of the greatest road trip moments in franchise history:
1967-1968: The first road trip in franchise history was a doozy. Namely, three games in about 40 hours. It opened with a game in Louisville on Friday night. The players had a 6 a.m. wake-up call the next day and a rough flight to New Orleans that afternoon and then another game in Dallas on Sunday afternoon. They won all three.
1968-1969: The Pacers played 10 consecutive road games in November, although it was broken into two segments. General Manager Mike Storen fired coach Larry Staverman after the second game, which dropped the record to 1-7. Staverman accepted the option of coaching the final game in Los Angeles without telling the players of his fate. They won it.
Leonard was announced as the next coach after the team returned home. After a weeklong break, the Pacers took off on a seven-game journey. All in all, the team went 23 days between home games.
Later that season, the Pacers played on five consecutive nights, each game in a different city, from Denver to Indianapolis to Minneapolis to Indianapolis to Miami. Steve Chubin was told he had been traded while showering after the game in Minneapolis. He flew home with his suddenly former teammates, who toasted him at the airport.
1971-1972: The Pacers played in Salt Lake City on Dec. 25, losing by 21 points, then got up at 6 a.m. and caught a flight to Indianapolis and promptly boarded a bus for Louisville for a game that night. A flat tire near the airport caused a 30-minute delay. Leonard stayed behind because of a flu bug, and McGinnis sat out with a bruised heel. The pregame meal was served at a Holiday Inn in Seymour. With veteran guard John Barnhill serving as coach, the team beat Kentucky, 117-111, at the end of a 20-hour day.
1974-1975: The rebuilding Pacers played eight consecutive road games beginning on Dec. 27, passing through Virginia, San Antonio, San Diego, Denver, Utah, Memphis, New York and Memphis again. They played so poorly in the first game that Leonard implied the players were "a bunch of sissies." They lost the next game by 35 points. The newspaper article called it "one of the shoddiest performances ever," and Leonard had another closed-door locker room meeting. They followed with three more losses to drop their record to 14-21.
But then, almost inexplicably, their season turned around. They won the next three games on the road and nine of the next 12 overall to finish 45-39 and reach the ABA finals, where they lost to Kentucky.
1976-1977: In their first NBA season, the Pacers had to play road games on four consecutive nights—in Phoenix, Los Angeles, Oakland and Seattle. They lost them all.
1985-1986: The seven-game trip that began on Feb. 27 was the longest until this season. The route traveled through Salt Lake City, Sacramento, Los Angeles, Portland, Seattle and Denver before ending improbably on a Sunday afternoon in Philadelphia. That game was the Pacers' first appearance on national television since entering the NBA in 1976. Not improbably, they lost, 120-102.
1988-1989: Another coaching change amid a road trip. The Pacers started 0-7 and lost the first three games of a Western Conference road trip. General Manager Donnie Walsh and coach Jack Ramsay agreed it was time for a change, so assistants Daniels and Dave Twardzik took over the final two games of the trip as interim coaches. Those games were lost, too.
1990-1991: The Pacers were 8-12 and seemed to be headed nowhere when they began a Western road trip on Dec. 11. Walsh was on the verge of firing coach Dick Versace after they lost the first two games, but they somehow rebounded to win the next game in Utah. But after another loss in Los Angeles and then a home-court overtime loss to Washington, Versace was replaced by Bob Hill.
1993-1994: Another season-turning trip. Under first-year coach Larry Brown, the Pacers started 1-6 and were 16-23 after losing the first two games of a three-game Western trip in January. But they somehow won the next game in Houston, 119-108, over the Rockets team that went on to win the NBA championship.
That victory ignited a seven-game winning streak for the Pacers. They won 14 of their next 16 as well to finish 47-35 and reach the Eastern Conference finals.
They won Game 1 of the first playoff round in Orlando on Byron Scott's game-winning 3-pointer and took a 3-2 lead over New York in Game 5 of the conference finals when Miller scored 25 points in the fourth quarter in Madison Square Garden.
They didn't win the series, but they at least further entrenched the franchise's tradition of producing dramatic business trips. Nembhard added another chapter on Monday.
For the contrarian Pacers, it's undeniable: There's no place like the road.•
__________
Montieth, an Indianapolis native, is a longtime newspaper reporter and freelance writer. He is the author of three books: "Passion Play: Coach Gene Keady and the Purdue Boilermakers," "Reborn: The Pacers and the Return of Pro Basketball to Indianapolis," and "Extra Innings: My Life in Baseball," with former Indianapolis Indians President Max Schumacher.
Please enable JavaScript to view this content.