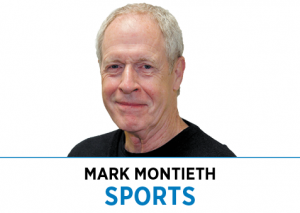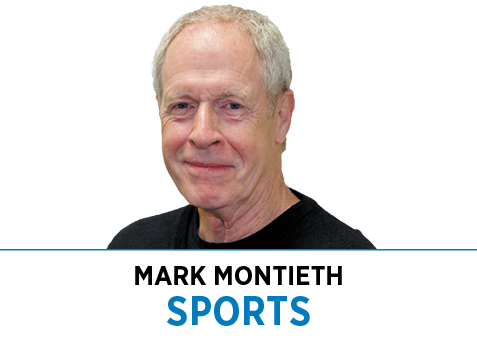 Rick Carlisle calls it "an official new era of Pacers basketball," and no wonder. He'll be coaching the youngest team in franchise history next season. Any newer and they would be shrink-wrapped.
The projected starting point guard, Tyrese Haliburton, is 22. So is the starting power forward, Jalen Smith. The rookie first-round draft pick, Bennedict Mathurin, also might start, and he's just 20. So is Isaiah Jackson, who started 15 games as a rookie last season and will be in the regular playing rotation. Last season's other rookie, lottery pick Chris Duarte, is 25 but has played in just 55 NBA games.
The most compelling question then for the Indiana Pacers, who begin their next NBA season Oct. 19, is if and how an old guy like Myles Turner fits into their scheme of burgeoning youth. He's just 26 years old but is a cocksure rooster among spring chickens in relative terms. He's also the longest-tenured Pacer, preparing for his eighth season. One could argue he doesn't fit into the blueprint of a team whose home, Gainbridge Fieldhouse, is undergoing a three-phase, $360 million renovation.
Might as well start anew all the way around, right?
Trade rumors
It would have surprised nobody if Turner had opened training camp with another team this week, given all the trade rumors that surrounded him over the summer. It also will surprise nobody if he doesn't finish the season with the Pacers. Or even begin it, although management has gone on record stating he will be the starting center on opening night.
He's in the final season of his contract, and there appears to be no intent on the part of the Pacers or Turner's agent to negotiate an extension. Some team needing a big man to enhance its quest for a championship might want him, and it would behoove the Pacers to get something for him now rather than lose him for nothing in free agency next summer.
"It will play out as it's supposed to," Turner says.
He has often been mentioned in trade rumors the past few years. And while NBA trade rumors are practically an industry unto themselves and are to be taken with pillars of salt, there was enough smoke surrounding his name over the summer to justify a fire in his belly.
He was widely rumored to be part of a deal that would send him and 30-year-old Buddy Hield to the Los Angeles Lakers for guard Russell Westbrook and draft picks. But not really Westbrook, who was voted the NBA's Most Valuable Player in 2017, but Westbrook's contract.
If the Pacers acquired Westbrook, they would waive him and use the salary-cap space next summer to sign free agents. Meanwhile, they would have cleared the decks for a full-fledged youth movement.
Strange as it sounds, there is logic to that as part of a long-term roster-building effort.
Had the Lakers thrown in another draft pick, the most repeated rumors claimed, the deal would have been consummated. Consider the fact that the Pacers also made an offer to Phoenix's free-agent center Deandre Ayton over the summer, which the Suns matched, and it's obvious the Pacers aren't exactly hiding Turner under lock and key.
Forced to change roles
Anyone who has navigated the verities of the corporate workplace can relate to what Turner must be feeling. CEOs and department heads come and go, leaving the rank-and-file employees buffeting in their breeze, adjusting to new roles that might or might not align with their desires or skill sets.
Or, perhaps, no role at all. And make no mistake, NBA players are rank and file. Highly paid members to be sure, but still subject to the whims of ownership and management unless they are truly elite.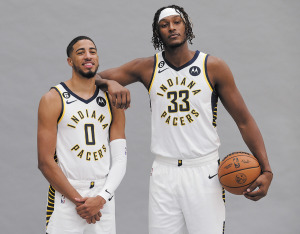 Turner hasn't been that. He's been merely good, sometimes very good, which isn't always good enough to survive a company's evolutions. He's averaged 12.7 points and 6.7 rebounds throughout his career. His peak season, statistically, was his second one, when he averaged 14.5 points and 7.3 rebounds. He's never made an all-star team. Has never been more than the third-leading scorer on his team.
Arguments can be made in his favor, though. He's led the NBA in blocked shots twice. Carlisle calls him "the best shot-blocker on the planet." Rim protectors are highly valued in the NBA, and the Pacers have a glaring need for one given the sorry state of their perimeter defense in recent seasons.
Turner also gets credit for playing the role of model citizen and good soldier amid constant turmoil. He's played for four head coaches with distinctly different approaches, as well as with four starting point guards with distinctly different qualities. He's floated between center and power forward. He's been assigned to line up near the basket and out in the corner, beyond the three-point line.
Hey, try changing bosses, co-workers and job descriptions every year and see how you perform. It's a wonder Turner hasn't missed games with a case of whiplash. Still, he'll have to play the upcoming season with the nagging feeling that his bosses might not want him around for long. Might even be working behind the scenes to send him elsewhere.
Time to shine?
But it could play out nicely. This could be the season in which Turner becomes the player he's shown hints of becoming ever since he broke into the starting lineup in January 2016, midway through his rookie season.
He's not only established himself as a premier shot blocker, he's been a capable scorer under the right circumstances. He scored 31 points off the bench as a rookie. He scored 30 points and grabbed 16 rebounds in the opener of his second season, an overtime victory over Carlisle's Dallas team.
Just last season, he scored 40 points on 15-of-22 shooting in the second game of the season and had 32 in a game in December before he was shut down with a stress fracture in his left foot after 42 games.
Team President Larry Bird lifted eyebrows after Turner's second season by stating he had a chance to become the greatest Pacer ever. Whether that was intended as serious analysis or a motivational ploy remains uncertain.
Although Turner clearly hasn't lived up to Bird's ambition, he also hasn't exactly been a featured performer. He's never averaged more than 10.7 shots per game and has always deferred to all-star teammates who were given more prominent roles in the offense—first Paul George, then Victor Oladipo, then Domas Sabonis.
All three of them are gone, however. And maybe, just maybe, Turner can finally become a featured player as the elder statesman on a team filled with youthful athleticism and enthusiasm. Perhaps it's time to stop deferring, to not be so quiet and compliant. Any employee in the corporate world can tell you those aren't always the best qualities for getting ahead.
"I don't think I've scratched the surface of my potential whatsoever," Turner said earlier this week. "I'm looking forward to big things this season. Looking forward to big things for the rest of my career. I can sit here and promise things and hype everybody up, but I want to go out there and hoop. That's what this is all about."
High hopes
Hope for Turner's future as a Pacer isn't difficult to find. For one, the actual events of the summer did not align with the rumors. Carlisle says he spent a couple of days with Turner at Turner's camp in Dallas in July and worked with him in a gym on another trip. Turner even had dinner at Carlisle's home in Dallas one evening. Assistant coach Lloyd Pierce also visited with Turner for a couple of days.
"Myles is a pro," Carlisle said. "Myles has made it clear to me he's excited about being here.
"He covets the opportunity not only to be the guy who's the starting center … but take a leadership role in the development of this team going forward."
Most important, Turner soon could be lining up with the best passing point guard he's ever played with in Tyrese Haliburton. They have yet to play together, as Haliburton arrived in a trade about a month after Turner's season ended with the injury, but they are excited about doing so.
Basketball is an ongoing chemistry experiment, and Haliburton might hold the formula to unlocking Turner's potential. Turner will get more shots in position to score. Haliburton will have a big and experienced target who can score from anywhere on the court.
Haliburton, having been traded to the Pacers in February, knows all about that possibility. He's talked about it with Turner. But he's assuming he'll have a chance to establish a connection with Turner and see what happens.
"I think he's very invested in being here," Haliburton said. "I don't think his mind is anywhere else. I'd be lying if I said NBA guys don't read rumors, but I think he does a really good job of being where his feet are and focusing on how he can help us and how he can help me."
Should it work out, and Turner makes it through the season as a still-young-and-vital team member who brought leadership and maturity to a promising group, the scene would shift. Like any salesman who enhanced the bottom line, he would be a free agent with some control over where he plants his feet. That alone will provide ample motivation for a season that should mark either the end of his time with the Pacers or the beginning of a new era.
Like he said, it will play out as it's supposed to.•
__________
Montieth, an Indianapolis native, is a longtime newspaper reporter and freelance writer. He is the author of three books: "Passion Play: Coach Gene Keady and the Purdue Boilermakers," "Reborn: The Pacers and the Return of Pro Basketball to Indianapolis," and "Extra Innings: My Life in Baseball," with former Indianapolis Indians President Max Schumacher.
Please enable JavaScript to view this content.