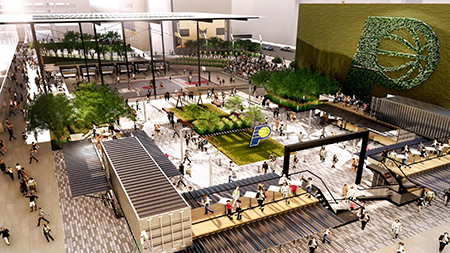 Demolition on the the Maryland Street parking garage in downtown Indianapolis is expected to start in the spring, as the Indiana Pacers make way for a new plaza adjacent to Bankers Life Fieldhouse.
The 770-space parking structure at 121 E. Maryland Street is set to be torn down starting in March or April, according to a $1.2 million demolition contract approved by the Capital Improvement Board on Friday.
The contract was awarded to Cincinnati-based O'Rourke Wrecking Co., the project's only bidder. The price tag was also well below the $3.6 million that had been budgeted for the work.
The plaza is one of several components to the $365 million Fieldhouse of the Future renovation announced in April 2019, as part of a 25-year deal to keep the Indiana Pacers in the city. The garage was acquired for about $29.9 million in August 2019.
The 1.5-acre plaza development is expected to include green space, seating areas, a massive canopy and basketball courts that can be converted to an ice skating rink in the winter.
The project is being paid for by the Pacers, although the city plans to kick in up to $25 million for infrastructure. Work is expected to be completed by fall 2022.
Denison Parking manages the Maryland Street garage, with monthly rates ranging from $132 to $162, as well as daily rates of $5 to $15.
Please enable JavaScript to view this content.