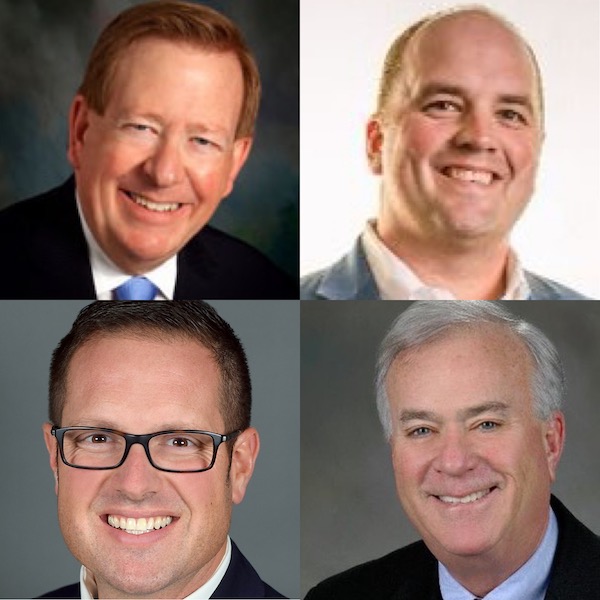 When it comes to their re-election plans, mayors in Indianapolis' northern suburbs are playing their cards close to their chests—a departure from the last election cycle.
This time four years ago, each of the four Hamilton County mayors (Carmel, Fishers, Noblesville, Westfield) had already announced plans to run in 2019.
Fast forward to today, and these mayors of Indy's fast-growing northern climes are tight-lipped as the 2023 election season nears.
When IBJ reached out to ask about their election plans, the offices of Carmel Mayor Jim Brainard, Fishers Mayor Scott Fadness, Noblesville Mayor Chris Jensen and Westfield Mayor Andy Cook either declined to say whether they were running again or didn't respond.
We also didn't hear back from Lebanon Mayor Matt Gentry or Zionsville Mayor Emily Styron.
So what gives?
A number of factors may be at play. For one, elected officials may be waiting to see who else throws their hat in the ring, which could affect how they run their campaigns.
In Westfield, it's widely believed that Cook isn't running for a fourth term, though he has yet to publicly respond to that speculation. Two other Republicans, Westfield City Councilors Jake Gilbert and Scott Willis, already have declared their candidacies.
"Republican mayors in particular have to govern as centrist in order to win citywide, but are vulnerable to those in the primary that feel that they are not conservative enough," says Chad Kinsella, associate professor of political science and director of the Bowen Center for Public Affairs at Ball State University. "Suburban cities, long the home turf of the Republican Party, are becoming a lot more centrist and left leaning."
That seems to be the trend in Hamilton County, where about 57 percent of registered voters voted for Donald Trump in the 2020 election, compared to the nearly 70 percent who voted for him in 2016.
Mayors are also a good source of a party's "bench"—those that have the political chops and governing capability to move up to the next level, Kinsella says.
Fadness, a rising Republican star who has overseen Fishers during a time of explosive growth, could be weighing a run for higher office, as may others.
"Some of his colleagues may be in that same position and may be looking to what is available in 2024, or may be entertaining discussions from state and local party operatives interested in seeing them move up to the next level," Kinsella said.
Elsewhere in the metro area, some suburban mayors have disclosed their plans.
Franklin Mayor Steve Barnett announced his re-election bid in June. Greenwood Mayor Mark Myers is running again and will have at least one opponent, Center Grove school board president Joe Hubbard, in the GOP primary.
Greenfield Mayor Chuck Fewell already announced he won't seek re-election. He will be 80 by the time his term ends. And Shelbyville Mayor Tom DeBaun, a three-term Democrat who led the redevelopment of the city's downtown, told IBJ he is leaning toward not running in 2023.
Meanwhile, Indianapolis Mayor Joe Hogsett has yet to say whether he plans to seek a third term. An announcement later in the year wouldn't be out of character. In 2018, the mayor didn't announce that he would be on the 2019 ballot until December.
Previously, Hogsett has said he favors limiting mayoral service to two terms. He's also cited 67 as a good retirement age. He'll reach the magic number in November 2023.
"But, for all practical purposes, I think age 67 would probably be a good time to start enjoying my family more, travel more, maybe retire," he told IndyStar columnist James Briggs in 2018.
Has the mayor's thinking changed? So far, he isn't saying.
Please enable JavaScript to view this content.