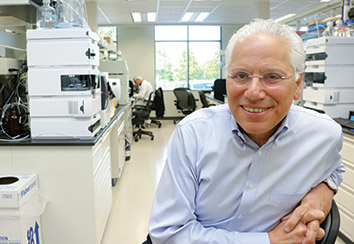 Carmel-based MBX Biosciences Inc. said Monday that it has closed on $115 million in funding to help it advance the development of therapeutics to treat rare endocrine disorders.
The amount is one of the largest in recent years for an Indiana-based science startup. Only West Lafayette-based Inari, which raised $208 million to develop plant-breed technology, and Indianapolis-based Greenlight Guru, which raised $120 million to develop medical software, raised more, according to data collected by BioCrossroads.
MBX Biosciences has now raised a total of $150 million since its founding in 2019, a reflection of the high confidence that investors have in its technology and management. The company, with offices at 11711 N. Meridian St., has 19 full-time employees.
The three-year-old company was founded by Indiana University chemistry researcher and serial entrepreneur Richard DiMarchi and his longtime partner, company president and CEO Kent Hawryluk.
The Series B financing was led by Wellington Management with participation from RA Capital Management and Norwest Venture Partners, along with existing investors Frazier Life Sciences, New Enterprise Associates and OrbiMed.
"This latest raise really will help us achieve our mission of pioneering precision endocrine peptides and help people with endocrine disorders live fuller and healthier lives," Hawryluk told IBJ.
The funding is designed to fund the company into 2025 and help get its lead drug, MBX 2109, through early- and mid-stage clinical trials. The company is now testing the drug's dosages in healthy volunteers in early-stage trials.
The drug is a long-acting hormone peptide, or chain of amino acids, in development for treatment of hypoparathyroidism, a rare disorder that affects about 200,000 people worldwide. The disease is characterized by a deficiency of the parathyroid hormone, which can results in decreased calcium and increased phosphorus levels in the blood, leading to a wide range of effects from tingling and prickling to seizures and increased risk of kidney stones.
Hawryluk said the company aims to simplify an individual's disease management, while relieving both the symptoms of the disorder and long-term complications. The current standard of care for the disease is high doses of calcium and vitamin D.
The latest round of funding comes on top of $35 million in Series A funding that closed two years ago. That money helped MBX 2109 achieve proof of mechanism and other metrics.
The new proceeds will also support the company's preclinical pipeline, led by MBX 1416, currently in development as a potential treatment for post bariatric hypoglycemia, a disorder that occurs in some people who undergo gastric bypass surgery.
DiMarchi and Hawryluk worked together on two previous Indiana startups, Marcadia Biotech and MB2, which developed technology for metabolic diseases such as diabetes and obesity.
Marcardia was later bought by Swiss pharmaceutical giant Roche. Denmark-based Novo Nordisk later bought MB2.
DiMarchi has set up at least five companies since retiring from Indianapolis-based Eli Lilly and Co. in 2003 as group vice president for biotechnology research and product development. He has more than 100 patents and has published more than 150 scientific papers.
His other startups include Ambryx, Assembly Biosciences and Calibrium. All of the startups were sold, reaping more than $500 million for founders and investors.
Please enable JavaScript to view this content.