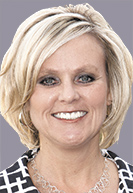 State Superintendent of Public Instruction Jennifer McCormick, a frequent critic of her fellow Republicans, took several swipes at Indiana Gov. Eric Holcomb as she campaigned Monday night for his Democratic challenger.
On a Facebook Live event with Dr. Woody Myers, who is running against Holcomb this fall, McCormick blasted Republicans for ignoring educators' concerns about "expensive and inefficient" education policies that bog down teachers' and administrators' work.
"Any educator who's probably watching this could tell you there are a lot of things we do that don't make sense," McCormick said. "And then we tell you how to improve upon it, but you have to have leaders who will listen. And we've tried to be a voice, but it is really difficult to do right now when you have the executive office of the governor, and you have the House and the Senate under supermajority, and you have a state board who is really the governor's board."
McCormick didn't name specific policies that she felt were burdensome but went on to discuss the challenges of school funding, teacher retention, and pandemic instruction.
This election season, McCormick's cross-party endorsements of several Democrats, including Myers, mark the latest chapter in years of strife between the state's top elected education official and the governor. McCormick denounced the "toxic" behind-the-scenes politics that she blamed for encumbering her job when she announced she would not seek a second term.
Last year, she appeared with another Democratic gubernatorial hopeful, state Sen. Eddie Melton, who later dropped out of the race.
Holcomb, who has styled himself as a mild-mannered moderate, hasn't directly addressed McCormick's grievances. Soon after they were both elected in 2016, he led a successful movement to give the governor, rather than voters, the power to choose the top education official.
After her Democratic endorsements, the state GOP cast McCormick out: "It's not surprising that a Democrat is endorsing a Democrat," party spokesman Jake Oakman told IndyStar.
On Monday, Myers praised McCormick for crossing party lines to endorse candidates whose public education platforms she supported. "That took a lot of courage politically," he said.
When he asked her about what characteristics a governor should look for in an education secretary, McCormick emphasized education experience and collaboration.
"You have to have willing partners in that," she said. "It has to go both ways."
McCormick also criticized Holcomb's campaign commercials touting a $100 million state investment in expanding broadband access in rural areas. The lack of internet access has hampered many schools' abilities to offer robust e-learning during the pandemic.
"It's a billion-dollar problem," she said. "So until we really want to pony up true money that's going to put a dent in things and move it …  everybody knows it's a concern. I don't know why we're pretending it's not."
In addition to the state's response to the pandemic, teacher pay has emerged as a key issue in the governor's race. Holcomb has taken some steps to increase teacher paychecks, but he largely put off the issue until the 2021 legislative session. Myers has emphasized that the state needs to increase teacher pay, since low salaries lead fewer people to go into teaching and more to leave it, but he hasn't yet offered solutions.
McCormick called teacher recruitment and retention a "crisis" and commended Myers for recognizing the extent of the problem.
"We are just not keeping up," she said.
Chalkbeat is a not-for-profit news site covering educational change in public schools.
Please enable JavaScript to view this content.