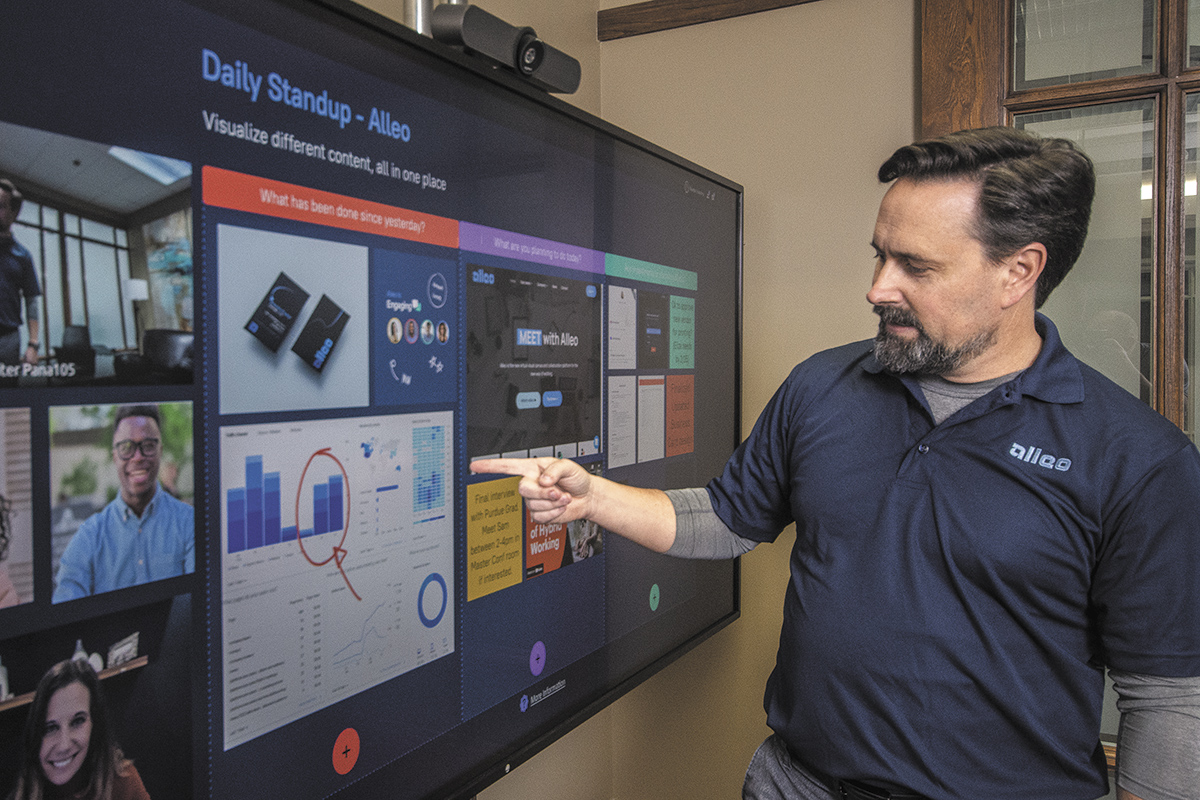 Local companies that offer online meeting and collaboration platforms have seen big growth since the start of the pandemic, when in-person activities abruptly shifted online.
But even as the pandemic appears to now be receding, those companies—and local tech investors—still see a lot of opportunities ahead in the collaborative-platform market.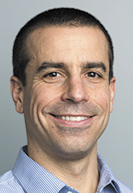 "It's just one that has exploded over the last couple of years. I think we are in the early part of this market's growth," said Blake Koriath, chief financial officer at Indianapolis-based venture studio High Alpha.
"It's a space that we put a lot of dollars into," Koriath said.
Between the studio itself and its associated venture fund, High Alpha Capital, High Alpha is associated with four companies in the online meeting/collaboration space: Filo, Docket, Boardable and a company that has not yet publicly launched and that Koriath declined to name. That company offers a platform that facilitates online personal coaching sessions.
The reasoning behind the optimism: Online gatherings are here to stay, but after two years of Zooming, people are looking for something more than the standard videoconferencing sites can offer.
"There's no question that there's been a shift in their mindset. They're realizing that this is no longer a 'nice-to-have.' It's really something that is needed. It's necessary," said Brandon Fischer, a serial tech entrepreneur and founder of Carmel-based Alleo, which offers a collaborative meeting platform. "Video calling, it's OK—but we need something more that can truly help us get work done."
Fischer launched Alleo in 2019, and the company operated in stealth mode until its public launch last month. The company has about 20 employees, including a dozen full-timers and others who work part time. Its platform allows participants to have video meetings but also do things like give presentations and share documents that group members can edit collaboratively online.
"This represents a new way of working on this virtual visual canvas, where we can truly come together and get work done," Fischer said of the platform.
Alleo's first customer was the U.S. Department of Defense. It also has several Fortune 100 companies as customers, including a telecommunications company, a large consulting firm and large retail brand manufacturers. The company became profitable after 18 months, Fischer said.
Currently, Alleo's focus is on businesses that are large enough to have 50 or more users. Within 12 months, Fischer plans to allow individual users to also access the platform, which generates revenue through a subscription model.
Indianapolis-based OnBoard is another example of a company that sees a bright future for online meeting and collaboration platforms.
"There's plenty—plenty—of opportunity," said Rob Kunzler, chief marketing officer at Indianapolis-based OnBoard. The firm is owned by Indianapolis-based Passageways Inc., which was founded in 2003. OnBoard's platform, which offers tools for boards to meet and manage documents online, launched in 2011.
OnBoard, which has 300 employees, has seen year-over-year revenue growth of more than 45% over the last several years. The company achieved two significant milestones last year. In July, it landed a $100 million investment from Baltimore-based JMI Equity, one of the largest investments secured by an Indiana-based tech firm in 2021 and a signal that investors see promise in OnBoard's concept. Then, in August, OnBoard acquired eScribe Software Ltd., a Canadian software company based in suburban Toronto.
Pandemic leads to customers
Not only did the pandemic create more demand for online meetings, but OnBoard made a pandemic-related business decision that also helped spur growth.
In April 2020, OnBoard decided to offer its product to boards for free as a way to help them weather the disruption the pandemic had caused. The free offer lasted through the end of 2020, at which time those customers had the chance to convert to paying customers at a discount from OnBoard's usual fees.
More than 650 boards signed up for the free offer, and Kunzler said a "high percentage" of those became paying customers. That represented a significant bump in customers for OnBoard—the company now has north of 3,000 customers, some of whom were added in the eScribe deal.
And once a board signs on as a customer, Kunzler said, OnBoard has a chance to pick up additional customers. That's because members of corporate, civic or not-for-profit boards often serve on the boards of multiple organizations. If a board has a good experience using OnBoard, its members might recommend its use to the other boards on which they serve.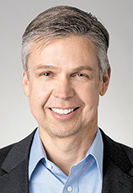 David Kerr, one of three managing directors at Indianapolis-based venture capital firm Allos Ventures, said there's still plenty of opportunity for online platform companies. He pointed to Skype, a videoconferencing provider that was formed in 2003, but it wasn't until the pandemic hit that videoconferencing really took off and Zoom (itself founded in 2011) emerged as a dominant platform.
Kerr said the next wave of online collaboration platforms likely won't be dominated by just a few players because there are so many potential niches to be filled. "Different industries have different needs and different use cases that might benefit them," he said.
Many local companies say they look at platforms like Zoom as partners rather than competitors. Their platforms often integrate with Zoom or other established videoconferencing services, adding capabilities on top of the basic video chat.
In fact, Zoom launched its own investment fund, the Zoom Apps Fund, last April to help support startups that fit into what it calls the "Zoom ecosystem."
Koriath said two High Alpha companies, Filo and Docket, have received investments from Zoom.
Standing out
One of the challenges of operating in the online meeting and collaborations space is in helping customers understand how your product is different from what's already available.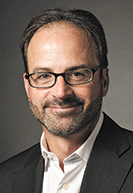 "That is the challenge of a startup … to get a new idea out into the market," said tech veteran Scott McCorkle, a former president of ExactTarget and former CEO of Salesforce Marketing Cloud.
McCorkle's latest venture is MetaCX, an Indianapolis-based startup that launched in December 2018. The company currently has 15 employees and 30 paying customers, up from 20 just a few weeks ago.
MetaCX is a high-concept product that takes a bit of explaining, but at its core it's a third-party platform meant to help companies build and manage their relationships with suppliers to set expectations and solve problems.
A hospital system, for instance, that's working to improve its patients' health outcomes could use MetaCX to share these goals with the pharmaceutical companies, medical equipment suppliers, insurers and others it does business with. Then the various partners could work together with the hospital system to develop plans to achieve these goals.
Though MetaCX is not a meeting platform in the same sense that other companies are, it does allow for online collaboration and innovation—something whose importance became clearer once the pandemic hit, McCorkle said.
"A business can't do it by themselves, in their own four walls. It always takes business relationships to innovate."
Indianapolis-based Filo also said customer education is a challenge. The company offers a platform for collaborative gatherings such as training sessions, workshops and product launches.
"If what you're looking for is a sit-and-watch platform, we're not for you," said Filo co-founder and CEO Matt Compton.
One of Filo's challenges, Compton said, is to help potential customers determine their needs and whether Filo is the best solution for them. "We're having a lot of those conversations every week," he said.
Part of the problem, Compton said, is that the industry hasn't yet developed the right language for people to communicate what they mean when they talk about an online event. For instance, two companies might say they need an online event platform for an online product launch. At one company, the launch might involve a company executive giving a presentation. Another company might want its employees to be able to ask questions about the new product or break into smaller groups to practice their sales pitches.
While a basic Zoom meeting could accommodate the first scenario, Compton said, only a platform like Filo can really handle the second. "People interacting with each other is a very complex thing."
Filo currently has 15 employees, and Compton said the company's annual recurring revenue—a key metric among software-as-a-service companies—has grown 50% over the past six months.
Looking ahead, Compton said he expects growth to accelerate once the pandemic ends.
'More clarity'
The uncertainty of the pandemic has caused some groups to hold off on longer-term decisions, he believes, which in some cases means the companies are making do with Zoom or other videoconferencing platforms for now.
When that uncertainty subsides, he predicted, customers will be more comfortable thinking longer term—and will be more receptive to signing on with Filo. And some groups that might drop online meetings in favor of in-person events may come to realize the benefits of online gatherings, which can come together more quickly and cheaply than in-person events.
"Once people get a bit more clarity about how they're operating as a company after the pandemic, I think there's going to be a big spike in demand," Compton said. "I can't wait until we're on the other side of this. We believe in the long-term vision of this, not just the pandemic benefits."•
Please enable JavaScript to view this content.